Recently on Cyclingnews.com
95th Milan - San Remo - CDM
Italy, March 20, 2004
Waiting for Sanremo
A file picture of 1992 Milano-Sanremo winner Sean Kelly
Photo ©: AFP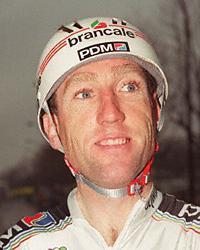 Dr Michele Ferrari, coach to cycling greats including Moser, Bugno, Argentin and Rominger, in addition to five-time Tour de France winner Lance Armstrong, has never been afraid to push the boundaries of sports science. In this special feature Dr Ferrari looks at the 1992 edition of Milan-San Remo, where pre-race favourites Moreno Argentin and Tony Rominger mistakenly let one of the dark horses slip their minds - an Irishman by the name of Sean Kelly.
In the Paris-Nice race of 1992, the duel between Tony Rominger and Jean François Bernard captured the attention of all cycling appassionati: Rominger won the prologue and the Marseille-Mont Faron stage, while Bernard took over the lead on the uphill time trial on Col d'Eze and the final classification, in front of Rominger and Indurain. Mario Cipollini won three stages, demonstrating he was in good shape for the upcoming Milano-Sanremo.
But it was from Tirreno-Adriatico that came the strongest and most impressive signs: Moreno Argentin won three stages in succession, outclassing his adversaries. Especially impressive was the power he displayed on the Morolo, a short but very steep climb of 800 metres with a 20 percent gradient, which forced many riders to stop riding and put a foot on the ground (Bugno and Breukink were among them).
Sorensen - Argentin's teammate back then - managed to win the final classification ahead of Breukink, but it was Argentin who presented himself as the absolute favourite for victory in Milano-Sanremo.
Toni Rominger (R)
Photo ©: AFP

Toni Rominger (R)
Photo ©: AFP

His Ariostea team was extremely strong: Sorensen, Cassani, Furlan, Riis, Golz, Joho and Lietti were all men of great skill and talent, and in good shape for the period.
Argentin had trained steadily and with determination all winter - for over a month, between December and January, he had pedalled on the demanding roads of Gran Canaria with teammate Massimiliano Lelli, riding over 3500 kilometres and climbing more than 60,000 metres in total elevation. And he had already won two stages and the final classification at the Settimana Siciliana, ahead of Zulle and Anderson.
But a strong and expert "privateer" was lying in ambush. He rode hiding himself in the little group of sprinters that inevitably had lost ground in the hardest stages of that edition of Tirreno-Adriatico, clearly dominated by Ariostea team riders.
By that time, Sean Kelly, aged 36, had already won a stage in the Vuelta Valenciana in February, and had subsequently hidden himself in the bulk of the peloton, focusing on refining his fitness in order to try and fetch a victory in La Classica di Primavera (The Spring Classic). I personally had noticed him several times at the races, thin and tight, passing by food stations among the stragglers, but with an agile and efficient pedal stroke.
Finally, on March 21st, came the "Classicissima".
On the Cipressa ascent, a remarkable acceleration by Alcala and Maassen compelled the Ariostea team to an "expensive" chase, extracting a heavy toll on Furlan's and Sorensen's energies. Cassani was involved in a crash, and Argentin found himself at the foot of Poggio with no team-mates.
He was forced to make dire decisions alone: Argentin put in a first acceleration, then a second one. Behind him the group stretched over the ascent, and then broke up. Jalabert, Colagè, Fondriest and Van de Laer were able to resist his attack, albeit visibly torn by the effort. After a moment's decrease in speed, Argentin struck with another acceleration, impressive and exciting; eventually, only Van de Laer resisted.
"Never showing himself" - riding alongside Greg Lemond
Photo ©: AFP

Kelly at the Journée des Retrouvailles
Photo ©: Chris Henry

Argentin was then forced to make another attack - his fourth - and he was alone at last. He managed to finish the Poggio with a nine second advantage over a small group of riders, driven by Fondriest.
Kelly never showed himself, he never responded to the numerous accelerations, simply climbing fast and steadily, drafting from other riders and protecting himself from the wind. And so he was there, clear-minded, determined and full of precious energy.
Argentin, having produced an enormous anaerobic effort while attacking, had by then a great amount of lactic acid affecting his legs, and his riding skills on the descent were gradually diminishing.
On the descent Kelly attacked, powerful and determined. Sorensen couldn't stay on his wheel, and the Festina athlete got away alone; he gained ground at every curve, dangerously skimming the small roadside walls. There was no way Argentin could have known about the danger approaching him. Kelly, masked by a flock of press and support motorcycles, finally swooped in on him with only one kilometre left to race.
Argentin turned, saw him, and asked him to take the front. But the Irish rider coldly kept behind his wheel. The two almost seemed to stop, while the pack approached menacingly. Then Kelly made his only move, launching a final sprint to take an easy victory.
This story brings up some observations on how to prepare for and face Milano-Sanremo:
The course itself is relatively easy, making the race all the more difficult to interpret. It is almost impossible for only one team, no matter how strong, to control all the attacks while trying to save two or three men for the final - and usually most decisive - phase from the Cipressa to the finish line.
It is a disadvantage to show up at the start in Milan as the big favorite, or even as the strongest team likely to take charge of the race in the final stretches.
There have been several surprise winners in recent editions.
Tension and stress can build dangerously on the favourite as he plays out his waiting game strategy, causing him to burn precious resources earlier than expected.
The race itself is very fast and nervous with a high risk of falls, which increases energy expenditure and makes the rider feel the whole weight of the nearly 300 kilometre race during the last stretches, often leaving him with nothing left in his legs at the race's critical and decisive final moments.
If one hopes for success in such a race, the rider must be very accurately prepared and careful to remain full of psycho-physical energy by not expending too much or taking on excessively heavy responsibilities in preceding events.
Editor's note: Cyclingnews will be providing extensive coverage of the 95th Milan-San Remo, including a complete live report, full results and photos from the event.