59th Vuelta a España - GT
Spain, September 4-26, 2004
Main Page Standings Previous Stage Next Stage
September 15: Rest day 1
USPS leads by a hair; Spanish contenders line up
By Martin Hardie & John Stevenson
La Vuelta has made it to Andalucia, the deep south where Spain almost touches Africa and day 12, the first rest day has been most welcome for all that comprise La Vuelta's caravan. In this Rest Day wrap up, we summarise where we have been, where we are and what we might expect in the coming days.
The Posties
Photo ©: Unipublic

The US Postal Service team were the surprise beneficiaries of the opening day's team time trial and subsequently swapped the jersey around between team members for a few days before it came to rest with Floyd Landis. At the race's halfway point, Landis holds a lead of just nine seconds over Alejandro Valverde (Comunidad Valenciana-Kelme) and less than a minute separates the rest of the top six as Spain's climbing specialists queue up to try and knock Landis from his precarious perch.
As one of those six, Manuel Beltran, is a team-mate of Landis', he'll ride in support and be ready to step up to the plate should Landis falter. But Francisco Mancebo (Illes Balears-Banesto) and Liberty Seguros's dangerous duo of Isidro Nozal and defending champion Roberto Heras will all be looking for their chance in the mountains to come.
Several favourites have already fallen by the wayside. After winning stage 8's time trial, Tyler Hamilton cracked the following day and is now ten minutes adrift. Joseba Beloki has not been able to regain his form of early 2003 after a tumultuous season of recovery and team uncertainty; his Saunier Duval team has changed tactics and is chasing stage wins, a goal already achieved with Leonardo Piepoli's victory atop the Alto de Aitana in stage 9.
The last two days have seen some of the most exciting racing of any stage race this year as contenders in every category battled for points in stage 10, with Eladio Jimenez victorious for the embattled Comunidad Valenciana-Kelme team and sprinter Stuart O'Grady (Cofidis) a startling second place after the brutal 20 percent climb of Xorret de Catí. Finally, yesterday saw a heroic solo escape by USPS's Dave Zabriskie, riding alone for 162 of the day's 165km.
Stage 1 - September 4: León - León (T.T.T.), 28 km
Floyd Landis
Photo ©: Unipublic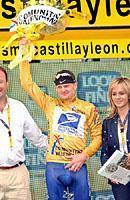 The now traditional opening team time trial saw a surprising victory to USPS. Not because they are not strong but because this event has been dominated by the squads of Manolo Saiz under the guise of ONCE-Eroski in recent years, and because Illes Baleares has been superb in this discipline of late.
The USPS victory by a more than comfortable margin gave us a leader board stacked with the members of the U.S. based team and saw the ever smiling Floyd Landis emerge as the first wearer of La Vuelta's golden fleece.
Stage 2 - September 5: León - Burgos, 207 km
Enter the road and with it the wind that always seems to fall on the high plains of northern Spain. Flat, but not fast until the race entered the cathedral city of Burgos, where the Fassa train launched the opening of the sprinter's sprinter, Alessandro Petacchi's account. As a result of contesting the sprint and finishing ahead of his teammate Landis, Max van Heeswijk took over the wearing of the gold.
Stage 3 - September 6: Burgos - Soria, 157 km
Alejandro Valverde (Com.Valenciana-Kelme)
Photo ©: Unipublic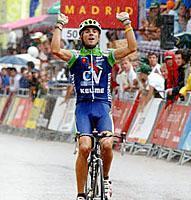 For a while, Stage 3 saw a little respite from the wind as it skirted the Sierra de Demanda and passed through the Zone of the Pines. Greeting the arrival in Soria was a heavy storm complete with rain, hail and a wet cobbled stoned bridge. And then what looked like not to be a testing climb to the town finish turned into two kilometres that ripped the race apart. Alejandro Valverde benefited when he roared past Stuart O'Grady to take the win. The final selection with the likes of Heras and Valverde amongst them proved to be telling as to what would follow. USPS' Benoît Joachim did enough to take over the lead from Van Heeswijk.
Stage 4 - September 7: Soria - Zaragoza, 167 km
Across the stark mud bricked landscape past decaying castles of the Counts of Aragon, the route continued its steady, windy path east. There were some scares along the way as the wind caused echelons to form but on the slightly rising finishing run in Zaragoza, Petacchi went from what seemed too far out to hold off all challengers again. Benoît Joachim continued in gold.
Stage 5 - September 8: Zaragoza - Morella, 186.5 km
Manuel Beltran
Photo ©: AFP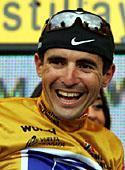 Out of Aragon and into Valencia. The first part of the stage was again into an almighty head and cross wind but the real action came in less than three kilometres at the end with the climb to the ancient walled town of Morella. Nozal was awesome, Aitor Gonzalez strong but Dennis Menchov kicked past them on the steepest sections to solo through the final 500 metres to the finish. Triki Beltran took over the race lead as USPS continued to play pass the jersey.
Stage 6 - September 9: Benicarló - Castellón de la Plana, 157 km
Along the Valencian coast, the other sprinter's teams had to come up with something if they were going to have a look in at the end. Towards the day's final climb, the Alto de Desierto de las Pinas, which peaked just over 20 kilometres from the end, Rabobank drove the peloton and in doing so made sure Petacchi was not going to make it over the top in one of the two leading groups. Despite Cofidis working well for O'Grady into the finish in Castellon, the Aussie sprinter had the win stolen from him by a faster Freire. In gold remained Beltran.
Stage 7 - September 10: Castellón de la Plana - Valencia, 165 km
I feel better now
Photo ©: AFP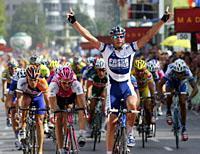 In Stage 7, the wind had now been well and truly exchanged for heat and humidity and despite the conditions not being to his liking, Petacchi felt well enough to survive the mid race mountains to once again prove himself to be the fastest finisher around.
Another day in gold for Beltran as the USPS run continued.
Stage 8 - September 11: Factoría FORD - Factoría FORD (I.T.T.), 40.1 km
Blast furnace conditions, heat humidity and 40 kilometres of pan flat roads saw Tyler Hamilton repeat his Athens performance and take out the first of la Vuelta's three individual time trials. A strong ride by Landis saw him return to wear gold. But a dangerous sign was the remarkable rides of the smaller guys. Heras, Valverde, Mancebo all held their own with credit. Powerful was Isidro Nozal.
Stage 9 - September 12: Xátiva - Alto de Aitana (Alicante), 170 km
Leonardo Piepoli (Saunier Duval)
Photo ©: Lavuelta.com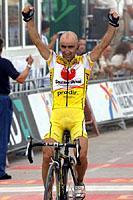 With Beloki obviously not going to be a threat in the general after his poor time trial performance, Saunier Duval decided to change the chip on the road to Aitana. The day was marked by Cafes Baque's Felix Cardenas, who commenced his campaign to repeat his mountains competition of last year by getting himself in a break and begin to soak up the points in a Virenque-style display. But the break was reeled in close to the finish due in a great part to the tireless efforts of Igor Gonzalez de Galdeano, Dariusz Baranowski and Isidro Nozal.
Leonardo Piepoli (Saunier) left Heras behind in the last five hundred metres after the latter had attacked a depleted climbing group. The big loser of the day was Tyler Hamilton, who cracked badly en route. Landis hung in there enough to remain in gold but saw the start of the reduction of his advantage.
Stage 10 - September 13: Alcoi - Xorret de Catí (Castalla-Alicante), 174.5 km
Eladio Jimenez (Comunidad Valenciana-Kelme)
Photo ©: Lavuelta.com

You rarely see a stage of a cycle race as beautiful as this one. Complete with the victory of Eladio Jimenez, the sprinter's brawl in which Zabel, O'Grady and Freire jostled for points along the way, and behind the race for GC, where Valverde and Heras tried to put the hurts on Landis over the cruel 20% slopes of the Xorret de Cati. Again Floyd hung in there, but now saw his advantage dwindle to a mere nine seconds over Valverde.
Stage 11 - September 14: San Vicente del Raspeig - Caravaca de la Cruz, 165 km
David Zabriskie (USPS-Berry Floor)
Photo ©: AFP

Stage 11 was made on paper for the sprinters as the race edged its way south into the deserts of Murcia. That was until Zabriskie set off in kilometre 3 and never looked back for the next 162. The young USPS rider arrived with a minute and a bit to spare, sweat stained and very sore but in doing so pulled off a rare solo win. It was a once in a lifetime dream victory, spelling out the loneliness of the route very loudly. Behind a crash saw Valverde shaken but not out. Landis maintained his nine second advantage.
Coming up
US Postal
Photo ©: Lavuelta.com

Ten stages to go, two of them flat, two of them against the clock - one being an epic cronoescalada up the Sierra Nevada that is nearly 30 kilometres long. The other six stages are crowded with two Special category climbs, twelve Cat. 1's, three cat. 2's and eight Cat. 3's to break the field apart. Landis and Beltran still can wave the flag for USPS, but there is no doubt the climbers are going to really try their hardest to destroy them day after day after day. The keys apart from the climbs of course will be the two races against the clock. And along with that, so long as O'Grady and Freire stick around and don't leave early to get ready for the World's, there will be the classic battle for points which has been played out in recent days. And for good measure Cardenas, Fernandez and a host of others will try and hold their own against some bigger climbing guns in an attempt to take the mountains jersey into Madrid.
Standings after stage 11

1 Floyd Landis (USA) US Postal Service p/b Berry Floor          40.30.33
2 Alejandro Valverde (Spa) Comunidad Valenciana-Kelme               0.09
3 Francisco Mancebo (Spa) Illes Balears-Banesto                     0.29
4 Isidro Nozal (Spa) Liberty Seguros                                0.32
5 Roberto Heras (Spa) Liberty Seguros                               0.47
6 Manuel Beltran (Spa) US Postal Service p/b Berry Floor            0.59
7 Carlos Sastre (Spa) Team CSC                                      1.35
8 Denis Menchov (Rus) Illes Balears-Banesto                         2.42
9 Aitor Gonzalez (Spa) Fassa Bortolo                                2.50
10 Angel Gomez (Spa) Paternina-Costa De Almeria                     4.16
11 Carlos Garcia Quesada (Spa) Comunidad Valenciana-Kelme           4.19
12 David Blanco (Spa) Comunidad Valenciana-Kelme                    4.24
13 Santiago Perez (Spa) Phonak Hearing Systems                      4.35
14 Damiano Cunego (Ita) Saeco                                       5.17
15 Victor Hugo Peña (Col) US Postal Service p/b Berry Floor         6.33
16 Juan Manuel Garate (Spa) Lampre                                  6.43
17 Luis Perez (Spa) Cofidis, le credit par Telephone                7.00
18 Rubén Plaza (Spa) Comunidad Valenciana-Kelme                     7.07
19 Stefano Garzelli (Ita) Vini Caldirola-Nobili Rubinetterie        7.24
20 Miguel A. M. Perdiguero (Spa) Saunier Duval-Prodir               7.52
21 Francisco José Lara (Spa) Paternina-Costa De Almeria             8.04
22 Peio Arreitunandia (Spa) Cafes Baque                             8.45
23 Pablo Lastras (Spa) Illes Balears-Banesto                        8.49
24 Luis Pasamontes (Spa) Relax-Bodysol                              8.59
25 Eladio Jimenez (Spa) Comunidad Valenciana-Kelme                  9.43
26 Samuel Sanchez (Spa) Euskaltel-Euskadi                           9.45
27 Marcos Serrano (Spa) Liberty Seguros                            10.00
28 Tyler Hamilton (USA) Phonak Hearing Systems                     10.11
29 Jörg Jaksche (Ger) Team CSC                                          
30 Oscar Sevilla (Spa) Phonak Hearing Systems                      10.53
31 Joaquin Rodriguez (Spa) Saunier Duval-Prodir                    11.34
32 Constantino Zaballa (Spa) Saunier Duval-Prodir                  12.07
33 David Plaza (Spa) Cafes Baque                                   12.15
34 Oscar Freire (Spa) Rabobank                                     13.01
35 Erik Zabel (Ger) T-Mobile Team                                  13.05
36 Felix Cardenas (Col) Cafes Baque                                13.22
37 Manuel Calvente (Spa) Team CSC                                       
38 José Miguel Elias (Spa) Relax-Bodysol                           13.26
39 Iñigo Chaurreau (Spa) Ag2R Prevoyance                           13.55
40 Jorge Ferrio (Spa) Paternina-Costa De Almeria                   15.20
41 Benoit Joachim (Lux) US Postal Service p/b Berry Floor          15.58
42 Dariusz Baranowski (Pol) Liberty Seguros                        16.05
43 Joan Horrach (Spa) Illes Balears-Banesto                        16.07
44 Daniel Atienza (Spa) Cofidis, le credit par Telephone           16.10
45 José Luis Arrieta (Spa) Illes Balears-Banesto                   16.18
46 Leonardo Piepoli (Ita) Saunier Duval-Prodir                     16.48
47 Unai Osa (Spa) Illes Balears-Banesto                            17.05
48 Francisco Garcia (Spa) Cafes Baque                              18.35
49 Johan Van Summeren (Bel) Relax-Bodysol                          18.57
50 Frank Schleck (Lux) Team CSC                                    19.33
51 David Cañada (Spa) Saunier Duval-Prodir                         19.40
52 Guido Trentin (Ita) Cofidis, le credit par Telephone            20.06
53 Jurgen Van Goolen (Bel) Quick.Step-Davitamon                    20.43
54 Kevin De Weert (Bel) Rabobank                                   22.56
55 Hernan Buenahora (Col) Cafes Baque                              23.01
56 Cedric Vasseur (Fra) Cofidis, le credit par Telephone           24.14
57 Tadej Valjavec (Slo) Phonak Hearing Systems                     24.57
58 Giampaolo Caruso (Ita) Liberty Seguros                          26.33
59 Jose Antonio Pecharroman (Spa) Quick.Step-Davitamon             26.43
60 Aitor Perez (Spa) Cafes Baque                                   27.24
61 Cadel Evans (Aus) T-Mobile Team                                 28.16
62 Stuart O'Grady (Aus) Cofidis, le credit par Telephone           28.50
63 Stephan Schreck (Ger) T-Mobile Team                             29.16
64 José Enrique Gutierrez (Spa) Phonak Hearing Systems             29.40
65 Jose Luis Rebollo (Spa) Relax-Bodysol                           29.44
66 Haimar Zubeldia (Spa) Euskaltel-Euskadi                         30.20
67 Koldo Gil (Spa) Liberty Seguros                                 31.08
68 Peter Luttenberger (Aut) Team CSC                               31.31
69 Cristian Moreni (Ita) Alessio-Bianchi                           32.02
70 Dario David Cioni (Ita) Fassa Bortolo                           32.27
71 Alessandro Cortinovis (Ita) Lampre                              32.38
72 Ivan Parra (Col) Cafes Baque                                    33.57
73 Pedro Horrillo (Spa) Quick.Step-Davitamon                       34.25
74 Sylvester Szmyd (Pol) Saeco                                     34.48
75 Joaquin Lopez (Spa) Paternina-Costa De Almeria                  34.59
76 Patrick Calcagni (Swi) Vini Caldirola-Nobili Rubinetterie       35.05
77 Roberto Laiseka (Spa) Euskaltel-Euskadi                         36.09
78 Christophe Oriol (Fra) Ag2R Prevoyance                          36.57
79 Roberto Sgambelluri (Ita) Vini Caldirola-Nobili Rubinetterie    37.05
80 Pieter Weening (Ned) Rabobank                                   37.38
81 Antonio Cruz (USA) US Postal Service p/b Berry Floor            38.54
82 Josep Jufre (Spa) Relax-Bodysol                                 40.00
83 Guennadi Mikhailov (Rus) US Postal Service p/b Berry Floor      40.12
84 Bingen Fernandez (Spa) Cofidis, le credit par Telephone         40.31
85 Thorwald Veneberg (Ned) Rabobank                                41.03
86 Bram Tankink (Ned) Quick.Step-Davitamon                         41.12
87 David Herrero (Spa) Paternina-Costa De Almeria                  41.52
88 Xavier Florencio (Spa) Relax-Bodysol                            42.15
89 Javier Pascual Rodriguez (Spa) Comunidad Valenciana-Kelme       42.33
90 Michael Barry (Can) US Postal Service p/b Berry Floor           42.42
91 Vladimir Miholjevic (Cro) Alessio-Bianchi                       43.41
92 David Latasa (Spa) Comunidad Valenciana-Kelme                   44.49
93 Juan Fuentes (Spa) Saeco                                        45.19
94 Klaus Möller (Den) Alessio-Bianchi                              45.31
95 Joseba Beloki (Spa) Saunier Duval-Prodir                        46.01
96 Iñaki Isasi (Spa) Euskaltel-Euskadi                             46.12
97 Eddy Mazzoleni (Ita) Saeco                                      46.31
98 Luca Paolini (Ita) Quick.Step-Davitamon                         46.56
99 Fabio Sacchi (Ita) Fassa Bortolo                                47.17
100 Michele Scotto (Ita) Lampre                                    50.05
101 Alexandre Vinokourov (Kaz) T-Mobile Team                       51.22
102 David Fernandez (Spa) Paternina-Costa De Almeria               52.59
103 Stephane Goubert (Fra) Ag2R Prevoyance                         54.07
104 David Zabriskie (USA) US Postal Service p/b Berry Floor        55.06
105 Alberto Lopez De Munain (Spa) Euskaltel-Euskadi                55.11
106 Danilo Di Luca (Ita) Saeco                                     55.14
107 Antonio Colom (Spa) Illes Balears-Banesto                      55.30
108 Mikel Pradera (Spa) Illes Balears-Banesto                      57.22
109 Ruslan Ivanov (Mda) Alessio-Bianchi                            57.23
110 Santos Gonzalez (Spa) Phonak Hearing Systems                   58.16
111 Gonzalo Bayarri (Spa) Phonak Hearing Systems                   58.30
112 Bert Grabsch (Ger) Phonak Hearing Systems                    1.00.06
113 Volodymir Gustov (Ukr) Fassa Bortolo                         1.00.34
114 Igor Gonzalez de Galdeano (Spa) Liberty Seguros              1.01.23
115 Manuel Quinziato (Ita) Lampre                                1.01.42
116 Kevin Hulsmans (Bel) Quick.Step-Davitamon                    1.01.43
117 Marius Sabaliauskas (Ltu) Saeco                              1.02.42
118 Marco Milesi (Ita) Vini Caldirola-Nobili Rubinetterie        1.03.01
119 Jan Hruska (Cze) Liberty Seguros                             1.04.56
120 Alberto Martinez (Spa) Relax-Bodysol                         1.07.40
121 Francisco Cabello (Spa) Comunidad Valenciana-Kelme           1.07.41
122 Joost Posthuma (Ned) Rabobank                                1.07.54
123 Mauro Gerosa (Ita) Vini Caldirola-Nobili Rubinetterie        1.08.38
124 Mikel Astarloza (Spa) Ag2R Prevoyance                        1.09.49
125 Dario Andriotto (Ita) Vini Caldirola-Nobili Rubinetterie     1.10.29
126 Pietro Caucchioli (Ita) Alessio-Bianchi                      1.12.14
127 Igor Astarloa (Spa) Lampre                                   1.12.57
128 Maarten Den Bakker (Ned) Rabobank                            1.13.32
129 Rafael Casero (Spa) Saunier Duval-Prodir                     1.14.02
130 José Garrido (Spa) Quick.Step-Davitamon                      1.14.52
131 Rene Andrle (Cze) Liberty Seguros                            1.16.09
132 Mariano Piccoli (Ita) Lampre                                 1.17.03
133 Ronald Mutsaars (Ned) Rabobank                               1.17.14
134 Mikel Artetxe (Spa) Euskaltel-Euskadi                        1.17.45
135 Hebert Gutierrez (Col) Cafes Baque                           1.18.09
136 Joseba Albizu (Spa) Euskaltel-Euskadi                        1.18.24
137 Ion Del Rio (Spa) Paternina-Costa De Almeria                 1.18.34
138 José Julia (Spa) Comunidad Valenciana-Kelme                  1.18.44
139 Bert Roesems (Bel) Relax-Bodysol                             1.19.11
140 Frank Høj (Den) Team CSC                                     1.19.39
141 Juan Carlos Dominguez (Spa) Saunier Duval-Prodir             1.22.03
142 Nacor Burgos (Spa) Relax-Bodysol                             1.22.28
143 Julián Sanchez (Spa) Fassa Bortolo                           1.23.06
144 Pavel Tonkov (Rus) Vini Caldirola-Nobili Rubinetterie        1.23.35
145 Guido Trenti (USA) Fassa Bortolo                             1.23.45
146 Ricardo Serrano (Spa) Cafes Baque                            1.24.31
147 José Garcia Acosta (Spa) Illes Balears-Banesto               1.26.00
148 Erki Pütsep (Est) Ag2R Prevoyance                            1.26.01
149 Marco Velo (Ita) Fassa Bortolo                               1.26.53
150 Daniele Righi (Ita) Lampre                                   1.28.40
151 Jan Boven (Ned) Rabobank                                     1.29.06
152 Alessandro Petacchi (Ita) Fassa Bortolo                      1.29.51
153 Arnaud Coyot (Fra) Cofidis, le credit par Telephone          1.30.52
154 Marco Zanotti (Ita) Vini Caldirola-Nobili Rubinetterie       1.31.11
155 Aitor Silloniz (Spa) Euskaltel-Euskadi                       1.31.51
156 Brian Vandborg (Den) Team CSC                                1.32.01
157 Thomas Bruun (Den) Team CSC                                  1.32.50
158 Vladimir Gusev (Rus) Team CSC                                1.33.43
159 Alberto Ongarato (Ita) Fassa Bortolo                         1.33.48
160 Alessandro Spezialetti (Ita) Saeco                           1.33.52
161 Ellis Rastelli (Ita) Alessio-Bianchi                         1.34.05
162 Paolo Fornaciari (Ita) Saeco                                 1.34.09
163 Matthew White (Aus) Cofidis, le credit par Telephone         1.42.13
 
Points classification
 
1 Stuart O'Grady (Aus) Cofidis, le credit par Telephone              130 pts
2 Erik Zabel (Ger) T-Mobile Team                                     128
3 Oscar Freire (Spa) Rabobank                                        108
4 Alessandro Petacchi (Ita) Fassa Bortolo                             95
5 Alejandro Valverde (Spa) Comunidad Valenciana-Kelme                 72
6 Floyd Landis (USA) US Postal Service p/b Berry Floor                50
7 Denis Menchov (Rus) Illes Balears-Banesto                           50
8 David Zabriskie (USA) US Postal Service p/b Berry Floor             49
9 Roberto Heras (Spa) Liberty Seguros                                 47
10 Isidro Nozal (Spa) Liberty Seguros                                 45
11 Leonardo Piepoli (Ita) Saunier Duval-Prodir                        44
12 Francisco Mancebo (Spa) Illes Balears-Banesto                      43
13 Manuel Beltran (Spa) US Postal Service p/b Berry Floor             38
14 Aitor Gonzalez (Spa) Fassa Bortolo                                 38
15 Victor Hugo Peña (Col) US Postal Service p/b Berry Floor           36
16 Pedro Horrillo (Spa) Quick.Step-Davitamon                          35
17 Carlos Sastre (Spa) Team CSC                                       32
18 Stefano Garzelli (Ita) Vini Caldirola-Nobili Rubinetterie          29
19 Jorge Ferrio (Spa) Paternina-Costa De Almeria                      29
20 Eladio Jimenez (Spa) Comunidad Valenciana-Kelme                    28
21 Benoit Joachim (Lux) US Postal Service p/b Berry Floor             28
22 Tyler Hamilton (USA) Phonak Hearing Systems                        27
23 Miguel A. M. Perdiguero (Spa) Saunier Duval-Prodir                 27
24 Marco Zanotti (Ita) Vini Caldirola-Nobili Rubinetterie             27
25 Antonio Cruz (USA) US Postal Service p/b Berry Floor               22
26 Cristian Moreni (Ita) Alessio-Bianchi                              21
27 Cadel Evans (Aus) T-Mobile Team                                    20
28 Michael Barry (Can) US Postal Service p/b Berry Floor              20
29 David Fernandez (Spa) Paternina-Costa De Almeria                   20
30 Luca Paolini (Ita) Quick.Step-Davitamon                            18
31 Erki Pütsep (Est) Ag2R Prevoyance                                  17
32 Damiano Cunego (Ita) Saeco                                         15
33 Ruslan Ivanov (Mda) Alessio-Bianchi                                15
34 Patrick Calcagni (Swi) Vini Caldirola-Nobili Rubinetterie          12
35 Rubén Plaza (Spa) Comunidad Valenciana-Kelme                       12
36 Juan Fuentes (Spa) Saeco                                           12
37 Alexandre Vinokourov (Kaz) T-Mobile Team                           12
38 Mariano Piccoli (Ita) Lampre                                       12
39 Kevin Hulsmans (Bel) Quick.Step-Davitamon                          11
40 Angel Gomez (Spa) Paternina-Costa De Almeria                       11
41 José Miguel Elias (Spa) Relax-Bodysol                              11
42 Felix Cardenas (Col) Cafes Baque                                   10
43 Iñaki Isasi (Spa) Euskaltel-Euskadi                                10
44 Juan Manuel Garate (Spa) Lampre                                     9
45 Luis Pasamontes (Spa) Relax-Bodysol                                 9
46 Arnaud Coyot (Fra) Cofidis, le credit par Telephone                 9
47 Carlos Garcia Quesada (Spa) Comunidad Valenciana-Kelme              7
48 Aitor Perez (Spa) Cafes Baque                                       7
49 Bert Grabsch (Ger) Phonak Hearing Systems                           7
50 Bram Tankink (Ned) Quick.Step-Davitamon                             6
51 Joost Posthuma (Ned) Rabobank                                       6
52 Frank Schleck (Lux) Team CSC                                        5
53 Santos Gonzalez (Spa) Phonak Hearing Systems                        5
54 Ion Del Rio (Spa) Paternina-Costa De Almeria                        5
55 Jurgen Van Goolen (Bel) Quick.Step-Davitamon                        4
56 Xavier Florencio (Spa) Relax-Bodysol                                4
57 Vladimir Miholjevic (Cro) Alessio-Bianchi                           4
58 Luis Perez (Spa) Cofidis, le credit par Telephone                   4
59 Manuel Quinziato (Ita) Lampre                                       4
60 Daniele Righi (Ita) Lampre                                          4
61 Pablo Lastras (Spa) Illes Balears-Banesto                           3
62 Roberto Sgambelluri (Ita) Vini Caldirola-Nobili Rubinetterie        3
63 Joseba Beloki (Spa) Saunier Duval-Prodir                            3
64 Hebert Gutierrez (Col) Cafes Baque                                  3
65 Santiago Perez (Spa) Phonak Hearing Systems                         2
66 Tadej Valjavec (Slo) Phonak Hearing Systems                         2
67 Stephan Schreck (Ger) T-Mobile Team                                 2
68 Thorwald Veneberg (Ned) Rabobank                                    2
69 Michele Scotto (Ita) Lampre                                         2
70 Antonio Colom (Spa) Illes Balears-Banesto                           2
71 Ricardo Serrano (Spa) Cafes Baque                                   2
72 Marco Velo (Ita) Fassa Bortolo                                      2
73 Constantino Zaballa (Spa) Saunier Duval-Prodir                      1
74 Iñigo Chaurreau (Spa) Ag2R Prevoyance                               1
75 Unai Osa (Spa) Illes Balears-Banesto                                1
76 Kevin De Weert (Bel) Rabobank                                       1
77 Cedric Vasseur (Fra) Cofidis, le credit par Telephone               1
78 Fabio Sacchi (Ita) Fassa Bortolo                                    1
79 Francisco Cabello (Spa) Comunidad Valenciana-Kelme                  1
80 Igor Astarloa (Spa) Lampre                                          1
81 Ronald Mutsaars (Ned) Rabobank                                      1
 
Mountains classification
 
1 José Miguel Elias (Spa) Relax-Bodysol                               48 pts
2 Eladio Jimenez (Spa) Comunidad Valenciana-Kelme                     38
3 David Fernandez (Spa) Paternina-Costa De Almeria                    35
4 Francisco Mancebo (Spa) Illes Balears-Banesto                       33
5 Felix Cardenas (Col) Cafes Baque                                    32
6 Leonardo Piepoli (Ita) Saunier Duval-Prodir                         31
7 Roberto Heras (Spa) Liberty Seguros                                 27
8 Manuel Quinziato (Ita) Lampre                                       20
9 Isidro Nozal (Spa) Liberty Seguros                                  20
10 Pablo Lastras (Spa) Illes Balears-Banesto                          17
11 Denis Menchov (Rus) Illes Balears-Banesto                          14
12 Alejandro Valverde (Spa) Comunidad Valenciana-Kelme                14
13 Jorge Ferrio (Spa) Paternina-Costa De Almeria                      14
14 Tadej Valjavec (Slo) Phonak Hearing Systems                        14
15 Stuart O'Grady (Aus) Cofidis, le credit par Telephone              14
16 Ruslan Ivanov (Mda) Alessio-Bianchi                                14
17 Juan Manuel Garate (Spa) Lampre                                    13
18 Oscar Freire (Spa) Rabobank                                        13
19 Juan Fuentes (Spa) Saeco                                           12
20 Kevin Hulsmans (Bel) Quick.Step-Davitamon                          11
21 Hebert Gutierrez (Col) Cafes Baque                                 11
22 Floyd Landis (USA) US Postal Service p/b Berry Floor               10
23 Constantino Zaballa (Spa) Saunier Duval-Prodir                     10
24 Manuel Beltran (Spa) US Postal Service p/b Berry Floor              9
25 Carlos Sastre (Spa) Team CSC                                        8
26 Aitor Gonzalez (Spa) Fassa Bortolo                                  7
27 Vladimir Miholjevic (Cro) Alessio-Bianchi                           6
28 Carlos Garcia Quesada (Spa) Comunidad Valenciana-Kelme              6
29 Erik Zabel (Ger) T-Mobile Team                                      6
30 Luis Perez (Spa) Cofidis, le credit par Telephone                   5
31 Daniele Righi (Ita) Lampre                                          5
32 Patrick Calcagni (Swi) Vini Caldirola-Nobili Rubinetterie           4
33 Michele Scotto (Ita) Lampre                                         4
34 David Zabriskie (USA) US Postal Service p/b Berry Floor             4
35 Francisco José Lara (Spa) Paternina-Costa De Almeria                3
36 José Luis Arrieta (Spa) Illes Balears-Banesto                       3
37 Erki Pütsep (Est) Ag2R Prevoyance                                   3
38 Angel Gomez (Spa) Paternina-Costa De Almeria                        2
39 Cedric Vasseur (Fra) Cofidis, le credit par Telephone               2
40 Xavier Florencio (Spa) Relax-Bodysol                                2
41 Mikel Pradera (Spa) Illes Balears-Banesto                           2
42 Francisco Cabello (Spa) Comunidad Valenciana-Kelme                  2
43 Damiano Cunego (Ita) Saeco                                          1
44 Benoit Joachim (Lux) US Postal Service p/b Berry Floor              1
45 Unai Osa (Spa) Illes Balears-Banesto                                1
46 Francisco Garcia (Spa) Cafes Baque                                  1
47 Iñaki Isasi (Spa) Euskaltel-Euskadi                                 1
 
Combined classification
 
1 Alejandro Valverde (Spa) Comunidad Valenciana-Kelme                 19 pts
2 Francisco Mancebo (Spa) Illes Balears-Banesto                       19
3 Roberto Heras (Spa) Liberty Seguros                                 21
4 Isidro Nozal (Spa) Liberty Seguros                                  23
5 Denis Menchov (Rus) Illes Balears-Banesto                           26
6 Floyd Landis (USA) US Postal Service p/b Berry Floor                29
7 Manuel Beltran (Spa) US Postal Service p/b Berry Floor              43
8 Eladio Jimenez (Spa) Comunidad Valenciana-Kelme                     47
9 Carlos Sastre (Spa) Team CSC                                        49
10 Aitor Gonzalez (Spa) Fassa Bortolo                                 49
11 Oscar Freire (Spa) Rabobank                                        55
12 Leonardo Piepoli (Ita) Saunier Duval-Prodir                        63
13 Erik Zabel (Ger) T-Mobile Team                                     66
14 Jorge Ferrio (Spa) Paternina-Costa De Almeria                      72
15 Juan Manuel Garate (Spa) Lampre                                    77
16 Stuart O'Grady (Aus) Cofidis, le credit par Telephone              78
17 José Miguel Elias (Spa) Relax-Bodysol                              80
18 Felix Cardenas (Col) Cafes Baque                                   83
19 Carlos Garcia Quesada (Spa) Comunidad Valenciana-Kelme             86
20 Angel Gomez (Spa) Paternina-Costa De Almeria                       88
21 Damiano Cunego (Ita) Saeco                                         89
22 Pablo Lastras (Spa) Illes Balears-Banesto                          94
23 Luis Perez (Spa) Cofidis, le credit par Telephone                 105
24 Benoit Joachim (Lux) US Postal Service p/b Berry Floor            106
25 Constantino Zaballa (Spa) Saunier Duval-Prodir                    128
26 David Fernandez (Spa) Paternina-Costa De Almeria                  134
27 Tadej Valjavec (Slo) Phonak Hearing Systems                       137
28 Patrick Calcagni (Swi) Vini Caldirola-Nobili Rubinetterie         142
29 David Zabriskie (USA) US Postal Service p/b Berry Floor           146
30 Juan Fuentes (Spa) Saeco                                          148
31 Ruslan Ivanov (Mda) Alessio-Bianchi                               158
32 Unai Osa (Spa) Illes Balears-Banesto                              167
33 Cedric Vasseur (Fra) Cofidis, le credit par Telephone             172
34 Vladimir Miholjevic (Cro) Alessio-Bianchi                         175
35 Kevin Hulsmans (Bel) Quick.Step-Davitamon                         175
36 Manuel Quinziato (Ita) Lampre                                     182
37 Xavier Florencio (Spa) Relax-Bodysol                              184
38 Iñaki Isasi (Spa) Euskaltel-Euskadi                               186
39 Michele Scotto (Ita) Lampre                                       202
40 Erki Pütsep (Est) Ag2R Prevoyance                                 216
41 Hebert Gutierrez (Col) Cafes Baque                                220
42 Daniele Righi (Ita) Lampre                                        241
43 Francisco Cabello (Spa) Comunidad Valenciana-Kelme                242
 
Teams classification
 
1 Comunidad Valenciana - Kelme                                 121.32.30
2 US Postal Service presented by B.                                 5.30
3 Liberty Seguros                                                   8.36
4 Illes Balears - Banesto                                          10.16
5 Saunier Duval - Prodir                                           16.24
6 Team CSC                                                         18.15
7 Costa de Almeria - Paternina                                     18.27
8 Phonak Hearing Systems                                           21.24
9 Cafes Baque                                                      24.07
10 Relax-Bodysol                                                   27.46
11 Cofidis, le credit par telephone                                27.56
12 T-Mobile Team                                                   35.13
13 Saeco                                                           36.56
14 Quick Step - Davitamon                                          53.16
15 Euskaltel - Euskadi                                           1.00.11
16 Rabobank                                                      1.00.19
17 Fassa Bortolo                                                 1.03.16
18 Lampre                                                        1.08.04
19 Vini Caldirola -Nobili Rubinetterie                           1.08.23
20 Alessio - Bianchi                                             1.30.41
21 AG2R Prevoyance                                               1.34.50