Recently on Cyclingnews.com
59th Vuelta a España - GT
Spain, September 4-26, 2004
Chock-a-block full of contenders and obstacles
The year's final Grand Tour will see a last-ditch attempt at season redemption for many riders on a parcours that's designed to gradually sort out the contenders from the also-rans. Martin Hardie looks at what may come over three big weeks in September.
2003 winner Roberto Heras
Photo: © Unipublic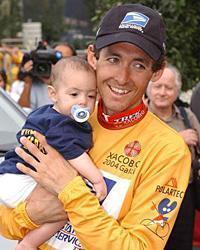 If an open field, chock-a-block full of contenders, battling it out over a tough challenging route is the hallmark of competition, then this Vuelta a España is competition spelt out in bold. At first glance, this year's route lacks the drawcards of the Asturian monster, Angliru, and the magic of the Pyrenees, but if you look closely, it is like a vice that will day-by-day draw tighter on those that reckon they have a chance to win. This will be a race that can be won or lost on almost any of its 21 days, and this 59th edition promises to live up to the expectations of recent Vueltas it has recently produced, will more than likely be this year's most exciting Grand Tour.
The course, with its three individual times trials - one of which is a cronoescalada of epic proportions that will make the Tour's Alpe d'Huez TT pale in comparison - and its endless succession of leg-breaking climbs, broken up by six windswept flat stage-matches, surpasses almost anything a Grand Tour has previously produced. So many times in recent years, the Vuelta has come down to a final day drama - and this one doesn't look to be any different. What's more, the suspense should be there throughout; there is not a day's rest for anyone among the 21 stages - strength, bravery and vigilance aplenty will be the watchwords.
This is no formula Grand Tour like others we have seen in recent times, with only a few riders truly presenting themselves as being in the hunt. A quick perusal of the start list doesn't allow you to immediately jump up and scream out boldly, "So and so will win." There is no indisputable favourite - only riders who have a hope of victory.
One of the first things that you recall when you are going through the form guide is that the two main protagonists of last year's melodrama are now lined up side by side - two time winner Roberto Heras and the man he overcame on the climb of Abantos during last year's penultimate stage, the young Isidrio Nozal - together on the Liberty Seguros squad, which has of course as its chief architect, Manolo Saiz.
2004 Route
Image: © Unipublic

Along with them, the Comunidad Valencia - Kelme squad throw none other than Alejandro Valverde into the mix with his ability it seems to win on any sort of terrain. Last year he rode as co-leader with Oscar Sevilla, but this year he gets to take on the challenge in his own right together with an experienced Kelme squad, looking to make a mark after a troubled year off the road. Sevilla, however, is with Phonak, and again has to play the role of twin-leader - but more likely second-fiddle to Tyler Hamilton, who will be out to become only the second North American to climb the Vuelta podium, the first being Levi Leipheimer with his third place in the 2001 edition, won by Angel Casero. Naturally, Hamilton is high on the list of contenders, and will be ably backed up not only by Sevilla, but by his whole Phonak squad. Also, keep an eye out for Jose Enrique (Quique or Keekee if you like) Gutierrez should Hamilton falter for any reason.
Fassa also line up with the aim of putting an American on the map with their young climber Tom Danielson, lining up alongside Dario Frigo and Dario Cioni. Danielson has climbed steadily and within himself all year in Europe, and will no doubt arrive at his first Grand Tour with "ganas" as they say in Spain. Of course, the Fassas will work hard to get Petacchi to the line during the sparse flat stages, but this in itself could be a complicated task given the way these stages across the heart of Spain so often cut the peloton to shreds. At some point, the team will need to decide whether they are in for the GC or there just to add another swag of stage wins to Alessandro's account.
Among the other real big guns or celebrity drawcards is T-Mobile's Kapitan Kazak, Alexandre Vinokourov, who will want to make up for missing the Tour after an ill-timed accident. Lining up with him and still spitting chips after his Tour exclusion is the Aussie GC hope Cadel Evans; if Evans can hold his own against the clock on the two flat TTs, he will have a good chance of finishing very well - but the factor that will hold him back in his need to support Vino. With Vino and Evans is 2002 Giro winner Paolo Savoldelli, back after a long lay-off. And then comes the Italy's Saeco Red Brigade, clearly focussed with one man at the helm in the form of this year's Giro champion Damiano Cunego. Cunego is listed as co-leader with Danilo Di Luca, but this pairing doesn't really carry with it the tension of the Simoni-Cunego set-up we saw in May.
Illes Baleares line up with a strong outfit headed ably by Paco Mancebo and Denis Menchov, both old hands now in Spain and both capable of holding their own over three weeks. The list goes on: Zubeldia, Sanchez, Casagrande, Moller, Pecharroman, Martinez, Sunderland, O'Grady, Freire, Sastre, Beltran, Jaksche, Garzelli... it's not a race to lay loads of money at the bookies on a clear-shot winner.
One team that is in many ways the year's sensation is of course Saunier Duval, who will be sure to light the Vuelta's roads on fire. The only problem that seems to arise with Saunier and the crew of team director Joxean Matxin's magic yellow bus (who knows what goes on in there, they are always smiling and always winning) is that the team is so good on paper, it's hard to know who will they ride for. Even a triumphant return from Joseba Beloki should not be discounted, as every rider that Matxin seems to touch turns to gold and then points back to Matxin and the atmosphere he creates as being like nothing else they have ever experienced, and the key to their change in fortune.
So intrigued we were by Matxin's choice of stars to choose from - namely Beloki, Canada, Casero, J.C. Dominguez, Jeker, Perdiguero, Piepoli, Zaballa and Joaquim Rodriguez - we asked him who would he nominate as leader. Without a doubt, their leader is Beloki said Matxin, going on to say Beloki is ready and has the form to win: "The whole team is going to the Vuelta with this in mind... we will win the Vuelta with Beloki," he foretold.
Stuey O'Grady, Oscar Freire, Van Heeswijk and Pedro Horillo will try and mix it in the sprints and breakaways, but others to keep an eye for are the lads from Paternina Costa Almeria, who with their strong contingent of Basque refugees, have a knack of infiltrating breaks, winning solo in the mountains, and sneaking away towards the end of a long stage - watch del Rio, Herrero and of course the climbing machine Jonathon Gonzalez. With them, keep in mind the strengthened Basque-Colombian line-up of Café Baqué, who have amongst their ranks last year's mountains winner Felix Cardenas. Of course, Euskaltel will give it their best shot after a disappointing Tour with Laiseka and Zubeldia, possibly riding to support Samuel Sanchez. The Orange brigade also has a few youngsters in the team; of them take note of the strapping Josu Silloniz and the young climber, Joseba Albizu.
The 2004 Vuelta a España: chock-a-block full of contenders and obstacles - the wind, the clock and the mountains - this year's edition will surely not disappoint if what you like is open, fast and gruelling cycling competition. For this year, there is no script, no patron, only possibilities...