Tour de France News for July 21, 2004
Edited by Jeff Jones
The maillot jaune changes hands
Armstrong wins stage in Villard-de-Lans
Lance Armstrong
Photo ©: Roberto Bettini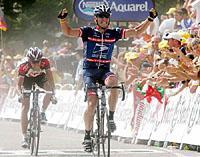 Lance Armstrong won his 18th Tour de France stage today and put on his 61st maillot jaune after sprinting around Ivan Basso (CSC) and Jan Ullrich (T-Mobile) in Villard-de-Lans. The 15th stage was perhaps the race's most exciting yet, as Ullrich took the bull by the horns with 60 km to go and attacked in an attempt to win the stage and possibly unseat Armstrong and the other GC favourites. The German partially succeeded as he moved up three places on the general classification, but he didn't get his stage victory after the combined might of US Postal and CSC pulled him back with 25 km to go.
At the finish, Armstrong showed that he was the best man in the race by launching a powerful sprint with 200m to go to hold of Basso and Ullrich and take the yellow jersey as well. "To go two for two is great!" said a delighted Armstrong post-stage. "There's still a part of me that wanted to ride a legendary mountain like l'Alpe d'Huez in the Yellow Jersey."
Lance talked about the finale post-stage, explaining that "The front group came back together at the end of the stage so there was the risk of (losing time via) the time bonuses. Sure, you can sit up and get fourth, but why give 0'20 to your rivals. So it was important (to win)...Johan was screaming in my ear that I had to win because of the time bonuses. At this point, it's a question of having a minute twenty five (on Basso) so every second counts...sorry, no pun intended...and I have to say there's something special about winning in the sprints. To win alone it's exciting and fun but, I don't know, to win in a sprint, to me is much more intense than being alone."
As for Ullrich, Armstrong commented that, "T-Mobile's attack was really a team attack with Guerini, Klöden and Ullrich. We weren't very concerned when Ullrich attacked. With my teammates Landis and Azevedo, and then Basso's teammates Sastre and Voigt, we knew we could control the situation...For us, it was not really a threatening situation. Now had I been alone, then it could have been a different story. But thanks to a strong team, and Ivan had some guys there, it was not a problem."
Ullrich showed his champion qualities for the first time at this Tour with a rather enterprising attack, explaining afterwards that he went on the Col de l'Echarasson because the final climb wasn't hard enough. "I said before that I was going to give it my maximum at this Tour...when I attacked, I tried to unnerve Lance. I had to give it my all because I really wanted to win today. But still, when you have the stage win in your grasp and it slips, then that's disappointing.
"I've recovered well on the rest day and I'm feeling good. But I found a really strong team from Postal and Voigt helped too...it's too bad."
Stage 15 full results, report & photos
Live report
Stages & results
Final start list
Tour FAQ
The end of the dream
An interview with Thomas Voeckler
Thomas Voeckler's amazing run in the yellow jersey finally came to an end in Villard-de-Lans today, after he could no longer hang on to the furious pace set by US Postal, CSC and T-Mobile. But young Thomas has a bright future ahead of him, as Mélanie Leveau writes.
Thomas Voeckler (Brioches)
Photo ©: Sirotti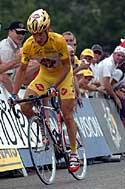 Thomas Voeckler crosses the line 9'30 behind Lance Armstrong. It is over. He won't wear the yellow jersey any longer. It is the American who will climb l'Alpe d'Huez in yellow tomorrow. In the general classification, Voeckler is now eighth overall, 9'28 back.
Voeckler doesn't look disappointed. He suspected before the start this morning that his hours were numbered. He knew he was right as soon as the fight started. He was dropped for the first time on the second category Col des Limouches but, as a habit, came back on the descent. The next climb, however, was fatal. He would never see again Armstrong before the finish line in Villard-de-Lans.
He rode the three kilometres of the final climb alone, first behind a big peloton, but concluded his day on his teammate Pineau's wheel after a long sprint to the line.
Voeckler lost his yellow jersey. True. But a new race started for him: the one for the white jersey that rewards the best young rider. "The yellow jersey wasn't a real objective. It was more a kind of bonus. But the white jersey is a goal we can reach with the team: not only me, but Chavanel and Pineau too," said Voeckler after the finish today.
Click here for the full interview
Riis defends his tactics
Team CSC director Bjarne Riis came under fire during Stage 15 of the Tour today when he ordered his team to combine with US Postal to chase down Jan Ullrich, who had made a surprise attack with 60 km to go on the Col de l'Echarasson. Ullrich, who was in pursuit of leaders Richard Virenque and Michael Rasmussen (among others), managed to gain 1'09 on Armstrong's group at one point and causing a lot of damage to the other GC riders such as Mancebo, Totschnig and Voeckler. However, when CSC's Jens Voigt was called back from the front to help out the chase, Ullrich's move was doomed and he came back with just over 25 km to go.
During the stage, many teams, commentators and fans thought Riis was playing right into Armstrong's hands, and was only racing for second with Basso, rather than trying to isolate Armstrong. But in a post-race interview with Sporza, an annoyed Riis said, "Yeah they have the right to say that. I don't see why I shouldn't have done it though."
What was the reason then? "Because it was not the moment to let Ullrich go. There was a group behind with some rivals in it. Ivan [Basso] said he was strong and would like to win today."
When asked whether it wouldn't have been better for Basso to attack Armstrong, Riis said, "No way. First of all, we are realistic. Second, when the possibility is there, we well take it. But not today...I know what I'm doing. I'm not here to satisfy everyone. I'm here to satisfy my team and no-one else."
Caucchioli loses time, but keeps GC place
After finishing 18th in today's 15th stage, 2'13 behind Lance Armstrong, Alessio-Bianchi's top man Pietro Caucchioli kept his 9th place on the general classification. The Italian's ambitions are for a top 10 finish in Paris, but he has been sick for several days and is finding it tough.
"I was hindered by an annoying cold," Caucchioli confessed at the finish. "Anyway, I still hold ninth position in the ranking: at the beginning of the Tour I aimed at being in the first ten, and at the moment I can say I've fulfilled my mission."
Caucchioli also wants to win a stage. "If I escaped, US Postal wouldn't worry too much, considering the gap between the yellow jersey and me. In next days I may try. Anyway, I promise I'm not going to plan too much. I will live hand-to-mouth, trying to do my best every day. Starting just from tomorrow's time trial on the climb."
Medical communique
Andreas Klöden (T-Mobile) - Cuts on left hip and knee after crash at kilometre 16
Mikel Astarloza (Ag2r-Prévoyance) - Pain in right Achilles tendon
Oscar Sevilla (Phonak) - Pain in right Achilles tendon
Comissaire's communique
Stefano Zanini (Quick.Step-Davitamon) - Fined 30 CHF for brief drafting behind car
Stuart O'Grady (Cofidis) - Fined 50 CHF for unauthorised feed
Cofidis directeur sportif - Fined 200 CHF for O'Grady's unauthorised feed
Jimmy Casper (Cofidis) - Fined 100 CHF for failing to sign in at start
The following riders were fined 50 CHF and penalised 10" and 5 points for brief drafting behind car.
Kim Kirchen (Fassa Bortolo)
Michele Scarponi (Domina Vacanze)
Matthew Wilson (FDJeux.com)
(All rights reserved/Copyright Knapp Communications Pty Limited 2004)