Tour de France News for July 20, 2004
Edited by Jeff Jones
Where have all the favourites gone?
Armstrong in control as Basso and Klöden step forward
By Chris Henry in Nîmes
Thomas Voeckler
Photo ©: Jon Devich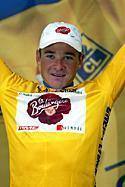 The second phase of the Tour de France produced a number of surprises, but not the sort most people expected. As the first major climbs came, nearly all of the top favourites went...backwards or out of the race. Gone are Tyler Hamilton, Haimar Zubeldia, and Denis Menchov, among others. Meanwhile, Jan Ullrich failed to keep pace in the Pyrenees and dropped to nearly seven minutes behind the man to beat. Iban Mayo and his Euskaltel-Euskadi team imploded as the race hit the Pyrénées, practically home court for the Basques, and Spaniard Roberto Heras failed to reproduce his fierce climbing talent he showed on the same two mountain finishes two years ago.
Two 'new' faces emerged atop the leader board, one expected, one less so. Ivan Basso, GC leader for Team CSC, has thus far confirmed his potential as Italy's next great stage race rider. A former winner of the white jersey of best young rider, Basso has come into his own in the first mountains of this year's Tour and on the first two mountaintop finishes he was the only man capable of matching the pace of defending champion Lance Armstrong. Basso took a stage win and a second place, and set himself up to be Armstrong's closest challenger for the remainder of the race. T-Mobile's Andreas Klöden leapt ahead of his faltering leader Jan Ullrich and he too could carry on for a podium finish in Paris if he can maintain his form through the next set of mountains.
Armstrong isn't in yellow yet, but the American and his dominant US Postal Service team once again made the Tour their own, dispensing of their rivals systematically through perfect tactics and an unforgiving collective strength. After 14 stages, Armstrong sits just 22 seconds out of the race lead. Next stop: the Alps.
Click here to read the full rest day 2 wrap up.
Postal watch
By Tim Maloney, European editor in Nimes
Jose and Chechu, Lance's go-to guys
Jose Azevedo (USPS)
Photo ©: Roberto Bettini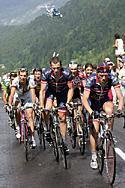 Cyclingnews spoke to Chechu Rubiera and Jose Azevedo at the US Postal team hotel before they went for a ride on Monday's rest day. Azevedo is feeling at home on US Postal, saying "I feel happy here...We've had two good days in the mountains, the team did a very good job and Lance is in good position. But we still have one week more to go; the Tour isn't finished yet."
Chechu Rubiera has become one of Armstrong's most reliable team riders since coming to USPS three and a half years ago and his comments to Cyclingnews echo the tone of cautious optimism at the Postal squad for a sixth consecutive win by Armstrong. "Things are going really, really well...we are really happy, but there is still a week of racing left to go. So we have to be really focused on the coming days, because we have to defend attacks, avoid crashes, a lot of things...Paris is still far away."
We asked Chechu how former rival, now teammate Azevedo was fitting in at Postal. Chechu responded, "Azevedo is a great rider. He's already been in the top 10 in the Tour a a few years ago and he's a great teammate. Azevedo works really well; he takes care of his teammates, goes back for bottles and all that kind of stuff. So I think Azevedo is a really, really good guy for the team and we are really happy with him."
George the climber, or the secret of the black socks?
Hincapie (USPS)
Photo ©: Caroline Yang
Cyclingnews asked George Hincapie if there was a secret to his incredible climbing prowess this year at the Tour De France, as well as the black socks that he and Lance both seem to favour on crucial stages. "I've already done the stages we raced the last couple of days, so I think that helps. You know, I think it's just more experience and just getting stronger with age."
George refused to reveal any of the inside skinny on the decidedly non-traditional hosiery, telling Cyclingnews that "I wear them all the time! I wore 'em all spring...the pair that Lance gave me are thinner. But I just like black socks. I guess a lot of people don't like black socks but Lance and I do."
Basso remains calm
Ivan Basso (CSC)
Photo ©: Sirotti

Italian cyclist Ivan Basso (CSC) impressed the cycling world in the Pyrenees last weekend by being the only rider to trade blows with Tour favourite Lance Armstrong on the final climbs. Basso and Armstrong both won stages in the mountains, and the Italian has now moved up to a very solid third on GC, 1'39 behind leader Voeckler and 1'17 behind Armstrong.
At a press conference on the Tour's rest day, Basso said that he is staying calm as the Tour enters its final, crucial last week. "I feel good, I feel strong," he said on CSC's website (team-csc.com). "Normally, Armstrong goes full gas, but I stayed with him. I didn't die. It's been a little bit of a surprise, but I knew I had the power before the Tour. I knew of my potential before the Tour. There's still one week more of the Tour, so I want to stay calm, stay where I am."
Although Basso and Armstrong were inseparable on La Mongie and Plateau de Beille, Basso said that he will attack if he sees the opportunity. "It's possible to win the Tour de France in one attack," Basso said. "Last year at Luz Ardiden, Armstrong won the race in one attack. I don't know if Armstrong will have a bad day. If he does, we will be ready. It's not worth it to attack just to gain 10 to 20 seconds."
Team director Bjarne Riis agreed, saying, "We will attack Armstrong only if he shows weakness. We are waiting for that...First, we will ride to protect Ivan. I believe he can finish on the podium. If he can follow Armstrong in the next few stages, that will be very important."
Piil abandons
It wasn't all good news for CSC, as their most aggressive rider Jakob Piil was forced to pull out of the Tour on the rest day. According to the team, he has hyper-extended his knee and could barely walk following Sunday's stage.
American Bobby Julich is expected to be able to continue despite injuring his right wrist in a fall in Saturday's stage to Plateau de Beille. The swelling decreased in his wrist, but he likely won't be at 100 percent in the Alps.
Unfortunately, Carlos Sastre is still suffering from a back injury sustained after a crash in the first week. The Spanish rider has had trouble in the mountains, even though he was able to make a significant attack in Stage 12. "Carlos did a great job at La Mongie but it will be hard for him to finish in the top 10," Riis said. "He has the qualities to finish in the top 5, but with his back problems it will be hard for him to be at that level."
Nice and easy?
By Tim Maloney, European editor in Nimes
Riis & Team Easy-On
Photo ©: Chris Henry

Team Easy-On is a pro cycling team that's one of the top pro squads in Denmark, but you can only find them on Danish TV. Brian Henning Primdahl is one of Denmark's top comics and his popular show The Boys From Angora features a ongoing skit about a pro cycling team called Team Easy-On. Primdahl plays a comical bumpkin of a sports director of a pro cycling team sponsored by a condom company and the inept adventures of his wacky team are very popular among Danish TV viewers. They poke fun at cycling in general and the stereotypes in the sport.
Primdahl's team is allegedly based in central Denmark near the agricultural city of Randers where the thick accent makes Danish practically unintelligible even to Danes. Team Easy-On's small budget, reportedly around 2,000 euros (as well as an abundant supply of free condoms) makes life miserable.
(All rights reserved/Copyright Knapp Communications Pty Limited 2004)