Tour de France News Extra for July 18, 2004
Edited by Anthony Tan
Stage 14 preview: Green sea for sprinters
By Anthony Tan
"Because I can..."
Photo ©: Roberto Bettini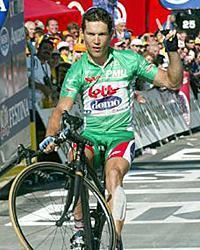 After transferring from the hilltop finish of the Plateau de Beille to the fortified city of Carcassonne yesterday, the 160 riders left in the 91st Tour de France face an about-turn and head northeast to the town of Nimes for Stage 14.
A pancake-flat stage with no mountain in sight, riders will count their blessings with the Pyrénées now behind them and a rest day to look forward to. It's a direct route that hugs the coastline to Marseille, passing through the well-known cities of Béziers and Montpellier, and containing two hot-spot sprints at Capstang (km 53) and Villevieille (km 166.5).
Flat as a pancake
Photo ©: CN/AFP

The team of maillot jaune Thomas Voeckler, Brioches La Boulangère, and Lance Armstrong's USPS/Berry Floor Blue Train will be more than content to see a break go early on, provided, of course, those in the break represent no threat to the overall classification. This will allow the baker boys and boys in blue to set a fast but even tempo before the sprinters' teams take control in the final 50 kilometres or so.
With 'The Boss' looking a sure-fire bet for a sixth consecutive Tour victory and 'Tricky Dicky' Ricky Virenque well ahead in the mountains classification, the French housewives' favourite aiming for a record seventh King of the Mountains title, it appears the competition for the maillot vert will once again become the most hotly-contested item of clothing in Le Tour's final week.
This is the last stage for the fast men before the riders hit the Champs-Elysées, so expect to see McEwen, Zabel, Hushovd, O'Grady and Hondo rubbing shoulders with one another as the peloton storms into Nimes at breakneck speed.
Basso the most dangerous adversary
Danger man: Ivan Basso
Photo ©: Chris Henry

Dr. Michele Ferrari, one-time trainer and occasional adviser to defending Tour champion Lance Armstrong, believes CSC's Ivan Basso to be the most serious threat to the Texan's chances of taking a record sixth consecutive win. In his latest diary on Cyclingnews, Dr. Ferrari writes: "So far, the race has suggested Ivan Basso to be the most dangerous adversary for Armstrong; much improved from last year, light and powerful on the climbs."
However, the good doctor acknowledges a visibly improved Armstrong compared to that of the previous day's stage to La Mongie. "Lance today was more brilliant than yesterday, a sign of excellent recovery and endurance skills that probably compensate for a minor explosiveness if compared to some years ago. His climbing action was very fluid (90-95 RPM), while Ullrich confirms his unhappiness, suffering on much lower cadences than those displayed last year."
Click here to read more from the Dr. Ferarri's Tour de France diary.
It's all good for Alessio-Bianchi
Caucchioli still in the hunt
Photo ©: Chris Henry
Despite Scott Sunderland (and presumably many others) describing the tempo riding by US Postal/Berry Floor as "not comfortable", our resident diarist was still able to help his team leader Pietro Caucchioli in the early mountains before his legs "ran out of bikkies" on the third-to-last climb of the Col d'Agnes. Caucchioli performed solidly to finish ninth on the stage, and in doing so, kept his position in the top 10 on the overall classification.
Wrote Sunderland in his latest diary entry: "I think many underestimated the Pyrenean stages. Speaking for myself and the comments from some of the others, the tempo was not comfortable today, even just sitting in the wheels of US Postal it wasn't. I was happy to be up there for Caucchioli for the initial climbs. I couldn't get to him for the final but I did everything I could for him before. He finished a great day off with ninth place.
Sunderland also praised Iban Mayo for not quitting during his darkest hour in the race, but would have preferred to be in a different group, with the incessant screaming from thousands of maniacal supporters playing havoc with his ears by the day's end.
"Mayo could have got off, it takes some guts to keep going. He's come to the Tour to win, so it's really hard to digest what's happened. For him to ride that last climb with so many people there to see him, while carrying the whole weight of the Basque people on his shoulders...It's not unless you're actually there, that you can grasp the true impact of it all."
"I was relieved when we got to 2km to go where the tour organisation had it all barricaded; my ears were ringing. Even though he hasn't been going well, the people were still supporting Mayo so much; yelling out "courage, courage". A few times I heard a surprising "boo", but 99 percent of the crowd were cheering for Iban and all the other Euskaltel riders," he wrote.
Click here to read more from Scott's Tour de France diary.
R.A.G.T. needs to buckle-up
Rinero trying
Photo ©: Caroline Yang

As the peloton were making their way through the Massif Central a few days ago, R.A.G.T. Semences-MG Rover team manager Jean-Luc Jonrond expressed a strong desire for his team to "buck our ideas up and get a grip... otherwise we'll find ourselves with the dunce's cap on." However, Jonrond also maintained the need to be realistic, and indicated the team's selection of favouring experience to offensive spirit may have been to their detriment. Here's what he had to say.
Q: Jean-Luc, what is happening in the RAGT Semences- MG Rover formation?
Jean-Luc Jonrond: We have to admit that a degree of doubt is settling in. And we have to get rid of this right away. We have to buck our ideas up - and I mean the whole team. RAGT Semences-MG Rover cannot be content just to follow, they have to be where the action is. The motto "we can do better tomorrow" is out the window now. The team cannot sit back and be happy with a mid-field seventieth place but give it all its got and aim for twentieth. It's exactly the same thing. Okay, the risks are higher, but that's where it's all at, it's where we have to be.
Q: How do you see the near future?
J-LJ: Well, we have to be realistic. Either we get a grip and anything is possible, otherwise we'll find ourselves with the dunce's cap on. Take a look at Richard Virenque. He's not the chap he was when he was twenty. But just look at his determination and enthusiasm! I've not lost hope of seeing Gilles Bouvard back on top form. He's got experience of the Tour. He's got to use it! And even if Christophe Rinero is absent today, I've still got confidence in him. And also Ludovic Martin, who is still learning but could do well. There's also Sylvain Calzati. Without any favouritism, he has certainly proved that he's deserves his place on the Tour. Pierre Bourquenoud promised he'd make his mark in the mountains. You'll be looking out for him - so will I.
Q: What conclusions do you draw about the team you have selected?
J-LJ: We can't bring the team into question. The team is as it is. We favoured experience perhaps to the detriment of a more offensive spirit. Some riders like Nicolas Reynaud have lost out due to this choice. He came through from the amateurs and there was no guarantee that he could finish in Paris - that's not the way we chose it to be. No regrets though, but it means we have to change our strategy starting with attitude. We were so stuck on the idea of not making it through to the end that we favoured a collective finish in Paris. However, this has meant that we have been sitting back waiting for things to happen - and that has got to change.
McConneloug appeals for spot on U.S. Olympic MTB Team
Mary McConneloug has filed an appeal over USA Cycling's decision to nominate Sue Haywood to the U.S. Olympic MTB Team, reports the San Francisco Chronicle.
USA Cycling selected Haywood based on her UCI ranking for the year ending July 12, however according to Tim Reynolds, Associated Press sports writer for the SF Chronicle, McConneloug originally placed 23rd at the World Marathon MTB championships in Austria on July 11, which would have given her enough points to end the Olympic qualifying year slightly ahead of Haywood. Official results, however, put McConneloug 24th, her corrected position costing her at least one point.
Confusing the issue further was USA Cycling's decision to award Haywood 15 points from a race last summer in Idaho and the decision by the UCI not to include those points in their official rankings. The UCI calculation, which, if published on July 12, would have excluded the disputed 15 points because those results were not forwarded to its offices.
Jennifer Miller, spokeswoman for McConneloug's Seven Cycles team, declined to discuss the appeal or whether a hearing had been scheduled. As of Saturday, USA Cycling's Olympic team leader Steve Johnson had not seen the appeal from McConneloug.
Cyclist crushed to death in Iowa
43 year-old Iowan resident and avid cyclist, David L. Holmes, was crushed to death while out training last Wednesday, July 14.
According to Kim West from Des Moines, Iowa, Holmes was out on a routine training ride that took him through a highway construction zone. A pilot vehicle - hired by the construction company to safely lead vehicles through the single-lane zone one direction at a time - passed him while he rode his bike through the zone; after the pilot vehicle passed, a semi-truck and trailer also overtook Holmes, and reportedly cut back over too soon, crushing the cyclist with its rear wheels.
West has said the local newspapers have made it sound like Holmes 'lost control' of his bike. "Not hard to do when a semi is crushing you," he wrote in an email to Cyclingnews. "David was married in April of this year. He did Paris-Brest-Paris in the past, and organized many races in and around Iowa. We miss him already."
A funeral service was held for David on Saturday, July 17, at the Cunnick-Collins Mortuary Chapel in Davenport, Iowa. He was buried in Pine Hill Cemetery.
Following is an orbituary on David from a local newspaper:
David Lee Holmes was born Sept. 6, 1961, to Donald and Deanna (Lange) Holmes in Davenport. He married Tamara L. Solbrig on April 1, 2004, in Davenport. Mr. Holmes was employed as a journeyman electrician through IBEW Local 145 in Rock Island. David was an avid bicyclist. He was a member of the Quad-City Bicycle Club, the Ultra Marathon Cycling Association, and the event director of the UMCA 24 Hour Time Trial Championships. He had competed in the Paris-Brest-Paris in 1991 covering 750 miles in 63 hours, the Criterion races in Rock Island and many others. Survivors include his wife, Tamera; his parents, Donald and Deanna Holmes, of Davenport; three children, Brittni, Courtney, and David, all at home; two stepsons, Cory Reeves, stationed at the Davis-Monthan AFB, Tucson, Ariz., and Kyle Reeves, of Davenport. In lieu of flowers, memorials may go to the family.
Cyclingnews wishes David's family and friends our warmest condolences.
(All rights reserved/Copyright Knapp Communications Pty Limited 2004)