91st Tour de France - July 3-25, 2004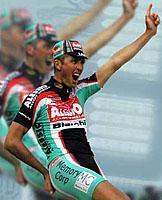 Scott Sunderland
Photo: © Memory Corp
Scott Sunderland's Tour Diary
Cyclingnews' longest contributing diarist Scott Sunderland is taking part in his second Tour de France in 2004 as part of the versatile Alessio-Bianchi team. Scott's role will be mainly to help Pietro Caucchioli, but he also hopes to have a few opportunities for stage wins. Once again, he'll be providing his highly experienced viewpoint on the Tour, its riders and anything else.
Attack, attack, attack!
Stage 13 - Saturday July 17: Lannemezan - Plateau de Beille, 205.5 km
Scott being interviewed at the Village Départ
Photo ©: Sabine Sunderland

Everyone still knows Bernard Hinault
Photo ©: Sabine Sunderland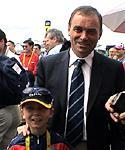 Scott can only dream...
Photo ©: Sabine Sunderland

I got some morale back yesterday evening and thought I'd give it another shot today. From practically zero kilometres I went away with six guys. A couple more guys came across and then bloody Virenque and Rasmussen showed up! I knew that would be the end of it, even though we tried to keep it rolling.
As expected, the Postie boys closed down the gap but I tried to keep going. I went with yet another attack, but that wasn't going anywhere either. Then Boogerd crashed over the top of the climb and four or five guys got away.
We came into a village and I was sitting somewhat further back when Voigt and Chavanel went. They opened up a big gap and that turned out to be the break of the day. The Posties decided not to chase this time and no-one else did. Suddenly Rasmussen surprised everyone and went off on his own.
It was going alright for me, I was sitting comfortably on all the climbs. We started the last Cat. 2 before the Plateau - the Col de Latrape and I survived that one nicely also. But, on the next col, the first cat. climb (Col d'Agnes) the legs ran out of bikkies.
Iban Mayo
I found myself alongside Mayo. His team director came up to him and it really looked like Iban was going to abandon. I realized I couldn't hang around there for too long because I had to keep going at my own tempo. Even though I don't understand a hell of a lot of Spanish it was clear that his team director was trying to convince him to continue.
I kept on going, picking up riders in small groups and I ended up in a reasonable sized bunch. Mayo's group came back to us on the next third cat. climb. We also picked up Gonzalez de Galdeano and then more or less cruised through to the final climb.
Our group tempoed to the bottom, from there we took it fairly easy. It was even a fraction too slow for me - it's easier to ride your own tempo, more comfortable going your own rhythm.
It was no fun being in a group with Mayo. There were too many orange shirts there and so many Basque people screaming at us! They'd been there all day, drinking in the sun and we could smell the alcohol off their breath.
I was relieved when we got to 2km to go where the tour organisation had it all barricaded; my ears were ringing. Even though he hasn't been going well, the people were still supporting Mayo so much; yelling out "courage, courage". A few times I heard a surprising "boo", but 99 percent of the crowd were cheering for Iban and all the other Euskaltel riders.
Mayo could have got off, it takes some guts to keep going. He's come to the Tour to win, so it's really hard to digest what's happened. For him to ride that last climb with so many people there to see him, while carrying the whole weight of the Basque people on his shoulders...It's not unless you're actually there, that you can grasp the true impact of it all.
Tyler Hamilton steps off
I saw Tyler Hamilton stepped off. He didn't look good at all. Breaking his collarbone last year - that did cause a lot of pain but it didn't really affect the legs. Back pain is unbelievable though. It simply blocks the whole motor. If you don't have a good "link" to the wheels you can't do anything; I know from experience. It will be a huge disappointment for him, the team and the supporters.
I got myself to the finish. That sums up the rest of the stage.
The Pyrenees
After the finish, the teams actually had a hell of a time getting off the mountain. We had police escorts but there were so many people on Plateau de Beille. It means another night of a 9pm dinner and midnight before we get to bed.
I dare say everyone, including the Postal boys, would be looking forward to the next rest day.
I think many underestimated the Pyrenean stages. Speaking for myself and the comments from some of the others, the tempo was not comfortable today, even just sitting in the wheels of US Postal it wasn't.
The boys
I was happy to be up there for Caucchioli for the initial climbs. I couldn't get to him for the final but I did everything I could for him before. He finished a great day off with ninth place.
From the team aspect it's all good. This morning again Alessio-Bianchi went in the attacks, with Marcus and myself. If Virenque and Rasmussen hadn't been there it could have been a nice day in front.
Lance rode another fantastic stage today, and I expect to see some more great things from him later on in the race. Voeckler is amazing too, it's good to see him in yellow still, he surely deserves it.
At this moment I don't really feel like thinking about tomorrow yet. I'm not sure how the sprinters will recuperate; they really only have tomorrow and the Champs Elysées to win. If possible they'll get the boys together to do the work tomorrow
Moi? I'll see how my spirit is in the morning before the stage.
Aussie support
I have to say thanks for the great cheers from the Aussie fans today, and for the bottles of Aquarel water which were passed out to the spectators who then gave them to us. We pour it over our heads, as we tend not to drink anything given to us from the crowd. It feels good to tip the water over your head and feet on a warm day like today.
There's a few riders getting really tired too. Marcus said that guys were starting to hit the front wheels with their heads down trying to get up the mountain!
Well people, that's all for today, the next thing my head will hit is the pillow!