Tour de France News Extra for July 15, 2004
Edited by John Stevenson
O'Grady still second; McEwen's green threatened
Australian round-up by John Trevorrow
Stuart O'Grady
Photo: © Jon Devich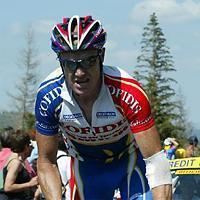 Stuart O'Grady rode superbly in the 237 km longest stage of the tour from Limoges to St Flour, although he finished just outside the points in 23rd place in his battle for green. O'Grady is still in 2nd place in General Classification but local hero Thomas Voeckler doesn't look likely to surrender his Maillot Jaune before the Pyrenees.
However it was Erik Zabel who has mounted the most impressive challenge for the Maillot Vert. The first mountain stage, with nine categorised climbs including a category one, did not open up the GC as predicted and Zabel sprinted strongly up the demanding final kilometre to take 3rd spot and valuable points.
He is now only 10 points behind Robbie McEwen after gaining 15 points on him, McEwen finishing well out of the points in 164th position. Tomorrow's stage, although tough with five climbs, does not look difficult enough to trouble the in-form German and should also suit O'Grady, so McEwen's hold on the green jersey suddenly looks precarious.
McEwen battled all day but finally had to succumb to the pressure and the incessant climbs. "I feel better now than what I did at the start," he said. "I was in a bit of trouble but I got through it, step by step. I felt a bit blocked at the start, and with the winding roads and the up and down, you had to be up the front. Hopefully I can recover and be right for tomorrow."
"This was the hardest day of the Tour for me and I'm glad it's over. This kind of stage with all the climbing and the winding roads is not my type of day and never was going to be. I wasn't trying to fight to stay in the front group or get a result today, I was just trying to finish and get the stage out of the way."
McEwen's knee is still giving him problems after his crashes in the first week of the Tour, but was less of a factor than the terrain. "My knee's still sore but fortunately it didn't really affect me today," he said. "The problems could come in the Pyrenees at the weekend. I don't know how my knee will handle all the climbing. I usually make it through by finishing in the main bunch of riders but with an injury it's going to be even harder. I hope my experience of suffering will help me survive."
Allan Davis was dropped, like many others, on the first category-one climb of the tour, however his team leader, Roberto Heras, managed to stay in touch with the main contenders.
"We were just trying to get in the moves at the start," said Davis, "then get the guys who are climbers, like Roberto, up the front for the cat. 1 climb and then let them go. We'll see what happens after that. Just basically put it on the line."
He was asked how he felt after the gruelling 237km stage.
"Not too bad. Very tired, but I'm sure there a lot of other guys out there who are tired as well."
For Alessio's Scott Sunderland, it was a day of survival. "I had really heavy legs today - they weren't sore, painful, or stiff, just heavy," he writes in his diary. "It was like I had old training wheels on, not my race wheels. That's the sensation I had, and it never got better. I was able to keep myself at the front, but my legs were not willing to get in the breaks. It wasn't like the previous days where I was looking for every opportunity. I felt good otherwise and I woke up fresh. It was just a matter of going through the motions."
Voeckler gets by
Stuart O'Grady
Photo: © Jon Devich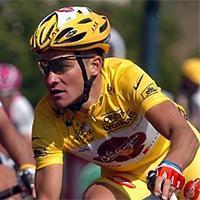 Brioche la Boulangere's young French champion Thomas Voeckler wasn't expected to hang on to the yellow jersey after the long and hilly terrain of stage 10, but with a little help from his friends, the 24-year-old will spend one more day as race leader.
"I don't know what to say about the yellow jersey," said Voeckler. "If it wasn't for the hard work of my team-mates from the start to the end of each stage, I simply wouldn't have the jersey," said the French national champion.
That willingness to share the credit, combined with his constant smile and boyish good looks, have earned Voeckler a tremendous amount of affection from the French public, starved of a true star in their national race for many years. Fans turned out in huge numbers to cheer on the yellow jersey on France's national day. But he recognises that hanging on for much longer will not be easy.
"It's going to be hard over the coming days, and I'm not looking forward to the climbs in the mountains but we'll be doing everything we can to keep the jersey. The guys are right behind me and want to keep it in the team. The least I can do is do my bit."
"I'm not a machine," added Voeckler. "I had some bad moments today and some good ones too. I was very impressed by the work my team did for me, but so much energy was spent today that we can't do it every day."
Voeckler was impressed with the ride of compatriot and stage winner Richard Virenque, saying, "It's a great win for him, major respect to Richard. It was a hard stage, and he really went looking for the win."
Bruyneel: every second counts
US Postal directeur sportif Johan Bruyneel was happy with the performance of his main man Lance Armstrong in stage 10, and happy also that Armstrong added a few precious seconds to the margin he holds over two his likely main rivals in this Tour de France, Tyler Hamilton and Roberto Heras.
"Remember Fignon? He lost by eight seconds. It can be important," said Bruyneel. Armstrong is now 43 seconds ahead of Hamilton and 1:52 ahead of Heras. But while Armstrong gained seven seconds there, Jan Ullrich was able to stay with him on the final climb and remains a threatening 55 seconds behind.
However, Bruyneel said that it was still too early in the race to be certain of Armstrong's form. Armstrong "looked good and sounded good on the radio," Bruyneel said. "It was a hard climb ... but still very far from the finish of the race, so we can't really know now who is good and bad."
Virenque vs Merckx
After co-operating on their breakaway in stage 10, Axel Merckx and Richard Virenque engaged in a rather fractious battle of words after the stage. The point of contention: whether Virenque broke an agreement between the two to stay together for the finish.
"We had an agreement," said Merckx, who was dropped by the peloton after being caught after the final climb. "He was to take the points [for the mountains jersey], we would ride to the finish together then we would fight for the victory. I was riding at my own rhythm, then he accelerated. I thought he was going to wait for me. He didn't stick to his word. He was obviously carried away by the fact it was France's national holiday."
Virenque said that he was riding today for the king of the mountains jersey, and that the stage win was not part of the original plan. But had he stayed with Merckx on the first category Col du Pas de Peyrol-Le Puy Mary, the stage victory would have been in jeopardy and team orders took over. "I didn't attack Axel," said Virenque. "The team manager just asked me to go a bit faster to make sure of the stage win. We had attacked together, but he cracked when we were riding steadily up the first category climb. I didn't betray him. I can understand he's disappointed but we're not in the same team, so it's not me he should be angry at."
At 34 Virenque is approaching the end of his career. He'd clearly like to dispel the memory of darkest moments of his 13 year pro career - the Festina scandal in 1998 and his subsequent suspension - by becoming the only rider to win the Tour de France polka dot jersey seven times. But what then?
"I can go in peace now," Virenque said of his Bastille Day victory. "The day I feel that I'm on the way down, I will stop. I don't want to ride a year too many. We'll discuss it at the end of the Tour but as long as the flame is there, I think I should continue. I don't know exactly when but I will have to make a decision soon."
"The most difficult part of the season is the start," said Virenque. "It's hard to make the sacrifices when you have a wife and children and you want to spend more time with them."
Virenque has made a trademark of long, high-intensity escapes in the mountains, bagging points on the way, but stage 10 took all his reserves. "I was really exhausted towards the end," said Virenque. "The final bit was very hard. I'm dead. I might pay for it tomorrow but the main thing was to make an impression in this Tour."
Hincapie to be a father
US Postal rider George Hincapie has revealed that he and girlfriend Melanie Simonneau are expecting their first child in November. The couple, who recently announced their engagement, met at last year's Tour de France, where Simonneau was one of the "Credit Lyonnais girls" hired by the race's sponsor to hand out fluffy lions.
"I was mesmerized by her," Hincapie told Associated Press. "I needed to talk to her or find her phone number." Hincapie didn't think it would amount to anything, but nevertheless wrote Simonneau a note and got one of her bosses to pass it along. A year later, 23-year-old Simonneau is five months pregnant. "We found out three days ago that it is a girl," said Hincapie.
(All rights reserved/Copyright Knapp Communications Pty Limited 2004)