91st Tour de France - July 3-25, 2004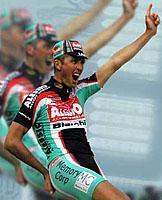 Scott Sunderland
Photo: © Memory Corp
Scott Sunderland's Tour Diary
Cyclingnews' longest contributing diarist Scott Sunderland is taking part in his second Tour de France in 2004 as part of the versatile Alessio-Bianchi team. Scott's role will be mainly to help Pietro Caucchioli, but he also hopes to have a few opportunities for stage wins. Once again, he'll be providing his highly experienced viewpoint on the Tour, its riders and anything else.
The longest day
Stage 10 - July 14: Limoges - St Flour, 237 km
It was the longest day today. We started off with 8 km of neutralisation, and that quickly bumped us up to 245 km because the way we ride neutrals is at race speed. As expected, after only a few kilometres the attacks started... A break went and USPS chased it down. There was a counter by Virenque, Merckx and Chavanel. Chavanel thought it would be caught but the other two kept going all the way to the finish!
I had really heavy legs today - they weren't sore, painful, or stiff, just heavy. It was like I had old training wheels on, not my race wheels. That's the sensation I had, and it never got better. I was able to keep myself at the front, but my legs were not willing to get in the breaks. It wasn't like the previous days where I was looking for every opportunity. I felt good otherwise and I woke up fresh. It was just a matter of going through the motions.
We came onto the climbs towards the end and I was feeling OK on the first category climb. But on the steep section...ooh boy, it was hard! I put the chain as far as it would go to the left; I had a 23 but I needed a 25. I couldn't get going at first but after a kilometre and a half, the legs started going again.
Near the top I was 50-75m from the tail end of the peloton. At the top I was 150m but they went down too quick. I got caught by a group with Hondo in it, and all of a sudden there were four or five Gerolsteiners. I thought 'these boys are on a mission'. The front peloton went so quick on the descent and at the bottom we were at 30 seconds.
Everybody just said, this is the bus, enjoy the ride. Usually if you're not here to ride for the first 20 on GC, you don't fight things like this, especially in my case. We are purely here to look after ourselves and try again tomorrow. I'm at a good 30 minutes down on GC now, so it leaves the door open for an attack where they will let us ride to the finish. Tomorrow's a stage where Boulangère can keep the jersey, so hopefully I can get in a break that will work.
Up until now, I haven't had an ordinary day. That's the first one today. I've done so many three week tours that I know it always comes to the middle of the second week when I have one or two ordinary days. I've had that in the back of my mind and hopefully I'll put it to good use.
Allez Richard
I'm not a big Richard Virenque fan. But to do what he does - every year he pulls a big one out of his hat. He'll probably be quite knackered for a few days now, but he's accumulated so many points for the mountains jersey in one day by doing that. It was a very big day for him.
Merckx couldn't quite hang on unfortunately. He was looking for an equally big day. It's hard when you put in efforts like that and are not able to reap the rewards.
Sun at last
Today was the first day with a bit of warmth. It had a bit of a fresh feel to it but most of us had a full sweat going. Tomorrow were starting in 20 degrees, but we're expecting 30 degrees at 5:00pm at the finish. The further we're going south, the warmer it's getting. That's going to play a lot with some people.
From what I've seen, Armstrong and Ullrich are looking very good. Hamilton's still hovering around there as well and these three are my top favourites. We'll have to see what Mancebo, Heras and Mayo do in the Pyrenees. It's up to them to bust this open for themselves, whereas Armstrong, Ullrich and Hamilton can afford to wait until the last week.
Nice spot in Saint Flour
We're staying about 500m from the finish of today's stage, near Cofidis and Quick.Step. It's great here - like a big mall with restaurants, cafes and everything. We went out for a bit of a walk, which was the first chance we've had because the other nights it's been raining and there's been nothing to see. We grabbed a big ice cream too. I think after the calories we burned today we can afford to eat one. It helps the morale as well.