Tour de France News for July 11, 2004
Edited by Jeff Jones
The youth movement continues
Filippo Pozzato (Fassa Bortolo)
Photo ©: Olympia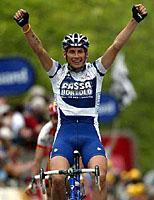 The Tour's youth movement continued today in St. Brieuc as young Italian Filippo Pozzato (Fassa Bortolo) rode a superb tactical final to win Stage 7 in grand style. Pozzato beat Basque Iker Flores (Euskaltel) and Spanish champion Francisco Mancebo (Illes Balears) after the three had escaped in the up and down finale.
"You had to have good legs to win today," said Pozzato afterwards. "When I saw Mancebo go, I was pretty much flat out but I managed to get across. Then I saw that the Euskadi rider (Flores) was dropped. I was a little worried when he came back to us in the last kilometres since the last part was really hard."
With 200m to go, Pozzato made his move and won the stage comfortably from Flores. "It was bello, bellissimo; I took a big risk to win today and it worked out," he said. "I'm only 22, the youngest rider at the Tour, so this is the best win I've had a professional."
Commenting on the success of the young riders so far, Pozzato said, "There was Cunego's win in the Giro d'Italia and all the wins of Boonen this year, not to mention Cancellara so I'm sure something is changing. But it's not so easy to move the champions from the top levels of the sport. I hope that in two or three years us young riders will be able to find our place."
Stage 7 full results, report & photos
Live report
Scott Sunderland's diary
Stages
Final start list
Tour FAQ
McEwen frustrated
The second sprint
Photo ©: Sirotti

At the end of the seventh stage, Australian Robbie McEwen (Lotto-Domo) only managed to take 13th place in the bunch sprint for 8th, while green jersey rival Stuart O'Grady managed 10th, and kept hold of his jersey by just one point. The sprint for eighth was won by Norwegian Thor Hushovd from Scott Sunderland, and both O'Grady and McEwen were surprised and annoyed that a "non-sprinter" had beaten them in the uphill finish in St. Brieuc.
McEwen was interviewed by Belgian Sporza TV after the stage, where he expressed his frustration with the way things went.
Sporza: Things weren't looking too good this morning, you were limping. But then you did the sprint and took those seconds. Then you also did the sprint to the finish?
Robbie: It wasn't too bad today; but I suffered all day though. I've got a lot of pain in my back, my knee and of course the cheek. But the legs were reasonably good. I could take the points in the sprint. But then in the final finish I was totally blocked in on the right side. O'Grady finished in front of me.
Sporza: There was a bit of a discussion after the finish? What happened?
Robbie: Yeah, we were having a discussion about guys that come and ride in front of you - they were there where they really shouldn't be looking for anything.
Sporza: Who was that then?
Robbie (hesitant): Oh, leave it be. Everybody can do their own race, their own sprint. It's just annoying, when you have to hold back. You want to do the sprint and you can't. For us it's important for us to take the points; it just was frustrating. But yeah, better blocked in for the eighth place than for the first spot.
In the Sporza studio, Jo Planckaert (MrBookmaker-Palmans) commented, "McEwen has nothing to complain about concerning that sprint. Scott is good in a sprint like that uphill. He's got every right to go for his own chance and did so very well. Maybe Robbie had some power left - which is not bad at all after the way it looked this morning before the start. But then he wasn't supposed to be behind. I think Robbie can't blame Scotty for anything. It's just the way sprints go."
[Cyclingnews will have comments from O'Grady, McEwen and Sunderland in the Australian round-up that will follow this news bulletin]
Hamilton soldiers on
Tyler Hamilton (Phonak)
Photo ©: Sirotti

Tyler Hamilton (Phonak) was one of the many riders caught up in Stage 6's final kilometre crash, landing on his back and suffering numerous abrasions. The tough as nails American was looking a little bit worse for wear this morning. "I've felt worse, but I've also felt better," he said. "I flipped over the handlebars and my back is scraped up. There's not much you can do at 60 km/h and 20 guys crash in front of you. Unfortunately you can't stop in 20 cm."
Hamilton made it through the stage without mishap, and was happier after the finish when asked about whether it was a "victory" to survive. "I don't like to think about bike racing that way but in the Tour de France, getting through a stage in the first week is always a victory without getting some road rash," he said.
Hamilton is not looking too far ahead. "I'd really like to think it one day at a time, so I don't like to think about the rest day, although it's two days away. The most important for the team is to focus on tomorrow's stage and keep me out of the wind again like today at the end. We always have to be careful."
The team had to be vigilant when CSC started driving the pace along the coast with 50 km to go. "I wasn't surprised, but it wasn't Paris-Nice," he said. "Nobody was really put off the back."
Today's stage was "A little bit more relaxing, a little less stressful. I think everybody decided to relax a little bit more after yesterday's stage."
As for his own condition afterwards, Hamilton's summary was brief: "Painful. Normal. I dunno. Nothing I can't deal with."
X-rays for Mayo
According to Basque newspaper Deia, Iban Mayo (Euskaltel) had to go to hospital on Friday night for X-rays of his elbow which he hit against a barrier in the last kilometre crash yesterday. It was the same the elbow he broke in amateur race and still gives him problems. However, the X-rays didn't show any fractures.
Petacchi's shoulder not seriously injured
Medical examinations of Fassa Bortolo sprinter Alessandro Petacchi's injured left shoulder have revealed no serious injuries, although he is still in a lot of pain. Petacchi abandoned the Tour after stage 5, where he was involved in one of several crashes. He has contusions and a big bruise on his shoulder and left arm, and will have to rest for three to four days before he can ride on the rollers again. He will have another checkup next Wednesday at the Livorno hospital.
Botero down but not out
By Tim Maloney, European Editor in Chateaubriant
T-Mobile's Santi Botero, the only Colombian rider at the year's Tour De France, spoke to Cyclingnews this morning in Chateaubriant, where he explained that reports about his retirement at the end of the season are somewhat premature. "Since my condition now isn't 100 percent, but more like 75-80 percent, for me this is not easy," he said. "Yes, my condition has been slowly improving all season, but to be in a big race like the Tour De France and on a big team like T-Mobile without being top isn't the best. I just have to wait and go day by day to see some improvement.
"At the end of the season I will look at the situation and make a decision whether I'll continue or not. It's too early to say now, but I'm doing everything in my power to get back to top form, but until now, I haven't found the form. Since the Tour of Asturias (in June 2003) when I got sick (virus infection), this was my last good race...after this, it's been problems, problems...again, I am here at the Tour, but not 100 percent. I miss the good condition."
Medical communique
Sven Montgomery (Gerolsteiner) - Fractured right clavicle. Montgomery was taken to the hospital in Dinan but was able to leave by late afternoon.
Anrea Noè (Alessio-Bianchi) - Pain in right wrist
Andrea Peron (Team CSC) - Pain in right wrist
Tyler Hamilton (Phonak) - Back pain
Jens Voigt (Team CSC) - Insect bite
Unai Etxebarria (Euskaltel-Euskadi) - Cut on third finger on right hand
Paolo Bettini (Quick.Step-Davitamon) - Pain in small finger on right hand, prompting x-rays Saturday night
Sylvain Chavanel (Brioches La Boulangère) - Back pain
Angel Vicioso (Liberty Seguros) - Pain from stage 5 crash
Commissaire's communique
Christophe Rinero (RAGT Semences-MG Rover) - 50 CHF fine and 0'20 penalty for extended drafting behind team car
RAGT Semences-MG Rover directeur sportif - 200 CHF fine for Rinero's offense
Gilberto Simoni (Saeco) - 100 CHF fine for not signing in
Rik Verbrugghe (Lotto-Domo) - 100 CHF fine for not signing in
Stage 8 weather report
Clouds are expected throughout Sunday's stage 8, with rain possible in the afternoon. Fog is also possible near the coast, with northwest winds expected. Temperatures will be between 15-17 degrees.
Previous News Next News
(All rights reserved/Copyright Knapp Communications Pty Limited 2004)