91st Tour de France - July 3-25, 2004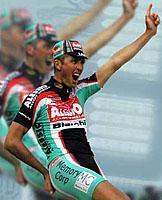 Scott Sunderland
Photo: © Memory Corp
Scott Sunderland's Tour Diary
Cyclingnews' longest contributing diarist Scott Sunderland is taking part in his second Tour de France in 2004 as part of the versatile Alessio-Bianchi team. Scott's role will be mainly to help Pietro Caucchioli, but he also hopes to have a few opportunities for stage wins. Once again, he'll be providing his highly experienced viewpoint on the Tour, its riders and anything else.
Giving it a nudge
Tour de France Stage 7, France, July 10, 2004
Alessio-Bianchi boys
Photo ©: Sirotti

Today we started flat out from the gun. We went from kilometre zero to kilometre one in about 55 seconds I reckon. After 1.5 km we were doing 73 km/h. Whenever it was flat, it was 60 km/h. when it was uphill, the speed was dropping back of course, but after an hour I had 51.5 km on my computer.
When we got to the 50 km mark everyone was just about knackered. Marichal went off the front and a few guys were calling out for a pitstop. US Postal and Brioches got on the front, Dekker attacked, and they closed the road down. So Dekker and Marichal rode away. Maybe it would have worked in a harder stage, but not when the sprinters want to set it up for a bunch sprint. A few teams got on the front and it was a good tempo the whole day.
I'm really happy with how today went. I had strong legs, I tried a hell of a lot to go away and I was in a few good moves. I moved Caucchioli and Noè up on the climb, as we feared some fierce crosswinds in the descent. We were in a good position when it split. I had a flat near the end and got a spare wheel from the neutral.
After that I came back easily and I felt so good I knew I had to have a lash at this, It's an uphill sprint, always good for me. So I moved myself into the right position and finished a nice ninth.
Hearing the comments of O'Grady and McEwen after the finish, apparently I frustrated them in the sprint. I was really surprised about that and I don't know what I did to enervate them. Was it because I was actually participating in a sprint where I can finish top 10?
The way I see it is if a guy like myself (an all-rounder) can be up there, there's nowhere in the rule book that says I can't be. There's also nowhere in the rule book that says sprinters have to get out of my way on the climbs, and believe me, sprinters do get in the climbers' way all the time!
Everybody I spoke to afterwards agrees: I did a clean, straight sprint; nothing dangerous about it, no wrong done. Actually, the initial kick that Hushovd made gapped me a bit but I didn't lose any more ground to him to the finish. Also, Robbie was in my wheel while Hushovd passed me on the left; and Stuey had plenty of place to pass on the right if he would have been able to...really, I don't see the problem.
I know they are racing for the green jersey. I respect that. I just hope they stop spitting acid at everyone who beats them in the sprint. Hey, just like everyone there, I'm only doing my job, doing my race.
Everything under control
There's always a bit of luck with these breakaways. I'll try day in, day out and see what I can do. Tomorrow I'll try again, and maybe I will be more successful. It's a pretty lumpy day to Quimper. After the stage finish we get on the plane and head to Limoges for our rest day. Think everybody's looking forward to it.
The boys in the team are looking good. Everyone feels comfortable and we're working very hard in the beginning of the race, covering attacks, counter attacks...we're on a roll when it comes to working together.
Over half have crashed
I was informed today that 99 riders have had crashes so far on the Tour. That's more than half the field! I hope we start to get some better weather so things will calm down.
Birthday bash
Last but not least, I want to wish Cyclingnews' editor in Chief, Dr. Jeff Jones a Happy Birthday! I know he'll be working hard this Sunday the 11th, taking care of the live coverage and gathering and editing the news. But, team victory or not, surely I'll shout a few on his health tomorrow!
Until tomorrow,
Scott