Tour de France News Extra for July 7, 2004
Edited by Jeff Jones
Tales from the Tour
By Tim Maloney
One second short: Cancellara comes back
Fabian Cancellara
Photo: © CN

On Tuesday morning in Waterloo, Fabian Cancellara (Fassa Bortolo) was sporting the Maillot Blanc of Best Young Rider as Thor Hushovd (Credit Agricole) had taken over the yellow tunic the day before in Namur. But Cancellara turned the tables on Hushovd yesterday, making the front half of the split on the pavé in Stage 3, while the massive Norwegian Hushovd was caught in the second group. Cancellara almost took over the Maillot Jaune again, save for an 0'08 time bonus won by Robbie McEwen (Lotto-Domo) who finished third in the stage.
"It was a very, very hard stage yesterday," Cancellara told Cyclingnews. "Not just for the race itself, but for all the high pressure here at the Tour. When the big battle starts up front with Armstrong and Ullrich, you have to be there. I'm sorry that (pavé) is in such a big race since it caused a lot of problems, but that's cycling. You can have it all...that's life."
Although disappointed to not have recovered the Maillot Jaune, the 23 year old Cancellara is quite pleased to be sporting a special jersey in his first Tour. "It was a great two days with the Maillot Jaune and to have it in my first ever Tour was beautiful! And to wear this (Maillot Blanc of Best Young Rider) is an honour, because you can go on the podium after the stage, which is always something special. So I want to keep this for as long as I can, at least until the mountains. Then my objective is to get to Paris and finish the Tour. If I have good legs for the final time trial, I will go hard there, but the main goal is to finish this race."
Levi leaps ahead
Levi Leipheimer
Photo: © CN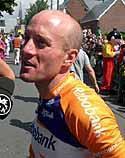 Cyclingnews spoke to Rabobank's Levi Leipheimer, who was sitting pretty in 9th on GC prior to the start of Stage 3 yesterday. Leipheimer is clearly not a man for the cobbles but he was in the main move of the day as his experienced Rabobank teammates were there to keep him out of trouble. Levi wasn't riding his special lightweight black Colnago C50 with sloping geometry but was astride a team C50 with standard geometry.
We asked Leipheimer what it was like to get through Stages 1-2 unscathed this year and he replied, "I've just marked it off the calendar...it's another day gone in the Tour De France. One day at a time, that all you can do."
Levi told us that his legs were good and Rabobank was looking forward to today's TTT. "We know we're not a favourite, but I think that we can place well and limit our losses." But Leipheimer downplayed the bad weather, saying "it's not that big of a deal in the TTT."
A costly puncture for Sunderland
Although he's only ridden Paris-Roubaix once in his career (this year in fact), Scott Sunderland is very experienced on the pavé and was looking forward to a good stage yesterday. But as he wrote in his Tour diary, things didn't quite go according to plan after he made the crucial front group on the first cobbled sector with 65 km to go.
"When we were on the big road going past the Arenberg forest we were doing 70 km/h. It was always 55-60 km/h on the flats. We hit the small roads there and it was like we were at the end of a World Cup race. I was able to get myself into a really good position actually. We had that big crash on the left hand side with 5 km before the cobbles, but luckily I was on the right hand side. I hit the first section in 6-7th wheel and had good legs. But then 500m before it ended, my back tyre went flat...
"I said to myself 'keep calm, it's the same organisers as for Paris-Roubaix so they should have a neutral spare motorbike at the end of the sector or something.'
"I got to the end and it was nada, niente, nothing. So I rode on the flat tyre before I eventually got dropped from that front group. The second group caught me but my team car was still too far behind: a) because of the crash and b) because it was all split up and no cars could get through. It wasn't until the second group passed me that the Mavic neutral car got up to me. By this time I was off the back off the second group so the third group caught me."
That was the end of the race for Scott, as he lost 3'53 to the front half of the peloton. Always one to look on the bright side, "The positive thing is that I've got very good legs and am recovering well each day. My osteo David did more work on me tonight and I'm just feeling more comfortable on the bike than I have for the last few months. I wish he had the time and I had the money to pay him to be here for the whole season!"
Roomies: Pippo and Matteo
Tossato and Pippo
Photo: © CN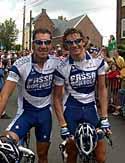 Fassa Bortolo riders Filippo Pozzato and Matteo Tosatto are practically inseparable. Not only are they roommates at the Tour De France, but since they live only 20km apart in the Veneto region of Italy, they are regular training partners. We asked Pippo and Matteo about each other's habits as Tour roomies. "I'm the neat one", laughed Tosatto about Pozzato. "He's a good roommate, but kind of messy."
Pozzato responded, saying "Yeah, it's true...I am messier than Tosatto. But he's cool about it."
After a hard day at the Tour, Pippo and Matteo like to chill to MTV, or if there's no cable, listen to their own choice of music on personal stereos with headphones. "It's important to be relaxed", said the always smiling Pozzato. "We don't want to get nervous!"
(All rights reserved/Copyright Knapp Communications Pty Limited 2004)