Recently on Cyclingnews.com
91st Tour de France - July 3-25, 2004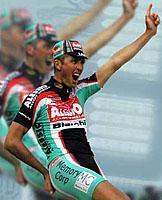 Scott Sunderland
Photo: © Memory Corp
Scott Sunderland's Tour Diary
Cyclingnews' longest contributing diarist Scott Sunderland is taking part in his second Tour de France in 2004 as part of the versatile Alessio-Bianchi team. Scott's role will be mainly to help Pietro Caucchioli, but he also hopes to have a few opportunities for stage wins. Once again, he'll be providing his highly experienced viewpoint on the Tour, its riders and anything else.
Fast, faster, fastest...flat
Tour de France Stage 3, Belgium/France, July 7, 2004
What can I say? It was bloody fast coming onto that first section of cobbles. Everybody knew it from 45 km to go before that first section and it just started to pick up, even though we still had 45 km! It just got faster and faster, and there was more and more pushing and shoving. The Spanish teams were right up there but US Postal was a bit more conservative. They just had two or three up front, with the rest sitting back with Lance. But Phonak, Illes Baleares and Euskaltel were driving it, and they must have used so much energy being in the front.
When we were on the big road going past the Arenberg forest we were doing 70 km/h. It was always 55-60 km/h on the flats. We hit the small roads there and it was like we were at the end of a World Cup race. I was able to get myself into a really good position actually. We had that big crash on the left hand side with 5 km before the cobbles, but luckily I was on the right hand side. I hit the first section in 6-7th wheel and had good legs. But then 500m before it ended, my back tyre went flat...
I said to myself 'keep calm, it's the same organisers as for Paris-Roubaix so they should have a neutral spare motorbike at the end of the sector or something.'
I got to the end and it was nada, niente, nothing. So I rode on the flat tyre before I eventually got dropped from that front group. The second group caught me but my team car was still too far behind: a) because of the crash and b) because it was all split up and no cars could get through. It wasn't until the second group passed me that the Mavic neutral car got up to me. By this time I was off the back off the second group so the third group caught me.
The third group was basically all the losers of the day: all the Euskaltels with Mayo, Illes Baleares with Menchov and Gutierrez, Quick.Step with Rogers and Bettini, Credit Agricole with Moreau and of course the yellow jersey of Hushovd. I just sat in the wheels and said OK and that was it. Race over.
The positive thing is that I've got very good legs and am recovering well each day. My osteo David did more work on me tonight and I'm just feeling more comfortable on the bike than I have for the last few months. I wish he had the time and I had the money to pay him to be here for the whole season!
Beer for all
It was a very enthusiastic crowd today, perhaps a bit too enthusiastic. Some of the spectators had too much to drink and thought they'd share some of their beer with Ivan Basso and I. We hit their beer glasses and we both got beer in our faces! I licked the remnants off my lips and Basso was doing the same for eyes and glasses. He copped a big whack! But it wasn't so bad, as beer washes off easily.
In all it was a good day. Tomorrow we might have a little surprise.