Tour de France News Extra for July 7, 2004
Edited by Kristy Scrymgeour and John Stevenson
Lefevere on the Tour's cobbled classic
By Jeff Jones in Waterloo
Patrick Lefevere
Photo: © Jeff Jones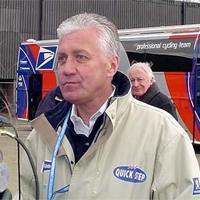 At the start of Stage 3 in Waterloo this morning, Cyclingnews caught up with Quick.Step-Davitamon team manager Patrick Lefevere to ask his opinion on today's stage, where his riders had a theoretical home ground advantage compared to the other non-classics specialists.
"I think the nervousness in the bunch will be very special and I think it will be more dangerous before the cobblestones than during the cobblestones because I can imagine the Spanish guys, the climbers, will almost be in panic. Panic is not a good counselor. So everyone will try to be in the front of the bunch. I think that we have the first pavé sector 65 km from the finish and if you are losing 10-15 seconds it's not a big deal. But I think they don't really understand that."
Lefevere's words were prophetic, as just before the first sector at Erre with 65 km to go there was a crash that brought down eight riders, including Euskaltel leader Iban Mayo, Benjamin Noval (USPS), Marco Velo (Fassa Bortolo) and Quick.Step's own Michael Rogers and Davide Bramati. As it turned out, Mayo lost significant time by the finish (3'48 to Armstrong/Ullrich/Hamilton) and his Tour GC hopes are effectively finished.
While remarking that the stage is "good publicity for the cobblestones", Lefevere said that the classics and the Tour are not the same. "If you go to the Muur of Geraardsbergen in Vlaanderen it causes problems for a lot of riders. In the Tour de France it's not the same. They are two different races."
As for his riders, who haven't yet been placing well in the finishes, Lefevere said, "I'm happy with the way they are behaving yes, but I'm not happy with the results because the guys have had problems." For example, in stages 1 and 2, Tom Boonen's chain fell off in the finale, which cost him dearly. But Lefevere is not worried. "I have the impression that not everybody understands that it's only the second day and panic is a very bad advisor. Today is another day, tomorrow is another day..." As for Alessandro Petacchi, "Everybody was talking about the duel Boonen-Petacchi but there are a lot of other good riders. It's the world championships of sprinting," concluded Lefevere.
Stage 3 full results, report & photos
Live report
Stages
Final start list
Tour FAQ
USPS chef Willi Balmat (right)
Photo: © Tim Maloney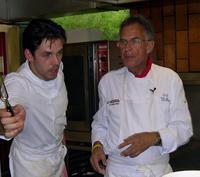 What's Cookin' Willi?
By Tim Maloney, European editor
Cyclingnews managed to barge in on USPS-Berry Floor's super-chef Willi Balmat as he was preparing the teams dinner in Gembloux, Belgium after Stage Two. Swiss chef Balmat was kid of nervous as he prepared a savory treat for his boys. Between tastes of sauce and other careful preparations, Balmat explained, "Tomorrow we have a big stage so I'm making a special dish…it's the first time I've cooked it. It's a light white wine sauce with curry and julienned carrots. I'll toss this with some pasta, large shell pasta. I think they'll like it. Then we have a fillet steak for the second course and some vegetables… I don't know what else." And with that, Chef Willi shooed Cyclingnews out of his kitchen with a shake of his chef's knife so he could make the sauces like Chef Boy-Ar-Dee.
Cyclingnews meets Team Cyclingnews
By Jeff Jones
Two sorts of Team Cyclingnews
Photo: © Tim Maloney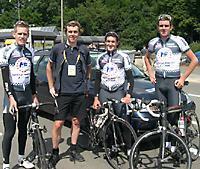 Just after the start of the third stage from Waterloo to Wasquehal, as our TdF road crew was trying to navigate the hell outta there, we noticed a couple of familiar jerseys riding along beside. Yes it was three members of the Belgian based Team Cyclingnews.com squad - Cody Stevenson, Cameron Jennings and Matt Rice - who had decided to ride up to the start and back home for a bit of training.
Never ones to miss a photo opportunity, we stopped the car in the middle of the Tour exit-throng and asked the boys to line up for a pic, for which they happily obliged. Thanks guys and we hope you enjoyed your ride home - you got out of there much quicker than we were able to!
Medical Communique
Marco Velo (Fassa Bortolo): Crashed at km 140, injured left shoulder and broke collarbone. Taken to hospital in Valenciennes.
Gerrit Glomser (Saeco): Serious contusions on right knee. Nicolas Portal (Ag2r): Pain in left knee. Sergio Marinangeli (Domina Vacanze): Pain in right knee.
Andrea Peron (CSC): Pain in right wrist as a result of a previous crash. Stefano Casagranda (Saeco): Pain in left wrist as a result of a previous crash.
Marc Wauters (Rabobank): Crashed at km 195, wounds in left hip and knee.
Frederic Bessy (Cofidis): Did not start stage 3 due to a serious inflammation of the right knee after his crash in stage 2.
Commissaires Communique
Christophe Rinero (RAGT): Fined CHF30 for momentary assistance.
Euskaltel-Euskadi: Fined CHF200 for irregular feeding at the front of the peloton.
Weather for stage four
Unlike the beautiful conditions enjoyed by the riders in Stage 3, rain and wind are predicted for Wednesday's stage 4 team time trial from Cambrai to Arras. Although it should be dry in the morning, the rain is expected to move in by 15:00 and continue for the rest of the stage. Combined with that, a moderately strong wind will be blowing from the east/northeast at 20-30 km/h with gusts of up to 60 km/h. The temperatures will be 20-22 degrees celsius, but the rain and wind will no doubt make it feel much colder.
Great prizes up for grabs in Cyclingnews Tour de France Fantasy Game
Only a couple of days left to sign up for the 2004 Cyclingnews Fantasy Game and the chance to win prizes from Giant, Zero Gravity, CycleOps, Speedplay, Bontrager, Salsa and Rudy Project. If you haven't joined already you can still register your team/s with just as good a chance of winning prizes as a manager who joined before the prologue begun. Here's a full description of all the prizes up for grabs and some tips from last years winner.
Giant's new TCR Advanced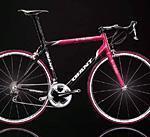 Giant is contributing the main prize this year - the latest Giant TCR Advanced frameset in T-Mobile colours. With a weight of 1250g for the frame, fork and built-in seatpost, the frame uses new kinds of composite fibres and resin; a "scientifically selected and custom made combination of several different special aerospace grade high strength high modulus fibres" has been combined with a "new nano resin" to make the frame both lighter and stiffer than the existing TCR Composite. Heavy influence from riders in teams such as T-Mobile has allowed Giant to "increase both the strength and rigidity of the frame whilst using less material."
Zero Gravity brake

Zero Gravity will be providing its super-light Ciamillo brakes - worth US$355 each. The CNC-machined, 7075 aluminium stoppers weigh just 96g for a rear caliper and 98g for a front. A pair of Dura-Ace brake calipers, for comparison, weighs 314g. Zero Gravity brakes achieve their trivial gram count by use of a CNC-machined caliper and incorporate a cam system that provides better stopping power than conventional designs.
CycleOps E-Trainer plus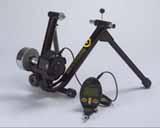 This time CycleOps is offering an Electronic Trainer Plus. With this trainer you can train on five different courses of varying levels or choose between interval sessions. You can track heart rate, power, calories, distance and speed on the console that attached to the handlebars. The Electronic Trainer Plus comes with software and heart rate chest strap. and would usually cost US$799.
A pair of Bontrager wheels are also up for grabs in the Fantasy Game. The exact model is yet to be decided, but our experience is that Bontrager's racing wheels are top-notch performers.
Tyler's pedals - yours to win!

Speedplay has joined the prize list offering a pair of Tyler Hamilton Signature Edition Zero Pedals and a pair of Team CSC Edition Zero Pedals.
"Since Tyler began riding the yellow Zero pedals at the beginning of the racing season, we've been flooded with requests from riders worldwide who want to purchase pedals just like Tyler rides," says Doug Cerri from Speedplay. "So we decided to offer consumers a yellow Tyler Hamilton Signature Edition. The Signature Edition also enables Speedplay to provide a way for Speedplay customers to support Tyler's non-profit foundation."
Rudy Project Tour de France edition glasses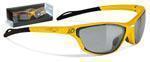 As the official sunglass sponsor of the Tour de France, Rudy Project is once again part of the Cyclingnews Fantasy Game, this time with the special Tour de France edition glasses. Rudy Project is giving away 21 sets of glasses, one pair to the winner of each stage of the Fantasy Game.
Salsa has joined the Cyclingnews Fantasy Game and is giving away its Competidor™ six panel shorts. Five winners will receive a pair of these shorts. They have a Primero chamois, silicone leg grippers and are made from Literoubaix® fabric.
To take part this year all you need to do is pick a team of 15 riders to race and select 9 riders each day during the tour. You can join up until stage 6 begins. It's a great way to follow the tour. To register go to fantasy.cyclingnews.com . Good luck!
For more information on joining, see the rules section.
Top tips for the Cyclingnews Fantasy Tour de France game
It's time to select your own team for this years Tour de France Fantasy Cycling game. What lessons can be learnt from last year?
Last year's 1st place winner Matt from New Jersey, USA shares with us some of his hot tips:
"Usually I like to play my cards close to my chest, but since lady luck was good to me last year, I'll try and share what strategic insight I have to give. The big difference between the Giro game and this year's tour game should become obvious to anyone looking at the UCI points chart. All of the big favourites are right up at the top of that list... For last year's game, there were some obvious 'bargain buys' for GC like Ullrich, who was somewhere in the sub-350 point range."
"Last year, I won on a gamble: I bet against Beloki and left him off my team, using the 1400 UCI points he would have cost to buy other riders like Zubeldia, Basso & McGee, who paid off handsomely in GC and stage points. Beloki further hedged my bets by crashing out, thus handicapping anyone else who'd chosen him. It may be worth thinking about who to bet against this year. As much as I hate to say it, it's not unreasonable to ask if Tyler can stay upright for 3 weeks. Who would you buy with his 1160 pts. if he crashed out?"
"Given how 'pricey' this year's GC favourites are in UCI points, anyone who wants to win will have to strike a similar compromise."
"Last year, I picked two Euskaltels: Zubeldia and Mayo (I usually don't pick two GC riders from the same team), because of their strong lead up performances and prologue results. This year, it may well be worth "doubling" up on riders from a team with multiple top-10 potentials (Julich, Voigt, Sastre) or Phonak (Hamilton, Sevilla, Pereiro) because of the relative strength of these squads. CSC in particular will be riding on the 'multiple threat' strategy."
"One final word of advice: Pick potential GC and stage winners and if you win Green or Polka-dot jersey points with them fine but concentrate on the stages and GC teams first. Good luck, Matt."
Hans Jacob from Norway, the 4th place winner last year, had this to say:
"I think I will go for 9 GC riders and 6 sprinters. I feel that this combination gives you the best team structure in the end. There are plenty of good GC riders and they all have high point values so the trick is the find the ones that will do well this year. Voigt, Heras, Basso and Moreau should place well in the overall classification. These GC contenders will also normally be good climbers, so the MTN team will consist of the same riders."
"My fellow countryman Hushovd has also had quite a few victories this year and is looking very promising after his Norwegian double (TT and road). The first few days of the race should give a good indication of who is on form and who is not, and a fine tuning of the team until stage 6 will be essential."
Alistair from Scotland, the 2nd place winner last year wraps it up:
"I feel this year more than any before that Lance is not a certainty for the overall. Who is?? My final advice is to watch the first stages carefully before making any final team selection. Some riders will obviously be going well and others obviously not. On top of this there is always accidents in the early stages that will disadvantage some riders. You want to be going into the second week of the Tour with a full complement of riders that have had no misfortune to that point."

"Thinking back to Le Tour last year I was fairly lucky that only one of my riders (Caucchioli) dropped out. However losing just one GC rider really hampers your chance of winning the overall competition (ask anybody who selected Beloki!)."
"I hope the Tour's a cracker!"
(All rights reserved/Copyright Knapp Communications Pty Limited 2004)