T-Mobile International - 1.3
San Francisco, USA, September 12, 2004
Main Page Results Men's Results Live report
Women - Cooke defends in San Fran
By Kristy Scrymgeour
Nicole Cooke (Safi-Pasta Zara Manhattan)
Photo ©: Jon Devich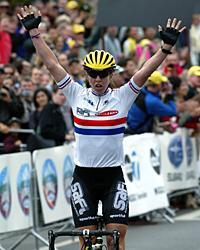 Nicole Cooke (Safi Pasta Zara Manhattan) successfully defended her title at the T-Mobile International today making her move with perfect timing and strength to solo to the finish. Cooke was strong throughout the race showing her form on the hills, but managed to save her power for the winning move. Taking second place was Genesis Scuba rider Tina Pic, confirming a winning season where she leads the National Racing Calendar, with Cooke's teammate Modesta Vzesniauskaite coming in third.
The women get underway
Photo ©: Jon Devich

Lyne Bessette (Quark)
Photo ©: Jon Devich

Stefanie Graeter (Webcor)
Photo ©: Jon Devich

The women's race was aggressive from the gun with every torturous climb up Fillmore and Taylor Streets splitting up the bunch into small groups. Throughout the race, Lyne Bessette (Quark) persistently took points in the King of the Mountains series to secure that title mid way through the race. Cooke, Kim Anderson and Dede Barry (T-mobile), Christine Thorburn (Webcor) and Kori Kelly (Genesis Scuba) we also up there on ever climb.
It was at the beginning of the fourth lap that Manon Jutras (Quark) broke away and gained a significant gap on the field. Her lead fluctuated over the next couple of laps with the surges on the hills dragging her closer and the flats loosening the knot each time. It wasn't until the final time up Fillmore that Jutras was finally caught as the race really heated up.
The last lap saw many attacks and a small group go off the front. From the group Barry put in a convincing attack that looked very strong and it was this move that was countered by Cooke. Cooke's dominating attack split up the lead group, which eventually came in to the finish in one's and two's behind Cooke.
Taking 11th place was Gina Grain (Victory Brewing) in a very gutsy ride that earned her the overall win in the Pro Cycle Tour Series.
Photography
Images by Jonathan Devich/www.epicimages.us
Images by Garrett Lau/http://www.pbase.com/garrettlau/cycling
Images by Glenn James/www.glennjamesphotography.com
Images by Bob Wilson/www.wilsonphotography.com
Images by Russ & Nancy Wright/AbbiOrca.com
Results
1 Nicole Cooke (GBr) Safi-Pasta Zara Manhattan          2.25.46
2 Tina Mayolo-Pic (USA) Genesis Scuba FFCC                 0.02
3 Modesta Vzesniauskaite (Ltu) Safi-Pasta Zara Manhattan       
4 Christine Thorburn (USA) Webcor Builders                     
5 Kristin Armstrong (USA) T-Mobile Pro Cycling Team            
6 Amber Neben (USA) T-Mobile Pro Cycling Team                  
7 Lyne Bessette (Can) Team Quark                               
8 Kori Kelly (USA) Genesis Scuba FFCC                      0.11
9 Deirdre Barry (USA) T-Mobile Pro Cycling Team            0.14
10 Laura Van Gilder (USA) Genesis Scuba FFCC               0.32
11 Gina Grain (Can) Victory Brewing Cycling Team               
12 Amy Moore (Can) Team Quark                                  
13 Felicia Greer (Can) Webcor Builders                         
14 Susan Palmer-Komar (Can) Genesis Scuba FFCC                 
15 Kimberly Anderson (USA) T-Mobile Pro Cycling Team           
16 Kimberly Bruckner (USA) T-Mobile Pro Cycling Team           
17 Manon Jutras (Can) Team Quark                           1.24
18 Megan Long (USA) Sportsbook.com                         2.39
19 Joanne Kiesanowski (NZl) Aquafina                           
20 Karen Brems (USA) Webcor Builders                           
21 Lara Kroepsch (USA) T-Mobile Pro Cycling Team               
22 Lauren Franges (USA) Victory Brewing Cycling Team           
23 Suzanne Sonye (USA) Bicycle John's                          
24 Leigh Hobsen (Can) Team Biovail - Cervelo                   
25 Zoe Owers (USA) La Grange Dassani                           
26 Mari Holden (USA) T-Mobile Pro Cycling Team                 
27 Gessica Turato (Ita) Safi-Pasta Zara Manhattan              
28 Michelle Beltran (USA) Paramount Racing                     
29 Iona Wynter (Jam) Genesis Scuba FFCC                        
30 Kimberley Cunningham (USA) Morgan Stanley 24 Hr Fitness     
31 Sima Trapp (USA) Wenzel Coaching                            
32 Hiroko Shimada (Jpn) Velo Bella                             
33 Kathleen Billington (USA) Wines of Washington               
34 Jennifer Eyerman (USA) Red Five Racing                      
35 Carmen D'aluisio (USA) Webcor Builders                      
36 Alisha Little (USA) Sportsbook.com                          
37 Kristin Drumm-Collins (USA) Morgan Stanley 24 Hr Fitness    
38 Maureen Devlin-Tunzi (USA) McGuire Pro Cycling              
39 Katheryn Curi (USA) Safi-Pasta Zara Manhattan               
40 Linda Jackson (USA) Palo Alto Bicycles                      
41 Christine Vardaros (USA) Velo Bella                         
42 Kristin Johnson (USA) Basis Aude                            
43 Brooke Ourada (USA) Victory Brewing Cycling Team            
44 Kathryn Landau (USA) Los Gatos Bicycle Club                 
45 Katherine Lambden (USA) Aquafina                            
46 Penny Avril (GBr) McGuire Pro Cycling                       
47 Christina Ruiter (USA) Basis Aude                           
48 Helene Drumm (USA) Morgan Stanley 24 Hr Fitness             
49 Cat Malone (USA) Webcor Builders                            
50 Kristen La Sasso (USA) Aquafina                             
51 Margaret Shirley (USA) Genesis Scuba FFCC                   
52 Sandy Espeseth (Can) Victory Brewing Cycling Team           
53 Suzie Weldon (USA) Wines of Washington                  2.52
54 Lisa Norris (USA) Webcor Builders                       3.51
55 Lisa Magness (USA) Wenzel Coaching                      3.58
56 Jennifer Maxim (USA) Bicycle John's                     4.39
57 Betina Hold (Can) Webcor Builders                           
58 Kristin Caldwell (USA) Morgan Stanley 24 Hr Fitness         
59 Audrey Lemieux (Can) Team Quark                             
60 Nicole Demars (Can) Victory Brewing Cycling Team            
61 Jennifer Stephenson (Can) Team Biovail - Cervelo            
62 Tracy Lillig (USA) Los Gatos Bicycle Club                   
63 Candice Blickem (USA) Genesis Scuba FFCC                4.52
64 Sarah Bamberger (USA) Palo Alto Bicycles                5.17
65 Rook Campbell (USA) Genesis Scuba FFCC                  5.36
66 Stefanie Graeter (USA) Webcor Builders                  5.56
67 Sarah Kerlin (USA) Velo Bella                           6.57
68 Beverley Harper (USA) Los Gatos Bicycle Club            8.08
DNF Megan Esmondae (USA) Sportsbook.com                        
DNF Julie Adams (USA) Palo Alto Bicycles                       
DNF Erin Alders (USA) Velo Bella                               
DNF Elizabeth Benishin (USA) McGuire Pro Cycling               
DNF Kristi Berg (USA) Wines of Washington                      
DNF Betsy Bloom-Gale (USA) La Grange Dassani                   
DNF Nicole Brandt (USA) La Grange Dassani                      
DNF Rebecca Broeder (USA) Wenzel Coaching                      
DNF Cynthia Carroll (USA) Morgan Stanley 24 Hr Fitness         
DNF Jennifer Chapman (USA) Velo Bella                          
DNF Lori Cox (USA) Paramount Racing                            
DNF Nanci Dodman (Can) Team Biovail - Cervelo                  
DNF Laura Downey (USA) La Grange Dassani                       
DNF Lisa Dunnwald (USA) Wines of Washington                    
DNF Megan Elliott (USA) Team Quark                             
DNF Laura Erker (USA) Red Five Racing                          
DNF Starr Falk (USA) Los Gatos Bicycle Club                    
DNF Sarah Faulkner (USA) Sportsbook.com                        
DNF Carla Figueroa (USA) Paramount Racing                      
DNF Jennifer Franklin (USA) Bicycle John's                     
DNF Pauline Frascone (USA) Aquafina                            
DNF Elisa Gagnon (Can) Aquafina                                
DNF Laurel Green (USA) McGuire Pro Cycling                     
DNF Brei Gudsell (NZl) Wenzel Coaching                         
DNF Rhonda Guzda (Can) Team Biovail - Cervelo                  
DNF Lisa Hauck (USA) Palo Alto Bicycles                        
DNF April Henderson (USA) Red Five Racing                      
DNF Barbara Howe (USA) La Grange Dassani                       
DNF Armida Huerta (USA) Palo Alto Bicycles                     
DNF Kele Hulser (USA) Basis Aude                               
DNF Lisa Hunt (USA) Morgan Stanley 24 Hr Fitness               
DNF Julie Hutsebaut (Can) Red Five Racing                      
DNF Melinda Johnson (USA) Paramount Racing                     
DNF Sandra Kolb (USA) Bicycle John's                           
DNF Tina Kunstbeck (USA) Aquafina                              
DNF Brenda Lyons (USA) Velo Bella                              
DNF Jenn Magur (USA) Team Biovail - Cervelo                    
DNF Katharine Maher (USA) Basis Aude                           
DNF Melodie Metzger (USA) Velo Bella                           
DNF Leslie Mittendorf (USA) Wines of Washington                
DNF Elizabeth Morse (USA) Sportsbook.com                       
DNF Darcie Murphy (USA) La Grange Dassani                      
DNF Carol Lynn Neal (USA) Paramount Racing                     
DNF Monica Nielson (USA) Los Gatos Bicycle Club                
DNF Martina Patella (USA) Los Gatos Bicycle Club               
DNF Stacey Peters (USA) T-Mobile Pro Cycling Team              
DNF Karen Pleas (USA) Wines of Washington                      
DNF Jana Roberts (USA) McGuire Pro Cycling                     
DNF Kerry Rohan (USA) Wenzel Coaching                          
DNF Patricia Ross (USA) McGuire Pro Cycling                    
DNF Taitt Sato (USA) Los Gatos Bicycle Club                    
DNF Keri Silk (USA) Palo Alto Bicycles                         
DNF Jennifer Stevens (USA) Red Five Racing                     
DNF Jennifer Tafoya (USA) Palo Alto Bicycles                   
DNF Desira Utzig (USA) La Grange Dassani                       
DNF Nichole Wangsgard (USA) Basis Aude                         
DNF Troy Watson (USA) McGuire Pro Cycling                      
DNF Emily Westbrook (USA) Wines of Washington                  
DNF Julia Whiteside (USA) Paramount Racing                     
DNF Dorothy Wong (USA) Bicycle John's                          
DNF Mindy Ziffren-Hall (USA) Wines of Washington               
DNF Diana Ziliute (Ltu) Safi-Pasta Zara Manhattan         
 
Final Pro Tour standings
 
1 Gina Grain (Can) Victory Brewing Cycling Team                   114 pts
2 Nicole Cooke (GBr) Safi-Pasta Zara Manhattan                     80
3 Petra Rossner (Ger) Versicherung/Lietzsport MIXED                80
4 Mari Holden (USA) T-Mobile Pro Cycling Team                      70
5 Tina Mayolo-Pic (USA) Genesis Scuba FFCC                         60
6 Laura Van Gilder (USA) Genesis Scuba FFCC                        56
7 Sarah Uhl (USA) Team Quark                                       48
8 Modesta Vzesniauskaite (Ltu) Safi-Pasta Zara Manhattan           44
9 Christine Thorburn (USA) Webcor Builders                         36
9 Becky Conzelman (USA) Spin Cycle Duke Sports Medecine            36
11 Kristin Armstrong (USA) T-Mobile Pro Cycling Team               32
11 Laura Yoisten (Can) Canadian National Team                      32
13 Shannon Hutchison (USA) Colavita Olive Oil                      30
14 Amber Neben (USA) T-Mobile Pro Cycling Team                     28
15 Lara Kroepsch (USA) T-Mobile Pro Cycling Team                   26
16 Lyne Bessette (Can) Team Quark                                  24
16 Anita Valen (Nor) Team S.A.T.S.                                 24
18 Brenda Lyons (USA) Velo Bella                                   22
18 Joanne Kiesanowski (NZl) Aquafina                               22
20 Kori Kelly (USA) Genesis Scuba FFCC                             20
20 Alison Wright (Aus) Nobili Rubinetterie-Guerciotti              20
22 Amy Moore (Can) Team Quark                                      19
23 Deirdre Barry (USA) T-Mobile Pro Cycling Team                   18
23 Laura Downey (USA) La Grange Dassani                            18
25 Regina Schleicher (Ger) Safi-Pasta Zara Manhattan               16
25 Marianne Stover (USA) Ind Fabrications/SMRT Inc                 16
27 Magali Le Floch (Fra) Team Quark                                14
27 Rebecca McClintock (USA) Colavita Olive Oil                     14
27 Megan Long (USA) Sportsbook.com                                 14
30 Sandy Espeseth (Can) Victory Brewing Cycling Team               12
30 Andrea Hannos (Can) Equipe Cycliste Rona                        12
32 Felicia Greer (Can) Webcor Builders                             10
32 Brooke O'Conner (USA) Colavita Olive Oil                        10
34 Susan Palmer-Komar (Can) Genesis Scuba FFCC                      9
35 Kimberly Anderson (USA) T-Mobile Pro Cycling Team                8
35 Jennifer Eyerman (USA) Red Five Racing                           8
35 Leigh Valletti (USA) Genesis Scuba FFCC                          8
38 Kimberly Bruckner (USA) T-Mobile Pro Cycling Team                7
38 Campbell Rook (USA) Genesis Scuba FFCC                           7
40 Annette Beutler (Swi) Versicherung/Lietzsport MIXED              6
40 Tracy Sproule (USA) Colavita Olive Oil                           6
40 Manon Jutras (Can) Team Quark                                    6
43 Sigrid Corneo (Ita) Nobili Rubinetterie-Guerciotti               5
43 Kristy Scheffenacker (USA) Colavita Olive Oil                    5
45 Emma Rickards (Aus) Victory Brewing Cycling Team                 4
46 Catherine Marsal (Fra) Nobili Rubinetterie-Guerciotti            3
46 Karen Brems (USA) Webcor Builders                                3
46 Katrina Davis (USA) La Grange Dassani                            3
49 Sheba Farrin (USA) LSV Kelly                                     2
50 Charm Breon (USA) Colavita Olive Oil                             1