T-Mobile International - 1.3
San Francisco, USA, September 12, 2004
Main Page Results Women's Results Live Report
Redemption for Dionne and Webcor
Tim Maloney-European Editor / San Francisco, CA.
... before Charles Dionne (Webcor)
Photo ©: Jon Devich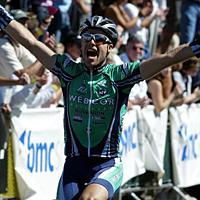 Although the highly anticipated presence of Lance Armstrong didn't happen at this year's edition of the T-Mobile International as the six-time Tour De France champion was forced out from tendonitis in his knee, the fourth running of the tough race across the hilly streets of San Francisco was once again an unqualified success. Huge crowds estimated at a half-million saw a dramatic chase like a scene from Bullitt unfold as two teams, USPS-Berry Floor and Webcor Builders chased down the race's solo leader in a dramatic nail-biter that left the outcome up in the air until just 4km to go.
With 40km to go in this year's T-Mobile International in San Francisco, CA., it looked like Health Net's Jason McCartney was running away with the race as he entered the five final laps of 8km that included the short and steep ascent of Taylor Street. As the 2004 Olympian entered the final five laps, the flying Iowan was over four minutes ahead of a fractured chase, but McCartney had been out front in a break all day and was starting to slow on the tough bumpy streets of San Francisco. After a strong chase in the final by last year's T-Mobile International champion Chris Horner and USPS-Berry Floor, led by George Hincapie and Chechu Rubiera, it was finally Horner's teammate and 2002 T-Mobile champ Charles Dionne that made a brilliant counterattack on the final lap to catch and pass the fading McCartney and ride to a dramatic solo win. Dionne, from St. Redempteur, Quebec won two years ago in a sprint but this time, the tough guy from north of the border left nothing to chance.
Fred Rodriguez (Aqua & Sapone)
Photo ©: Tim Gasperak

George Hincapie (US Postal Service/Berry Floor)
Photo ©: Tim Gasperak
Jason McCartney (Health Net/Maxxis)
Photo ©: Tim Gasperak

LANCE!
Photo ©: Jon Devich

Beppe Palumbo (Aqua Sapone-Caffe Mokambo)
Photo ©: Jon Devich

The men's field
Photo ©: Jon Devich

The podium
Photo ©: Jon Devich

After the race, Dionne told Cyclingnews, "With five laps to go, the gap [to McCartney] was still big but we managed to close the gap. I felt great and when I saw [McCartney] up the road, I knew it was the right time to go. Chris [Horner] encouraged me and told me I could win and I was happy to take his advice. I'm really happy to be able to bring this win to Webcor today; it's the second year in a row. This morning when I got up, I told myself 'you are Charles Dionne and you are going to win the T-Mobile today'... so I'm really happy." Last year's winner, Dionne's teammate Chris Horner, was instrumental in setting up the win for his fellow Webcor man. After the exultant Webcor team embraced in celebration post race, the always quotable Chris Horner told Cyclingnews, "I could see that Charles was fantastic on the Taylor Street climb and I told him 'you gotta do it', so then I got on the front with Ekimov for two laps to pull McCartney back, then with Rubiera. On the last lap, we could see McCartney right there and so I just punched it." Once Horner closed the gap on the fading Health Net rider, Dionne made a textbook counterattack and no one could follow him the last time up Taylor Street hill.
Runner-up today was local guy and USPRO champ Fred Rodriguez (Aqua Sapone-Caffe Mokambo) who extricated himself on the last lap in pursuit of the flying Dionne, but Fast Freddy just wasn't fast enough today. Perhaps if Rodriguez hadn't crashed hard with 55km to go at Broadway and Embarcadero, breaking a wheel and scraping his left leg, the outcome would have been different today. "I crashed on that turn coming into the Embarcadero as we came around with one big lap to go (after 125km) and broke my rear wheel," said Rodriguez. "I had to chase hard to get back and after that, I hurt my leg and couldn't even feel it on the climb." But Rodriguez had a nice consolation prize today; his second place points were enough to clinch the title as ProCyclingTour champion for 2004. "I'm very happy to be PCT champion and now I'm going back to Italy to get ready for the World Championships."
Fred finished 8 seconds ahead of his best friend George Hincapie of USPS-Berry Floor, who took the group sprint from 8 riders for third ahead of Jelly Belly-Aramark's talented Aussie Ben Brooks. Hincapie told Cyclingnews, "Chechu [Rubiera] and I were the protected riders today but in the finale, Chechu ended up working for me. I'm not super-fresh now, but I wanted to win today... it's been a long year but I just didn't have it in me today." Riding his last race in USPS-Berry Floor colors, Hincapie reflected on his time as one of the Posties with the most. "This is my last race for the season and I've got a break now. I'm looking forward to it! It's been a great time with the US Postal Service as our sponsor; it's going to be sad to see them go. They've given me so much throughout the last eight years and I really couldn't have asked for a better sponsor. I was just sorry I couldn't win for them today." Hincapie will be looking forward to November, when he and his companion Melanie are expecting a baby girl.
Perhaps Jason McCartney was listening to David Bowie sing "we could be heros, just for one day" on his iPod before the T-Mobile International today, as his heroic ride today came just 4km short of the biggest win of his career today in San Francisco. It's been a big year in 2004 for the likeable Iowan; after a breakthrough stage win in the Tour De Georgia, McCartney won the Olympic Trials in June and earned a trip to Athens for the Men's Road Race. Today as McCartney sat waiting to get his $10,000 check for winning the Subaru KOM prize, the tired Health Net-Maxxis rider explained, "I was sorry that it just didn't work out today... my teammates worked really well for me and when I attacked, if Doug [Ollenrenshaw] could have been a little stronger, it would have helped, I knew I needed as much time as I could get going into the final lap. I started to feel the wind pick up [along the Embarcadero] in the finale and that hurt me too, trying to fight it. I knew they were going a lot faster than me behind and it was tough to hang on. I was looking back part way up Taylor Street on the final climb and could see [Dionne] coming and I said 'oh here we go'. He went by me so fast. But I am happy I was able to win the KOM prize... it's been an unbelievable year for me; it's been great on [Health Net] this year; Gord [Fraser] and the other guys just get you so motivated."
Riding one of his final races in Rabobank colors, Santa Rosa resident Levi Leipheimer enjoyed racing in front of his home town crowd today. Leipheimer told Cyclingnews, "I felt good today, and I figured that McCartney was strong and thought for sure he would win... I wanted to make a little show so I attacked solo with 40km to go and hoped that they wouldn't get organized behind, but they did. Now I head back to Italy for Coppa Sabbatini, Giro dell'Emilia and Trofeo Beghelli and then my season is over. I'm looking forward to heading to Gerolsteiner next season. I still have to sit down and figure out my program with the team management, but maybe the Tour De France and Vuelta next year."
How it unfolded
With San Francisco's heat wave over, the morning dawned cool and overcast as Lance Armstrong fired the starter's gun for the T-Mobile International, Presented By BMC Software. After three initial laps of a 2.1km circuit lap on The Embarcadero, the parcours headed across the streets of San Francisco for nine laps of a 14.2km loop including Fillmore Street and Taylor Street climbs, then after 134.5km, the peloton tackled five laps of a hard 8km loop with the Taylor Street climb to total 174.5 km.
Beppe Palumbo (Aqua Sapone-Caffe Mokambo) made an early solo move on the first of and had a 20-second gap on the field. He was absorbed, but on the second big lap, the main escape of the day got away, with seven riders out front, including Danny Pate and Jason McCartney (Health Net-Maxxis), John Kelly and James Mattis (Webcor), Pavel Padrnos (USPS-Berry Floor), and Valerio Agnoli (Domina Vacanze). On the next big lap, a three more Health Net-Maxxis riders bridged across (John Lieswyn, Mike Sayers, Mike Jones), along with Dani Schnider (Phonak), Jeff Louder (Navigators Insurance), Doug Ollerenshaw (Jelly Belly-Aramark) and Massimo Ianetti (Domina Vacanze).
The gap between the tempoing break and tempoing peloton was never more than two minutes and never under one minute but as the penultimate large lap began, USPS-Berry Floor's Ekimov began to chase on the front. The gap began to drop and McCartney made his move on Chestnut Street on the final lap and only Ollerenshaw could follow. The Jelly Belly man had been climbing very well, winning most of the KOMs but when McCartney surged again a few kilometers later, Ollerenshaw was dropped on the final ascent of Fillmore. As McCartney crossed the finish line on the Embarcadero as the final five 8km circuits started, he had a minute and 15 seconds on Ollerenshaw and Four and a half minutes over the peloton. USPS-Berry Floor cranked up the chase pace behind as McCartney slowly began to fade.
With 24km and three laps to race, McCartney had 2:23 on Domina Vacanze's 19 year old stagiaire Valerio Agnoli who was chasing solo out of the remains of the breakaway, with Levi Leipheimer at 3:30 and the peloton at four minutes. With only two laps to go, McCartney was still out front but the peloton was lead by the runaway blue train of USPS. Agnoli had been absorbed and the gap was just three minutes and falling fast. Horner teamed up with Eki and Chechu to crank the pace up and when Dionne saw McCartney just up the road at the base of the final ascent of Taylor Street hill, he bid adieu to the rest of the T-Mobile International peloton and Jason McCartney and rode to a superb solo win on the streets of San Francisco.
Photography
Images by Jonathan Devich/www.epicimages.us
Images by Garrett Lau/http://www.pbase.com/garrettlau/cycling
Images by Tim Gasperak/bigempty.com
Images by Glenn James/www.glennjamesphotography.com
Images by Frank Chan/www.pbase.com/frankomania/cycling
Images by Bruce Gardner
Images by Bob Wilson/www.wilsonphotography.com
Images by Russ & Nancy Wright/AbbiOrca.com
Results - 186 km
1 Charles Dionne (Can) Webcor Cycling Team                          4.24.32
2 Fred Rodriguez (USA) Acqua & Sapone / Rabobank                       0.08
3 George Hincapie (USA) US Postal Service presented by Berry Floor     0.16
4 Ben Brooks (Aus) Jelly Belly - Aramark                                   
5 Kirk O'bee (USA) Navigators Insurance                                    
6 Massimilano Mori (Ita) Domina Vacanze                                    
7 Uros Murn (Slo) Phonak Hearing Systems                                   
8 Massimo Giunti (Ita) Domina Vacanze                                      
9 Caleb Manion (Aus) Jelly Belly - Aramark                                 
10 Johan Tschopp (Swi) Phonak Hearing Systems                              
11 Chris Horner (USA) Webcor Cycling Team                                  
12 Jason Mccartney (USA) Health Net - Maxxis                           0.20
13 Chris Baldwin (USA) Navigators Insurance                            0.23
14 Jose Rubiera (Spa) US Postal Service presented by Berry Floor       0.59
15 Eric Wohlberg (Can) Sierra Nevada Cycling                           2.01
16 Marco Fertonani (Ita) Phonak Hearing Systems                            
17 Daniel Schnider (Swi) Phonak Hearing Systems                            
18 Viatcheslav Ekimov (Rus) US Postal Service presented by Berry Floor     
19 Jorg Ludewig (Ger) Saeco / Alessio - Bianchi                            
20 Dominique Perras (Can) Ofoto Cycling Team                               
21 Aaron Olson (USA) Colavita Olive Oil presented by Bolla Wine            
22 Francesco Failli (Ita) Domina Vacanze                                   
23 Jacob Erker (Can) Team Seasilver                                        
24 Cameron Hughes (Aus) Subway-Express                                 2.16
25 Levi Leipheimer (USA) Acqua & Sapone / Rabobank                     2.23
26 Tim Larkin (USA) Ofoto Cycling Team                                 4.17
27 Alberto Rodriguez OLIVER (Spa) Suanier Duval - Prodir                   
28 David Dela Fuente (Spa) Suanier Duval - Prodir                          
29 Brian Sheedy (USA) Team Seasilver                                       
30 Chris Wherry (USA) Health Net - Maxxis                              5.08
31 Ben Jacques-Maynes (USA) Sierra Nevada Cycling                      5.13
32 Andrew Randell (Can) Jet Fuel Coffee                                6.00
33 Arquimedes Lam (Mex) Canel's UB Racing                              7.01
34 Doug Ollerenshaw (USA) Jelly Belly - Aramark                        8.40
35 Valerio Agnoli (Ita) Domina Vacanze                                 8.52
36 Josh Hall (Can) Jet Fuel Coffee                                     9.31
DNF Niki Abersold (Swi) Phonak Hearing Systems                            
DNF Kirk Albers (USA) Jelly Belly - Aramark                               
DNF Gustavo Artacho (Arg) Colavita Olive Oil presented by Bolla Wine      
DNF Viktor Ayala (Mex) Canel's UB Racing                                  
DNF Jose Azevedo (Por) US Postal Service presented by Berry Floor         
DNF Magnus Backstedt (Swe) Saeco / Alessio - Bianchi                      
DNF Andrew Bajadali (USA) Ofoto Cycling Team                              
DNF Jason Bausch (USA) Ofoto Cycling Team                                 
DNF Colin Beardsley (USA) McGuire Pro Cycling                             
DNF Karl Bordine (USA) Team Monex                                         
DNF Antonio Bucciero (Ita) Saeco / Alessio - Bianchi                      
DNF Siro Camponogara (Ita) Navigators Insurance                           
DNF Alex Candelario (USA) Jelly Belly - Aramark                           
DNF Jonas Carney (USA) Jelly Belly - Aramark                              
DNF Patrick Carro (USA) Team Monex                                        
DNF Steven Cate (USA) Sharper Image - Mathis Brothers Furniture           
DNF Juanjo Cobo Acebo (Spa) Suanier Duval - Prodir                        
DNF Salvatore Commesso (Ita) Saeco / Alessio - Bianchi                    
DNF Todd Cornelius (USA) Subway-Express                                   
DNF Michael Creed (USA) US Postal Service presented by Berry Floor        
DNF Alessandro D'andrea (Ita) Acqua & Sapone / Rabobank                   
DNF Jamiel Danesh (USA) McGuire Pro Cycling                               
DNF Vassili Davidenko (Rus) Navigators Insurance                          
DNF Drew Deters (USA) Team Seasilver                                      
DNF Ivan Dominguez (Cub) Colavita Olive Oil presented by Bolla Wine       
DNF Alessandro Donati (Ita) Acqua & Sapone / Rabobank                     
DNF Matthew Dubberly (USA) Sierra Nevada Cycling                          
DNF Patrick Dunaway (USA) McGuire Pro Cycling                             
DNF Evan Elken (USA) Jittery Joe's                                        
DNF Justin England (USA) Webcor Cycling Team                              
DNF Glenn Fant (USA) Team Monex                                           
DNF Andrea Ferrigato (Ita) Acqua & Sapone / Rabobank                      
DNF Christian Foster (USA) Subway-Express                                 
DNF Mariano Friedick (USA) Jelly Belly - Aramark                          
DNF Will Frischkorn (USA) Colavita Olive Oil presented by Bolla Wine      
DNF Jose Manuel Garcia (Mex) Canel's UB Racing                            
DNF Josh Goodwin (USA) Team Monex                                         
DNF Cesar Grajales (Col) Jittery Joe's                                    
DNF Kyle Gritters (USA) Team Monex                                        
DNF Ben Haldeman (USA) Webcor Cycling Team                                
DNF Russell Hamby (USA) Sierra Nevada Cycling                             
DNF Jeff Hansen (Can) Jet Fuel Coffee                                     
DNF Matthew Hansen (Can) Jet Fuel Coffee                                  
DNF Chad Hartley (USA) Jittery Joe's                                      
DNF Todd Herriott (USA) Colavita Olive Oil presented by Bolla Wine        
DNF Ted Huang (USA) Webcor Cycling Team                                   
DNF John Hygelund (USA) Sierra Nevada Cycling                             
DNF Massimo Iannetti (Ita) Domina Vacanze                                 
DNF Alejandro Ibarra (Mex) Canel's UB Racing                              
DNF Tim Johnson (USA) Suanier Duval - Prodir                              
DNF Mike Jones (USA) Health Net - Maxxis                                  
DNF Michael Kehrberg (USA) Subway-Express                                 
DNF John Kelly (USA) Webcor Cycling Team                                  
DNF Nick Kiernan (USA) Sharper Image - Mathis Brothers Furniture          
DNF Roman Kilun (USA) McGuire Pro Cycling                                 
DNF Trent Klasna (USA) Sierra Nevada Cycling                              
DNF Damon Kluck (USA) US Postal Service presented by Berry Floor          
DNF Peter Knudsen (USA) Team Seasilver                                    
DNF Michael Lange (USA) Sharper Image - Mathis Brothers Furniture         
DNF Jesse Lawler (USA) Jittery Joe's                                      
DNF Ernesto Lechuga (Mex) Jelly Belly - Aramark                           
DNF John Lieswyn (USA) Health Net - Maxxis                                
DNF Adam Livingston (USA) Team Seasilver                                  
DNF Ruben Lobato Elvira (Spa) Suanier Duval - Prodir                      
DNF Jason Lokkesmoe (USA) Health Net - Maxxis                             
DNF Giovanni Lombardi (Ita) Domina Vacanze                                
DNF Peter Lopinto (USA) Ofoto Cycling Team                                
DNF Jeff Louder (USA) Navigators Insurance                                
DNF James Mattis (USA) Webcor Cycling Team                                
DNF David Mccook (USA) McGuire Pro Cycling                                
DNF Mark Mccormack (USA) Colavita Olive Oil presented by Bolla Wine       
DNF Remi Mcmanus (USA) Subway-Express                                     
DNF Rigoberto Mesa (Mex) Canel's UB Racing                                
DNF Buck Miller (Can) Jet Fuel Coffee                                     
DNF Nathan Miller (USA) McGuire Pro Cycling                               
DNF Glen Mitchell (NZl) Sierra Nevada Cycling                             
DNF Scott Moninger (USA) Health Net - Maxxis                              
DNF Benjamin Noval (Spa) US Postal Service presented by Berry Floor       
DNF Nathan O'neill (Aus) Colavita Olive Oil presented by Bolla Wine       
DNF Pavel Padrnos (Cze) US Postal Service presented by Berry Floor        
DNF Giuseppe Palumbo (Ita) Acqua & Sapone / Rabobank                      
DNF Danny Pate (USA) Health Net - Maxxis                                  
DNF Larry Perera (USA) Sharper Image - Mathis Brothers Furniture          
DNF Ciaran Power (Irl) Navigators Insurance                               
DNF Daniel Ramsey (USA) Team Seasilver                                    
DNF David Richter (USA) Subway-Express                                    
DNF Jake Rosenbarger (USA) Jittery Joe's                                  
DNF Mike Sayers (USA) Health Net - Maxxis                                 
DNF Neil Shirley (USA) Team Seasilver                                     
DNF Aaron Smathers (USA) Sharper Image - Mathis Brothers Furniture        
DNF Stig Somme (Nor) Jet Fuel Coffee                                      
DNF Jackson Stewart (USA) Ofoto Cycling Team                              
DNF Emmanuel Suarez (Mex) Canel's UB Racing                               
DNF Jonny Sundt (USA) Jittery Joe's                                       
DNF Matthew Svatek (USA) Sharper Image - Mathis Brothers Furniture        
DNF Burke Swindlehurst (USA) Navigators Insurance                         
DNF Andrea Tafi (Ita) Saeco / Alessio - Bianchi                           
DNF Mike Taylor (USA) McGuire Pro Cycling                                 
DNF Bernard Van Ulden (USA) Webcor Cycling Team                           
DNF Devon Vigus (USA) McGuire Pro Cycling                                 
DNF Jason Waddell (USA) Sharper Image - Mathis Brothers Furniture         
DNF Chris Walker (USA) Team Monex                                         
DNF Zachary Walker (USA) Ofoto Cycling Team                               
DNF Mark Walters (Can) Navigators Insurance                               
DNF Scottie Weiss (USA) Subway-Express                                    
DNF David Wenger (USA) Sharper Image - Mathis Brothers Furniture          
DNF Troy White (USA) Sierra Nevada Cycling                                
DNF Jeremiah Wiscovitch (USA) Team Seasilver                              
DNF Greg Wolf (USA) Jittery Joe's                                         
DNF Tyler Wren (USA) Colavita Olive Oil presented by Bolla Wine           
DNF Robbie Yost (USA) Subway-Express                                      
DNF Alex Zulle (Swi) Phonak Hearing Systems                               
DNF Scott Zwizanski (USA) Ofoto Cycling Team                              
 
Final Pro Tour standings
 
1 Fred Rodriguez (USA) Acqua & Sapone / Rabobank                  202 pts
2 Francisco Jos Ventoso Alberdi (Spa) Suanier Duval - Prodir      126
3 Gordon Fraser (Can) Health Net - Maxxis                         125
4 Charles Dionne (Can) Webcor Cycling Team                        100
5 Lars Michaelsen (Den) Team CSC                                   76
6 Ben Brooks (Aus) Jelly Belly - Aramark                           75
7 Max Van Heeswijk (Ned) US Postal Service p/b Berry Floor         60
7 Antonio Bucciero (Ita) Saeco / Alessio - Bianchi                 60
7 Greg Henderson (NZl) Health Net - Maxxis                         60
10 Kirk O'Bee (USA) Navigators Insurance                           54
10 Alberto Loddo (Ita) Suanier Duval - Prodir                      54
12 Jonas Carney (USA) Jelly Belly - Aramark                        44
13 Plamen Stoyanov (Bul) Hoop CCC Polstat                          42
14 George Hincapie (USA) US Postal Service p/b Berry Floor         40
15 Ivan Dominguez (Cub) Colavita Olive Oil p/b Bolla Wine          38
16 Michael Barry (Can) US Postal Service p/b Berry Floor           36
16 Antonio Cruz (USA) US Postal Service p/b Berry Floor            36
18 Juan Jose Haedo (Arg) Colavita Olive Oil p/b Bolla Wine         32
19 Massimilano Mori (Ita) Domina Vacanze                           28
20 Chris Horner (USA) Webcor Cycling Team                          26
21 Piotr Chmielewski (Pol) Action Ati                              24
21 Uros Murn (Slo) Phonak Hearing Systems                          24
23 Robbie Ventura (USA) US Postal Service p/b Berry Floor          22
23 Ciaran Power (Irl) Navigators Insurance                         22
25 Ruggero Marzoli (Ita) Acqua & Sapone - Caffee Mokambo           20
25 Dennis Kraft (Ger) Action Ati                                   20
25 Caleb Manion (Aus) Jelly Belly - Aramark                        20
25 Massimo Giunti (Ita) Domina Vacanze                             20
29 Alex Candelario (USA) Jelly Belly - Aramark                     18
29 Gordon McCauley (NZl) Team Monex                                18
31 Russell Hamby (USA) Sierra Nevada Cycling                       16
31 Johan Tschopp (Swi) Phonak Hearing Systems                      16
33 Guennadi Mikhailov (Rus) US Postal Service p/b Berry Floor      14
33 Arkadiusz Wojtas (Pol) Hoop CCC Polstat                         14
33 David McCook (USA) McGuire Pro Cycling                          14
36 Mark McCormack (USA) Colavita Olive Oil p/b Bolla Wine          12
36 Jakob Piil (Den) Team CSC                                       12
36 Jason McCartney (USA) Health Net - Maxxis                       12
36 Jaroslaw Zarebski (Pol) Hoop CCC Polstat                        12
40 Denis Bertolini (Ita) Acqua & Sapone - Caffee Mokambo           11
40 Eric Wohlberg (Can) Sierra Nevada Cycling                       11
42 Tristan Hoffman (Ned) Team CSC                                  10
42 Chris Baldwin (USA) Navigators Insurance                        10
42 Hayden Godfrey (NZl) Health Net - Maxxis                        10
45 Adam Wadecki (Pol) Action Ati                                    9
45 Jose Rubiera (Spa) US Postal Service p/b Berry Floor             9
47 Kazimierz Stafiej (Pol) Action Ati                               8
47 Brice Jones (USA) Health Net - Maxxis                            8
49 Radoslaw Romanik (Pol) Hoop CCC Polstat                          7
49 Marco Fertonani (Ita) Phonak Hearing Systems                     7
51 Chris Wherry (USA) Health Net - Maxxis                           6
51 Matthew Dubberly (USA) Sierra Nevada Cycling                     6
51 Jason Waddell (USA) Sharper Image - Mathis Brothers Furniture    6
51 Daniel Schnider (Swi) Phonak Hearing Systems                     6
55 Danny Schmatz (USA) Health Net - Maxxis                          5
55 Viatcheslav Ekimov (Rus) US Postal Service p/b Berry Floor       5
57 Buck Miller (Can) Jet Fuel Coffee                                4
57 Chad Hartley (USA) Jittery Joe's                                 4
57 Jorg Ludewig (Ger) Saeco / Alessio - Bianchi                     4
60 Jeff Hansen (Can) Jet Fuel Coffee                                3
60 Dominique Perras (Can) Ofoto Cycling Team                        3
60 Brian Sheedy (USA) Team Seasilver                                3
63 Marty Nothstein (USA) Navigators Insurance                       2
64 Gustavo Artacho (Arg) Colavita Olive Oil p/b Bolla Wine          1
64 John Lieswyn (USA) Health Net - Maxxis                           1