The current time in Athens is 20:24 on September 23, 2023
Olympic Cycling News for August 20, 2004
Edited by Jeff Jones
Great Britain favourites for kilo
The Great Britain sprint team
Photo ©: epicimages.us

World kilometre time trial champion Chris Hoy believes there could be two Olympic medals to celebrate in the kilometre time-trial for Great Britain. Hoy and fellow Scot Craig McLean will be among the contenders in one of the first events to be decided on the velodrome. After regaining the world title in Melbourne earlier this year, Hoy is carrying substantial expectations, but McLean - from Grantown-on-Spey - set a national record last year and is also a contender.
"I wouldn't want to make too many predictions but there's no reason why either one of us couldn't win," said Hoy.
In the kilometre - the event won by Jason Queally in Sydney - competitors take turns to try and set the quickest time with the lowest ranking rider first and the highest last. That means Hoy will have to watch all of his rivals go ahead of him and he believes McLean can exploit the fact that he will get an earlier run.
The Edinburgh rider said: "Craig's just as much in line for a gold medal as I am. He's the national record holder and in a way, he's in a better position because he's going to be off early on with not as many people paying as much attention to him. So, he can get out there early and stick up a good time. I'm personally expecting him to that. It wouldn't be a surprise for me for me but it might be a surprise for other people.
"He's preparing quietly in the background but I can definitely see him on the podium."
© AAP
Mactier is ready
After less than two years riding the individual pursuit, Katie Mactier is ready. "Bring it on, bring it on, bring it on, I'm ready to race," she says.
In quick time, the late starter from Melbourne, Australia has become one of the powers in the women's 3000m individual pursuit, winning silver at the last two world championships and a genuine contender for gold at the Olympic Velodrome. She will likely sort out the medals with New Zealand's Sarah Ulmer and Dutch defending champion Leontien Zijlaard-van Moorsel, both of whom beat her in the finals of the last two world championships.
Mactier, 28, lost to Ulmer in Melbourne in May and to Zijlaard-van Moorsel in Stuttgart last year after leading both world championship finals with 500m to go, only to fade on the way home. She has resisted all advice to conserve herself by toning down her flying start, but while she may be ready to race, she's still not sure whether she has her pacing pattern quite right.
"I can't tell you we've nailed it," she said. "A lot of people have gone up to my coaches and said you've got to perhaps tell her to slow down in the first kilo and we sit back and think why on earth would we do that, I'm the fastest starter in the world. In fact my first 2000 metres is pretty much the fastest, so our whole aim is to strengthen my third kilo, make me stronger over the last kilo.
"For me it's a very natural thing to come out of the gate at that speed. To try and tell someone to go out at a less intensity, well who says I'm going to be able to recapture that in the last kilo."
Mactier believes Ulmer's world record 3:30.604 will fall to the gold medallist and if she's the one to do it, she has given the media special permission to over react. "I like to be in the background, get out and race and if I do a good job, you're very welcome to go bananas because I will be. But before then, it's quiet, quiet," Mactier said.
© AAP
Fiedler crashes
German dual Olympic champion Jens Fiedler has sprained his right wrist during a crash while training on the velodrome in Athens. Fiedler is scheduled to do the Team Sprint on Saturday as well as the Sprint next Tuesday and Keirin on Wednesday, but the German team coach Detlef Uibel expects that the injury won't be serious enough to bother the 34 year old.
Ullrich lacked motivation
Jan Ullrich (Germany)
Photo ©: AFP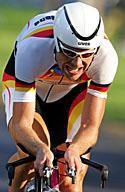 Although a repeat of his gold and silver medals in Sydney was not expected, Jan Ullrich was both disappointed and disappointing in Athens, finishing well out of medal contention in the road race (19th) and the time trial (7th). "It wasn't like it was in Sydney," a frustrated Ullrich told DPA. "My head is empty, it was really hard to motivate myself for these Games. It was enjoyable, but at the same time the Olympics is not the most important thing for me. It was two races too many. These were definitely my last Olympic Games."
Ullrich blamed his weight for his poor performance in the time trial, but in the opposite manner to normal. "I weighed too little in the time trial. For this discipline, you need power, but I'm only 71 kilos at the moment. I've only been lighter than that when I hunger flatted in the 1998 Tour de France."
Ullrich does expect to be at the front in this Sunday's World Cup race in Zurich, where he is a perennial favourite, with an amazing four second places to his credit. He hasn't yet decided on doing the World Championships in Verona, even though he would love to win the world road race title as a professional. Finally, he denied that his career was on a downward slope. "About that there is no doubt: I have a lot of enjoyment from cycling and will work to be more successful."
Leontien to say goodbye in January '05
Leontien Zijlaard-Van Moorsel will bid farewell as a professional cyclist on January 8, 2005 during the Six Days of Rotterdam in Ahoy'. A big farewell party has been organised for Zijlaard-Van Moorsel, who is the most successful Dutch female cyclist ever. The Athens Olympics are to be her last official races.
(All rights reserved/Copyright Knapp Communications Pty Limited 2004)