The current time in Athens is 20:26 on September 23, 2023
Olympic Cycling News for August 20, 2004
Edited by Chris Henry
Motivation key for American TTs
Hamilton and Julich
Photo ©: AFP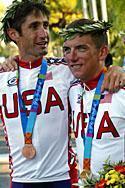 Each of the three Americans who made the podium in the men's and women's individual time trials at the Athens Olympics cited their own sources of motivation for the event, and cycling in general. Tyler Hamilton and Bobby Julich, gold and bronze in the men's race, and Dede Demet-Barry, silver in the women's event, each put in career-defining performances Wednesday, particularly Hamilton who salvaged his season after injury forced his abandon from the Tour de France.
For Julich, who this year has returned to perhaps his best ever condition under the guidance of Team CSC director Bjarne Riis, the wisdom of the 1996 Tour winner has proven invaluable.
"Morale is much more a part of cycling than people realize," Julich said after the medal ceremony. "A change of team and the realization that this is a sport, and we should enjoy it, has made a big difference for me. When I was signed with CSC it gave me back my confidence.
"Riis has definitely changed me as a rider," Julich added. "He instilled confidence in me from day one. I've floundered around since 1998 for four or five years, but he has brought me back. I was thinking about quitting. He's a man of few words, but he can instill confidence in a rider."
Tyler Hamilton, who rode for CSC in 2002 and 2003, also paid tribute to his former director, as well as his compatriot Julich. "I owe a lot of credit to Bjarne Riis. Before CSC I had no confidence, and Bjarne taught me how to be a leader. It's good to see Bobby back riding to his potential."
What he lost in the Tour de France was another burning source of motivation for Hamilton, who found confirmation in his performance that withdrawal from the Tour was the right decision given the extent of his back injury.
"I could have been last in every race this year but this gold medal has made it an incredible season," he said. "This gold medal makes me forget about my big objective of the year, which was the Tour de France. Obviously that was a big disappointment for me, but that's life and you have to go forward and sometimes difficult circumstances like that in the Tour can lead to bigger and better things."
Dede Barry
Photo ©: epicimages.us

For Demet-Barry, inspiration for a silver medal performance came both from her husband Michael Barry, who contested the men's road race for Canada before returning to his training base in Spain to prepare for the Vuelta a España with US Postal Service, as well as the Olympic ideal of peaceful competition.
"Michael's been a big motivation to me both professionally and personally," she said. "He's been a really good friend to me, a great training partner. He's always there with me in spirit and so he was a big part of my ride [Wednesday].
"I've read a lot about the history of the Games in the last several weeks coming here. It has a lot of special meaning for me. I really feel I can identify with the Olympic movement for me and it drove me even farther in these races."
"The Olympics are about peaceful competition, and that's something I think is really positive," she continued. "Obviously there's been a lot of concern in the world the last couple of years, especially since 9/11. I think for me it takes on special meaning being part of the Olympics because it's about peace."
For the occasion, Demet-Barry had special shoe covers made by Team USA sponsor Pearl-Izumi, with white doves replacing stars on the American flag motif.
Click here for more men's and women's Olympic time trial reactions.
Valen apologises
Norwegian cyclist Anita Valen has apologised to Australian gold medallist Sara Carrigan for a newspaper article implying that the Olympic road race winner was a drug cheat. The Norwegian Olympic Committee (NOC) ordered Valen to apologise to Carrigan after quotes attributed to her in Norway's biggest newspaper Verdens Gang questioned the Gold Coast rider's win on Sunday.
"It's important for us and Sara Carrigan to make it known we believe it wasn't fair the quotes Anita Valen gave and she (Valen) totally agrees," said NOC director of communications Halvor Lea.
"Anita has spoken to Sara, they have ended the case and shaken hands. It was not good sportsmanship to speak about your opponent. She says the quotes weren't taken directly and could be taken in another way but that is no excuse not to apologise.
"We have been very clear to her that it is not acceptable to make suspicious quotes about competitors and she totally agrees. She can always say that she was misquoted but that doesn't matter.
"We feel Anita has grown up and shown good sportsmanship to make contact with Sara and personally give her an apology. She hasn't meant to hurt her in any way. There won't be any disciplinary action further than that."
After the Australian Olympic Committee demanded an apology and retraction, the NOC verbally apologised and was due to send a letter.
Valen and Carrigan had a frosty relationship when they rode together in the Power Plate-BIK team in Europe last year when the Norwegian was unhappy riding as a domestique for her teammate.
Although she didn't directly accuse Carrigan of taking banned substances, Valen, who finished 14th in the road race, jumped on the drugs scandal engulfing Australia's track cyclists. Verdens Gang quoted her talking about "the secret room in their sports facility" and questioning Carrigan's buildup to Athens during which she did not compete for two months.
Valen said Carrigan did not figure in her list of potential winners and came from nowhere to claim the gold.
© AAP
(All rights reserved/Copyright Knapp Communications Pty Limited 2004)