The current time in Athens is 16:51 on September 30, 2023
Olympic Cycling News for August 12, 2004
Edited by John Stevenson
Thorburn to take USA spot in time trial
Christine Thorburn
Photo: © Jason Elhardt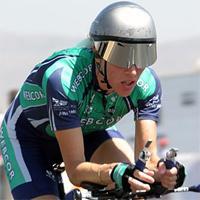 Webcor rider and US national time trial champion Christine Thorburn will be the bearer of the stars and stripes in the women's time trial event in Athens next Wednesday, August 18. An official announcement is expected later today, but USA Cycling sources have told Cyclingnews that the selection has been made.
Thorburn (34) caused an upset when she won the US championships back in June and earned herself a spot on the Athens team, but after beating all of the T-Mobile-sponsored national team the likeable rider from Davenport, Iowa was a natural choice for the Olympic time trial.
A career as a cyclist came to Thorburn relatively late. She was a track and cross-country runner while at Grinnell College in Iowa, but her studies came first and she eventually sopped running because of a knee injury. She took up cycling while at Stanford in 1998 as a medical student and rode the collegiate nationals that year, before once again putting sport on the back burner to do a residency in internal medicine. Now, as a rheumatology post-doc, she has time to mix racing and studying.
As well as her national championships TT victory, this year has seen Thorburn win the Merced Criterium, a stage of the Tour of the Gila, and two stages plus the GC at the Cascade Classic.
Spanish mountain biker out of Games
Spanish mountain bike racer Janet Puiggros Miranda is the latest athlete to be pulled from the Athens Olympics after a positive dope test. Puiggros tested positive for EPO in a control conducted at the Spanish national championships on July 17 and was withdrawn from the Spanish team for Athens yesterday.
Puiggros, who was Spain's best-placed female rider at last year's world championships, has not requested a b-sample counter-analysis, according to the Spanish cycling federation. She is the second Spanish athlete to return a positive dope test in as many day; Canoeist Jovino González was withdrawn from the team on Tuesday after testing positive for EPO in an out-of-competition test.
Australian track team keeping options open
By Chris Henry
No small amount of attention has centred on the Australian track cycling program in the lead up to the Athens Olympics, with the doping scandal surrounding former junior world champion Mark French widening to become one of the key issues in the team selection for this year's Olympics. Track coach Martin Barras has unofficially named Sean Eadie, Ryan Bayley and Shane Kelly as the three members for the team sprint, leaving Ben Kersten as a substitute and apparently unlikely to compete in any events. But team officials say they're keeping their options open.
Click here for the Australian track latest
O'Grady aims for golden start
By Paul Mulvey, AAP
Stuart O'Grady (Cofidis)
Photo ©: AFP

Stuart O'Grady has timed the best form of his life to perfection. Fresh from stage wins in the Tour de France and Tour of Denmark and a maiden World Cup triumph, O'Grady is homing in on Australia's first gold medal of the Athens Olympics.
The Adelaide cyclist heads Australia's five-man team in the 244km road race on the Games' opening morning of competition on Saturday, hours before Ian Thorpe's 400m freestyle final and the shooters' final shots for medals.
And with Tour de France green jersey winners Robbie McEwen and Baden Cooke as well as Matt White and Michael Rogers alongside him, O'Grady has close to the strongest team in the field to push him to gold.
"I don't think it's all based around me," he said at the team camp in Italy. "I'm in great form, yeah, but I certainly don't want the team to shut down for me. Robbie is a fantastic one day rider, he's one of the best in world. Cookie can win just about any race. Mick Rogers is world time trial champion and Whitey is one of the best domestiques in the world.
"So I think we've all got our own roles to play."
As he bids to improve on the silver and two bronze medals from his previous three Olympics, O'Grady, 30, has made a significant development. "Stuey hasn't improved physically, mentally he has," said Australian road coach Neil Stephens. "The only thing he's doing different now is that he knows he can win. Physically he had always been capable of doing it and now mentally he knows that he can and his team believes he can as well now."
But three months ago, he was sitting on the couch instead of in the saddle as his French professional team Cofidis were embroiled in a major drugs scandal. The team imposed a month-long ban on its riders as it sorted through a police investigation which eventually ended up with O'Grady's friend and early Olympic time trial favourite, Britain's David Millar, confessing to using the banned substance EPO.
Although O'Grady and White were new to the team and not implicated, they sat out a major part of the season after the South Australian had started well with a third-place finish at Milan-San Remo. But O'Grady quickly got back into stride when Cofidis returned to racing in June, winning the fifth stage of the Tour de France, coming second in the sixth and third in the ninth.
"Maybe looking back now it was a blessing in disguise because I didn't race at all and once I got the green light to race again, I just wanted to ride my bike, I just wanted to race and just went back to basics," he said.
The results followed and, after his success in France, O'Grady asserted himself as an Olympic gold medal contender when he scored his first World Cup win in Hamburg on August 1.
After a stage win and overall third place in Denmark, he joined his Olympic team-mates in Italy this week in medal-winning form. "In Denmark, the ball was rolling after the win in Hamburg gave me a lot of confidence," he said. "Getting third overall was the perfect build-up race for Athens."
O'Grady finished 77th in the road race in Sydney 2000 after taking teams pursuit silver and bronze in 1992 and 1996 when he also claimed bronze in the points race.
Kazakhstan Olympic team changes
Dmitri Fofonov (Cofidis) has decided not to go to Athens to take up his spot on Kazakhstan's team for the road race. He will replaced by Maxim Iglinkiy (Capec).
(All rights reserved/Copyright Knapp Communications Pty Limited 2004)