US Elite Championships & Olympic trials - NE
Redlands, CA, USA, June 16-19, 2004
Nationals results National champions summary
Main Page Results Previous Race Next Race
Race 4 - June 17: Elite Women TT, 24km
Thorburn upsets T-Mobile plans
By Kristy Scrymgeour
Christine Thorburn (Webcor)
Photo ©: Kristy Scrymgeour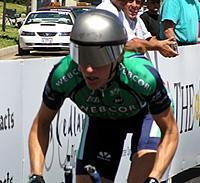 Christine Thorburn (Webcor) caused an upset in the women's Olympic selection time trial in Redlands, California today, beating out the T-Mobile team who had at least four riders considered as favourites for the top position on the podium. Thorburn's victory earns her a spot in the Olympic Team to race in the road race in Athens in August.
Thorburn was surprised with the win, but said it has been her goal all season. "I have specifically focused on getting ready for this time trial," she said. "I knew the road race was going to be a gamble as T-Mobile have such a strong team to work with."
The 24km course was in profile, very similar to the course riders will face in Athens. The only difference being that the Olympic course is a touch more technical. Starting with an immediate uphill which lasts for 200m, the course is undulating in parts with a difficult climb half way out to the turn around. There are some flat stretches throughout the race but one of the hardest sections of the course is the last kilometer, where the road turns right for the final stretch home and consists of a 700 meter uphill drag followed by the 300m descent to the finish line. Today was a very hot day and the wind wasn't too strong for the women's race, but there was a definite tailwind on the way out and a headwind for the home stretch. One of the hardest things for most of the riders was the polluted air that is obvious as soon as you enter the Moreno Valley. Many riders commented on the difficulty in breathing throughout the race.
Early in the day Rook Campbell (Genesis Scuba) set a fast time and it wasn't until her teammate, Candice Blickem (Genesis Scuba) finished that her time was beaten. Shortly after however, Christine Thorburn flew through the finish line with a time of 34'16.25, outdoing Blickem's time by 1'28". Thorburn had quite a wait until the final rider came through, but her time was not to be beaten. Five T-Mobile riders finished to take second through sixth place, but Thorburn's performance was too good on the day.
It was evident at the finish, that the T-Mobile camp was disappointed with the result, as it has been their goal throughout the entire season to have an olympic team full of T-Mobile riders come August. On the other hand, Thorburn and the Webcor team were elated. When Cyclingnews caught up with Thorburn after the race, she said the result hadn't "sunk in yet" but that she would now be changing her plans for the rest of the season now to prepare for the Olympics.
Although Thorburn's win came as a shock to many, her season to date has been full of great results. She came third overall in both Redlands stage race and Sea Otter and has been a major contender in all of the races, especially ones that contained climbing. Her goal for this year was to make the Olympic team, "I had it penciled in," she said, smiling, and has spent the majority of the year preparing for this day in an attempt to make the team. "I started thinking about this back in the fall," she explained. "My team manager, Karen Kurreck Brehms [former Olympian], told me that the way to get in the team is through the time trial. It seemed logical to me so I have been working on it since then. I didn't do the time trial last year, I've never really had the equipment."
Cyclingnews also caught up with Kurreck-Brehms who was very excited about the result. "I knew she had the power output," she said. "The only thing she is really lacking is the experience so she had to go for the time trial to get selected in the team. So she's been doing a lot of work with Max Testa and she's been using the Powertap out in training. I contacted Dave Tiemeyer who built my bike for both the pursuit and the time trial for the Sydney Olympics and he made her a frame. I bet he's happy now."
It has been a dream for Thorburn to make the Olympics ever since she was a long distance runner in high school. "I thought about it back then, but it became obvious to me soon enough that I didn't have the talent so I forgot about it until I started cycling. As a student of Stanford University, Thorburn became involved with many cyclists who encouraged her to join them. In 2000 another Stanford graduate, Nicole Freedman, made the Olympic Team for cycling. "It was then that I knew it was possible," said Thorburn. "For the first few years of cycling, I really felt like I was underachieving because I couldn't put all my time into it. It was when I started my fellowship after graduation that I had the time to train and get proper recovery as well. This year I have had so much support from Webcor and Andy Ball and all the people I train with. People from my club have been coming out training with me to do time trial intervals and they even put on a 15 km time trial a few weeks ago to help me prepare for this race. Funnily enough, that same day was when the T-Mobile girls placed first, second and third, in the time trial at l'Aude, so as much as I was happy with the way I was riding, I knew it was going to be tough going up against them."
In the T-Mobile camp, race favourite Kimberly Bruckner, who won the National Time Trial last year for the third time running, was very disappointed with her fifth place today. "I didn't feel good all day," she explained. "On the last time coming up the climb, I really wanted to power it home, but I didn't have anything left." After her bout with cancer late last year, Bruckner had recovered well and has been in great form in the last couple of months, taking second in the time trial in Tour de L'Aude and third overall. "I felt great at l'Aude," she said. "Every day I felt better and better. It was a great race for me. Since then I haven't been able to feel as good."
Her teammate Dede Barry, who took third today, is not as concerned with this weekends racing as she has already qualified her spot for the Olympics through UCI points. "I didn't have a super day today," she said. "I've just recovered from a bad dose of food poisoning. I really didn't have a lot of pressure coming into this race, although it would have been nice to win, as I'm not sure whether I have a ride in the time trial in Athens yet. Thorburne had a great ride today," she added. "She's an incredible rider and she will be good in Athens. She proved that today."
Kristin Armstrong, also from T-Mobile, ended up fourth today and was very disappointed with the way things panned out, knowing that today was her big chance to make the Olympic Team. "I really think I could have done a lot better if I had someone to follow me in the race. It really makes a difference if someone's screaming in your ear to go faster."
The women's podium
Photo ©: Kristy Scrymgeour

Today's race was only one of two chances riders have to make the Olympic team this weekend. Saturday they will race the 117km road race of which the winner will also be automatically selected for the team. The pressure is off for Thorburn, and again the odds are in the favour of T-Mobile who has a very strong team with multiple riders who suit the hard course. They will, however, be up against other strong teams such as Genesis Scuba and they will be watching for other individuals and opportunists who will be giving it everything is a race that is all or nothing.
Photography
Images by Kristy Scrymgeour/Cyclingnews
Images by Jason Elhardt/www.jasonelhardt.com
Results
1 Christine Thorburn (Webcor Builders)                            34.16.25
2 Amber Neben (T-Mobile)                                           0.08.24
3 Dede Barry (T-Mobile)                                            0.10.06
4 Kristin Armstrong (T-Mobile)                                     0.21.26
5 Kimberly Bruckner (T-Mobile)                                     0.31.18
6 Mari Holden (T-Mobile)                                           0.55.93
7 Katrina Grove (Rona)                                             1.16.05
8 Candice Blickem (Genesis Scuba/FFCC)                             1.28.78
9 Heather Albert (Basis Aude)                                      1.48.32
10 Jessica Phillips (Equipe Nurnberger)                            2.01.33
11 Giana Roberge (Team Speed Queen)                                2.02.73
12 Kori Seehafer (Genesis Scuba/FFCC)                              2.10.88
13 Dotsie Cowden (T-Mobile)                                        2.13.70
14 Brooke Ourada (Victory Brewing)                                 2.27.61
15 Rook Campbell (Genesis Scuba/FFCC)                              2.28.46
16 Lynn Gaggioli (T-Mobile)                                        2.31.44
17 Kele Hulser (Team Basis)                                        2.46.80
18 Grace Fleury (Genesis Scuba/FFCC)                               2.47.25
19 Suz Weldon (Wines of Washington)                                2.47.86
20 Tina Pic (Genesis Scuba/FFCC)                                   2.49.60
21 Susan Cooper (Bicycle John's)                                   2.57.30
22 Kristin Linton (Cycle Science)                                  3.06.77
23 Chrissy Ruiter (Team Basis)                                     3.08.09
24 Catherine Dickson (Bicycle Ranch)                               3.28.05
25 Catherine Powers (Velo Club La Grange)                          3.49.59
26 Darcie Murphy (Ogden 1)                                         3.52.89
27 Carla Hukee (Team Kenda Tire)                                   3.55.80
28 Laura Downey (Velo Club La Grange)                              4.11.29
29 Lisa Hunt (The Olympic Club)                                    4.11.81
30 Jennifer Stevens (Red 5 Racing)                                 4.14.21
31 Lisa Magness (Wells Fargo/Ragatz)                               4.14.67
32 Melissa Sanborn (Wells Fargo/Ragatz)                            4.14.97
33 Pamela Figoras (Pompada Velo)                                   4.18.21
34 Maggie Shirley (Genesis Scuba/FFCC)                             4.18.87
35 Alison Littlefield (9th&9th)                                    4.25.33
36 Kristy Scheffenacker (Colavita-Bolla Racing)                    4.25.77
37 Miranda Moon (Team Rubicon/United Finance)                      4.34.53
38 Erin Mirabella (Red 5 Racing)                                   4.40.45
39 Maggie Williams (Landis/Trek/VW)                                4.47.44
40 Lana Atchley-Bourque (Hi-Tech Bikes.com)                        4.52.45
41 Emily Westbrook (Tamarack/Goldy's)                              5.05.35
42 Andrea Ratkovic (TDS-Schwalbe)                                  5.19.28
43 Julie Kaplan (San Diego Cyclo Vets)                             5.19.33
44 Kristin Johnson (Team Basis)                                    5.19.71
45 Megan Monroe (TDS-Schwalbe)                                     5.20.19
46 Rebecca Broeder (Wells Fargo/Ragatz)                            5.21.19
47 Betsy Bloom-Galenti (Velo Club La Grange)                       5.25.70
48 Kim Boester (Webcor Builders)                                   5.29.82
49 Tina Skelley-Kunstbeck (Aquafina/CRCA)                          5.44.63
50 Nicole Brandt (Velo Club La Grange)                             5.52.93
51 Lauren Gaffney (Team Basis)                                     6.03.72
52 Mary Georgetti (Mystic Velo)                                    6.21.63
53 Elizabeth Benishin (San Diego Cyclo Vets)                       6.23.35
54 Heidi Stamm (Wells Fargo/Ragatz)                                6.53.92
55 Betsy Sellers (Revolution/Rock Creek Racers)                    7.02.60
56 Pamela Harris (Unattached)                                     14.34.33
DNF Sheila Orem (International Christian)                                 
 
Military women
 
1 Leah Tingley (US Armed Forces)                                  40.39.23
2 Mary Rudy (US Armed Forces)                                      0.01.42
3 Holly Borowski (Unattached)                                      0.11.25