US Elite Championships & Olympic trials - NE
Redlands, CA, USA, June 16-19, 2004
Nationals results National champions summary
Main Page Results Previous Race Next Race
Race 5 - June 17: Elite Men TT, 48km
Zabriskie back in form
By Kristy Scrymgeour
Dave Zabriskie (US Postal)
Photo ©: Kristy Scrymgeour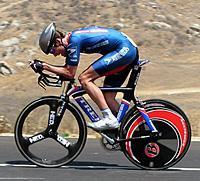 After a season and a half of bad luck and crashes, Dave Zabriskie (US Postal Service p/b Berry Floor), came to form today to win the Men's Elite National Time Trial Championship in a time of 1 hour 03'11.35". He beat second placed rider John Lieswyn (Health Net p/b Maxxis), by over two minutes on the 48km course.
After a large spectator showing for the women's time trial earlier in the morning, the men's race was a somewhat quieter event due to the fact that the men's race was not a selection race for the Olympics. The course however was doubly as hard, as the men had to ride two laps of the out and back course. The wind had picked up a little in the afternoon as the men started and the heat was just as draining.
A rider unknown to many, Kenny Williams (First Rate Mortgage), set a very fast time mid way through the field, his time only beaten when Zabriskie came through in the last handful of riders to take the win. Zabriskie looked very smooth through the entire race setting a consistent pace from the gun. He had made over a minute on second place rider Lieswyn by the halfway point. By the end of the event, Lieswyn had also beaten Williams' to take second place, but Williams' fast time held on to take third place and an excellent result for the 37 year old masters rider.
Zabriskie was happy with his result in his very understated way. "To be honest, I'm not too confident with my endurance right now, that's why I'm happy with the result today," he said. Zabriskie's bad luck began last year when he crashed in May breaking a wrist and fracturing a tibia. It continued this year at Redlands Classic when he fell and had to be helicoptered from the race. His form today showed that he has recovered well from the injuries after a lot of rest. Of the course he said "it was a good course for me. I felt fast the whole way," and the bad air that was affecting a lot of riders was not really a bother to him. "I didn't really have too many problems with my lungs. I came down here a few weeks ago to 'adjust to the pollution,'" he joked. "I did feel myself cramping in the last couple of miles though."
As for Lieswyn, he believes it was a struggle to push himself hard enough because of the difficulty breathing. "Four years ago at the National Championships in Mississippi I also placed second in the time trial and throughout the race I could really feel the muscles tearing. Today I couldn't breath hard enough to push my legs that much, so losing to Adham Sbeih back then was much more heartbreaking than losing here." Despite that, Lieswyn was very disappointed with today's result. "This was perhaps my last chance to get a National Championship jersey," he explained. "Watching Zabriskie pull on that jersey on the podium was very hard."
Out on the course Lieswyn realized early on that Zabriskie was too strong for him today. "I feel like once I saw that Zabriskie had such a big lead it took the wind out of the sails," he said. "I knew then that I was going for a place, not the win, but I didn't want to give up because there were NRC points at stake. After that I rode under max and I think that the fact that I rode within myself paid dividends compared to the other mortal riders out there.
"This time of year is good for me,"he added "This time last year I was very strong and I won Beauce after good results in Philly. This year I feel strong too, so hopefully on Saturday I'll have a place on the Olympic team."
The men's podium
Photo ©: Kristy Scrymgeour

Last year's winner Chris Baldwin was very disappointed with his fifth place result. "I'm really disappointed with the way I rode the race. After the first turn I had the best time and I knew that I'd gone out too hard. I just kept getting slower and slower after that."
The men will back up on Saturday to race the Olympic Trials Road Race over 189km. Many riders chose not to ride in today's time trial to save their legs for Saturday where the winner automatically earns a spot in the US Olympic Team for Athens.
Photography
Images by Kristy Scrymgeour/Cyclingnews
Images by Jason Elhardt/www.jasonelhardt.com
Results
1 David Zabriskie (US Postal - Berry Floor)                     1.03.11.35
2 John Lieswyn (Health Net)                                        2.16.13
3 Kenny Williams (First Rate Mortgage)                             2.45.87
4 Christopher Baldwin (Navigators Insurance)                       2.50.35
5 Adam Bergman (Jelly Belly/Aramark)                               3.19.83
6 Chris Wherry (Health Net)                                        3.24.75
7 Jason McCartney (Health Net)                                     3.35.24
8 Ben Jacques-Maynes (Sierra Nevada Cycling)                       3.59.35
9 Philip Zajicek (Navigators Insurance)                            4.34.29
10 Antonio Cruz (US Postal - Berry Floor)                          4.34.40
11 Jacob Rosenbarger (Jittery Joes)                                4.43.17
12 Michael Norton (Ideal Tile Brielle Cyclery - YSG Racing)        5.32.78
13 Bernard Van Ulden (Webcor Builders)                             5.48.32
14 Tim Granshaw (Morgan Stanley/Specialized/24 Hr fitness)         6.06.01
15 Justin England (Webcor Builders)                                6.06.73
16 Wayne Puckett (Team Spine)                                      6.18.91
17 Gardie Jackson (GlobalPhoneSales - Healthy Choice)              6.22.78
18 Andy Applegate (Cane Creek)                                     6.36.33
19 Chris McDonald (San Diego Bicycle Club)                         6.50.90
20 Sandy Perrins (GlobalPhoneSales - Healthy Choice)               6.51.16
21 Geoffrey Rapoport (Minute Maid/Dasani-Lagrange)                 7.14.37
22 Rusty Beall (Ridge Mortgage Services)                           7.18.95
23 Brian Lemke (Landis/Trek/VW)                                    7.29.38
24 Jason Lokkesmoe (HealthNet)                                     7.33.66
25 Ryan Blickem (Aidas/Zeta Gas)                                   7.41.18
26 Marc Collard (Davis Bike Club)                                  7.54.34
27 Justin Morgan (Broadmark Capital)                               8.02.64
28 Dario Falquier (Webcor Builders)                                8.17.58
29 Ryan Lane (LaGrange)                                            8.17.83
30 Andrew Touchstone (GS Lombardi Sports)                          8.23.19
31 Dan O'Sullivan (McGuire)                                        8.27.37
32 David Robinson (Broadmark Capital)                              8.37.38
33 Jonathan Wirsing (Team Snow Valley)                             8.52.11
34 Tom Crawford (Broadmark Capital)                                8.55.58
35 Daniel Larson (Cycle Science)                                   9.07.41
36 Doug Ollerenshaw (Jelly Belly/Aramark)                          9.11.53
37 Chris Harkey (Greenville Spinners)                              9.16.67
38 David Gustafson (Viejas)                                       10.06.45
39 Doug Greek (Mercy)                                             10.13.54
40 Alan Shockley (Hampton Trails/Far Outfitter)                   10.19.82
41 Brad Huff (Mercy)                                              10.37.29
42 Doug Powell (AZphalt Cycling)                                  10.49.35
43 Keith Miller (Team Dare)                                       11.57.02
44 Jordan Hukee (Team DBL)                                        12.36.37
45 Christopher Daggs (San Diego Bicycle Club)                     13.13.42
46 Christopher Herby (Outdoor Lights.com Racing)                  13.18.92
47 Nate Loyal (Team DBL)                                          13.34.37
48 John Hackman (Velo Club La Grange)                             13.38.32
49 Timothy Roy (Christiancycling.com)                             15.09.00
50 Josh Horowitz (LaGrange)                                       15.13.24
51 Matt Bromen (LaGrange)                                         16.29.85
52 David Sommerville (Ideal Tile Brielle Cyclery - YSG Racing)    18.30.22
53 Brian Hickey (Colavita-Bolla Amateur)                          19.09.18
54 Tony Johnson (Canyon Velo)                                     21.40.50
55 Anthony Zahn (Anthony's Cyclery)                               26.16.96
 
Military men
 
1 George Ganoung (US Armed Forces)                              1.10.36.51
2 Andrew Chocha (Team X Cycling)                                   0.46.05
3 Shawn Olin (US Armed Forces)                                     0.53.65
4 Trent Hornus (US Armed Forces)                                   1.33.58
5 Peter Penzell (US Armed Forces)                                  2.56.56
6 Eric Obergfell (US Armed Forces)                                 6.34.13
7 Michael Gallagher (US Armed Forces)                              6.39.65
8 Matt Lorenz (US Armed Forces)                                    6.58.17
9 Sean Cahill (US Armed Forces)                                    9.02.66