US Elite Championships & Olympic trials - NE
Redlands, CA, USA, June 16-19, 2004
Nationals results National champions summary
Main Page Results Previous Race Next Race
Race 6 - June 19: Elite Women RR, 117km
Armstrong wins final Olympic spot
By Kristy Scrymgeour
Kristin Armstrong (T-Mobile)
Photo ©: Jason Elhardt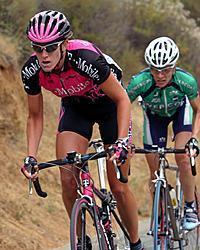 Kristin Armstrong (T-Mobile) took out the women's National Road Race championships in Redlands, CA today when she won the two up sprint from winner of Thursday's time trial, Christine Thorburne (Webcor). Her win earns her the final spot in the US women's Olympic road team for Athens in August.
After being disappointed in their result in the time trial on Thursday where they placed second through sixth and missed out on one of the Olympic spots, the nine T-Mobile women "rallied together" according to director Jim Miller with the sole aim of getting one of their riders to the finish for the win today.
Using Kimberly Bruckner and Kim Anderson to drive the pace up the climb as early as lap two, the team attacked continually until eventually Armstrong got away with only Thorburn able to hold her wheel. Initially the pair was unsure of how hard to work in the break as it was so early in the race, but the gap soon spread out to over a minute and they worked together to keep the break away. "I wasn't sure whether to work with her or not," said Thorburn, but when I saw that she was willing to work I started working too. When the gap got out to over a minute, it seemed like the break actually had a chance."
In effect the break would pan out to be very interesting as Armstrong was racing for Olympic selection and Thorburn had already earned her Olympic spot two days prior.
In chase for the remainder of the race was a group of 16 riders, six of them being from T-Mobile as well as Rona riders Katrina Grove and Katheryn Curi, Brooke Ourada (Victory Brewing), and Tina Pic and Kori Seehafer from Genesis Scuba, Chrissy Ruiter (Team Basis) and Katherine Sherwin .Throughout the day, Seehafer, Pic and Grove put in some good moves to try their luck at bridging to the break, but with T-Mobile having both the strength and the numbers, it proved impossible to escape.
"We should have tried to chase the break earlier," explained Pic to Cyclingnews after the race, "we worked really hard but it wasn't enough."
T-Mobile on the offensive
Photo ©: Kristy Scrymgeour

T-Mobile attempted to send another of their riders up to the break during the fourth lap, but the Genesis Scuba and Rona riders followed everything that went and shut down any potential move from T-Mobile. "When you have a team of nine," said director Jim Miller, "you don't want to go one on one. We wanted to get another rider across alone. In the end when it wasn't happening, I spoke to Kristin to see if she could pull it off and she said she could, so we had to trust her to do it."
With two laps to go, action in the chase group stopped and the leading duo stretched out their gap to over 3'30". On the final climb, Thorburn put in a small effort to attack but it went nowhere, leaving the race to be decided in the sprint. Armstrong led it down the long, wide, slightly downhill sprint and took the win from Thorburn to take the National Title and the chance to represent her country at the Olympics.
Behind, the group had stayed in tact, with young Brooke Ourada having quite a bit of bad luck with punctures and mechanicals, but managing to fight back on every time. With only a few kilometers to go in the race, Grove put in a very strong attack taking Pic, Anderson and Lyn Gaggioli with her. The four arrived at the finish line together to sprint for the final podium spots. Pic once again showed the speed that has won her so many races this year to take third place, with Gaggioli taking fourth followed by Grove and Anderson.
The women's podium
Photo ©: Kristy Scrymgeour

Armstrong was very emotional after the finish, today shedding tears of joy rather than of disappointment that she had felt after the time trial. "It's been my dream to be an Olympian ever since I was a swimmer at seven years of age. It hasn't actually sunk in yet. It's amazing how much you can train and then all of a sudden your whole world changes in a day," she said.
Armstrong said she was fairly confident that she could win if it came down to a sprint with Thorburn. "I think I've had some good finishes this year and [Thorburn] is not known as a pure sprinter. Obviously in the beginning I wanted to find out if she would work with me, otherwise I would have sat up," she added. "If she was to win, then at least our team was positioned nicely with our results this year that it was likely that one of us would have been selected for the Olympics anyway through coaches selection."
Thorburn was happy that she was able to back up after the time trial to ride so well today. "It wanted to win the race today. I started cramping in the last lap. I don't think I drank enough water and the time trial effort adds up," she said. Thorburn is still on a high after the time trial win earned her Olympic selection on Thursday. "It was a goal to make the Olympic team," she said, "I still feel so giddy. I keep waking up grinning."
Of the Olympics, Thorburn believes they have a good combination of riders to do the job in August. "We all rode well together at World Championships last year,"she explained. "I'm also really looking forward to riding with Dede [Barry] again. I have a lot of respect for her."
And the final Olympic spots go to ...
Photo ©: Kristy Scrymgeour

Despite members of the T-Mobile team being happy to have done their job today to win the race, there are obviously many riders in the team who had their hopes pinned on making the Olympic team today. One of the favourites to make the team was Kimberly Bruckner who has been National Time Trial Champion for the last three years and National Road Race champion in 2001, was disappointed that her season's goals had not been realized. "Thursday was my real goal," she said, "because I really thought I had a chance of medalling in the time trial at the Olympics. I'm really disappointed I didn't make the team, but now I just have to regroup and set new goals. I thought I had a chance in the road race today, but I also knew we had to work as a team to that came before personal aspirations. At least I qualified for the World Championships from my third place overall at Tour de l'Aude."
Team director Jim Miller is very happy with the way his riders raced today. "The girls all rallied together," he said. "We talked about it last night and I asked them 'do you want it for yourselves or do you want it for the team?' They raced really well and I think we have ended up with three riders who are worthy of Olympic selection."
Photography
Images by Kristy Scrymgeour
Images by Jason Elhardt/www.jasonelhardt.com
Images by Russ & Nancy Wright/www.AbbiOrca.com
Results

Elite Women
 
1 Kristin Armstrong (T-Mobile)                             3.26.12
2 Christine Thorburn (Webcor Builders)                            
3 Tina Pic (Genesis Scuba/FFCC)                               2.05
4 Lynn Gaggioli (T-Mobile)                                        
5 Katrina Grove (Rona)                                        2.06
6 Kim Anderson (T-Mobile)                                     2.09
7 Katheryn Curi (Equipe Cycliste Rona)                        2.16
8 Mari Holden (T-Mobile)                                          
9 Dede Barry (T-Mobile)                                           
10 Kimberly Bruckner (T-Mobile)                                   
11 Kori Seehafer (Genesis Scuba/FFCC)                             
12 Amber Neben (T-Mobile)                                     2.17
13 Brooke Ourada (Victory Brewing)                                
14 Chrissy Ruiter (Team Basis)                                2.18
15 Kristen Lasasso (Century Road Club Association-A)          5.48
16 Charm Breon (Colavita Olive Oil p/b Bolla Wines            6.24
17 Katherine Sherwin (Team Kenda Tire)                        6.58
18 Erin Mirabella (Red 5 Racing)                              7.47
19 Jennifer Maxim (Bicycle John's)                                
20 Cat Malone (Webcor Cycling)                                    
21 Sima Trapp (Tamarack/Goldy's)                                  
22 Karen Brems (Webcor Builders)                                  
23 Kristin Caldwell (Morgan Stanley/Specialized/24 H)             
24 Jennifer Stevens (Red 5 Racing)                                
25 Suz Weldon (Wines of Washington)                           7.48
26 Dotsie Cowden (T-Mobile)                                   9.38
27 Lara Kropesch (T-Mobile)                                       
28 Rook Campbell (Genesis Scuba/FFCC)                             
29 Kristin Linton (Cycle Science)                                 
30 Lisa Norris (Webcor Builders)                              9.39
31 Kimberley Cunningham (Morgan Stanley/Specialized/24 H)         
32 Carolyn Donnelly (Landis/Trek/VW)                              
33 Kathleen Billington (Team Fuji)                                
34 Joan Davies (Unattached)                                       
35 Grace Fleury (Genesis Scuba/FFCC)                              
36 Helene Drumm (Morgan Stanley/Specialized/24 H)                 
37 Kate Landau (Los Gatos Bicycle Racing Club)                    
38 Sheila Orem (International Christian)                          
39 Anna Milkowski (Rona)                                          
40 Aimee Vasse (Sportsbook.com)                               9.41
41 April Anderson (Red 5 Racing)                              9.47
42 Stefanie Graeter (Webcor Cycling)                              
43 Kristin Johnson (Team Basis)                                   
44 Lisa Magness (Wells Fargo/Ragatz)                         10.35
45 Melissa Sanborn (Wells Fargo/Ragatz)                           
46 Catherine Powers (Velo Club La Grange)                    15.36
47 Shannon Hutchison (Colavita Olive Oil p/b Bolla Wines          
48 Kristy Scheffenacker (Colavita Olive Oil p/b Bolla Wines       
49 Heather Albert (Basis Aude)                                    
50 Kele Hulser (Team Basis)                                  15.37
51 Christina Dekraay (Team Fuji)                             18.49
52 Tracy Sproule (Colavita Olive Oil p/b Bolla Wines              
53 Crystal Yap (9th&9th)                                          
54 Michelle Beltran (Red 5 Racing)                                
55 Brooke O'connor (Colavita Olive Oil p/b Bolla Wines            
56 Megan Monroe (TDS-Schwalbe)                               18.50
57 Laura Downey (Velo Club La Grange)                             
58 Darcie Murphy (Ogden 1)                                        
59 Suzanne Sonye (Helen's/Trek VW)                           18.51
60 Liza Rachetto (Grand Performance/Bianchi)                      
61 Andrea Ratkovic (TDS-Schwalbe)                                 
62 Rebecca Mcclintock (Colavita Olive Oil p/b Bolla Wines    18.52
63 Carla Hukee (Team Kenda Tire)                             24.24
64 Kimberly Strom (Bianchi/Grand Performance)                27.50
65 Kristin Drumm (Morgan Stanley/Specialized/24 H)           29.58
65 Martina Patella (Los Gatos Bike Racing Club)              29.59
65 Pamela Figoras (Pompada Velo)                                  
65 Phoebe Dameron (3BRT/Ritchey Organic Athlete)                  
65 Starr Falk (LGBRC)                                             
65 Nicky Wangsgard (Team Basis)                                   
65 Krystyna Kras (Grand Performance/Bianchi)                      
65 Kim Boester (Webcor Builders)                                  
73 Maggie Williams (Landis/Trek/VW)                          31.22
74 Carli Figueroa (Paramount Racing)                         34.40
DNF Miranda Moon (Team Rubicon/United Finance)                    
DNF Jen Whatley (LGBRC)                                           
DNF Tina Skelley-Kunstbeck (Aquafina/CRCA)                        
DNF Betsy Sellers (Revolution/Rock Creek Racers)                  
DNF Mary Georgetti (Mystic Velo)                                  
 
Military women
 
1 Holly Borowski (US Armed Forces)                         3.45.02
2 Leah Tingley (US Armed Forces)                              5.33
DNF Mary Rudy (US Armed Forces)