The current time in Athens is 02:44 on January 19, 2022 - For current weather, click here
28th Olympic Games - JO
Athens, Greece, August 14-28, 2004
Results Qualification & first round Finals Track 101
August 21: Women's 3km Individual Pursuit qualification & first round
Ulmer smashes world record
Sarah Ulmer (New Zealand)
Photo ©: AFP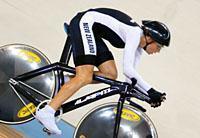 New Zealand's Sarah Ulmer has pulverised her own world record in the qualifying round of the women's 3000m individual pursuit, riding a stunning 3:26.400 to carve more than four seconds off her previous mark of 3:30.60, set at the World Championships earlier this year. Riding in the last heat against Olga Slyusareva, Ulmer did her first kilometre in 1:12.821, following that with two sub-1:07 kilometres to record the world's best mark.
Just before Ulmer rode, Australian Katie Mactier and Dutchwoman Leontien Zijlaard-Van Moorsel faced off in their qualifying heat. Both riders went under the old world record, with Mactier becoming the first woman to break 3:30 in this event, clocking 3:29.945 to finish half a second clear of reigning champion Zijlaard-Van Moorsel. Their times put both of them in the top three qualifiers, with Ulmer blitzing them all. Fourth to qualify was Australian Kate Bates, whose 3:31.326 was an excellent ride by her. The remaining riders to qualify were Elena Chalykh (Russia), Karin Thuerig (Switzerland), Emma Davies (Great Britain) and Olga Slyusareva (Russia).
Round 1 - Ulmer still quickest
Leontien pushed out of gold medal final by Mactier
Despite the fast times ridden in qualifying, the women had to back up an hour later for the first round of the IP. Times were even more important in this round, as the fastest two riders earned the right to ride off for the gold medal tomorrow, while the next two fastest would contest the bronze.
Katie Mactier (Aus)
Photo ©: epicimages.us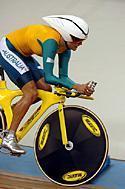 After Kate Bates accounted for Elena Chalykh in the first heat in a time of 3:34.743, all eyes were on Zijlaard-Van Moorsel to see what she could do in heat 2 against Karin Thuerig (Switzerland). The Dutchwoman did not disappoint, riding a personal best time of 3:28.747 to comfortably beat Thuerig and hold the fastest qualifying time. Unfortunately for Zijlaard-Van Moorsel, Katie Mactier was also up to the task, catching British rider Emma Davies in heat 3 in another personal best of 3:28.095. That meant with Ulmer still to ride, Zijlaard-Van Moorsel was in second best position and in danger of missing the final.
Ulmer performed to expectations, riding a slightly slower 3000m to finish in 3:27.444, catching her opponent Olga Slyusareva (Russia) near the end. That gave Ulmer the top round 1 time, meaning that she will face Mactier in the gold medal final tomorrow. Zijlaard-Van Moorsel will have to settle for a bronze medal ride off against Kate Bates, but has the consolation that today she knocked two seconds off her previous personal best, set in Sydney four years ago.
Photography
Images by www.epicimages.us
Images by AFP Photo
Results
Qualifying (Top 8 through to Round 1)

1 Sarah Ulmer (New Zealand)                     3.26.400 (52.325 km/h)*
2 Katie Mactier (Australia)                     3.29.945
3 Leontien Zijlaard-Van Moorsel (Netherlands)   3.30.422
4 Katherine Bates (Australia)                   3.31.236
5 Elena Chalykh (Russia)                        3.33.709
6 Karin Thuerig (Switzerland)                   3.34.746
7 Emma Davies (Great Britain)                   3.35.069
8 Olga Slyusareva (Russia)                      3.35.177
9 Maria Luisa Calle Williams (Colombia)         3.35.430
10 Erin Mirabella (USA)                         3.36.992
11 Lenka Valova (Czech Republic)                3.54.372
12 Evelyn Garcia (El Salvador)                  3.56.055

*World Record

First round

Heat 1

1 Katherine Bates (Australia)                   3.34.743
2 Elena Chalykh (Russia)                        3.36.442

Heat 2

1 Leontien Zijlaard-Van Moorsel (Netherlands)   3.28.747
2 Karin Thuerig (Switzerland)                   3.34.831

Heat 3

1 Katie Mactier (Australia)                     3.28.095
2 Emma Davies (Great Britain)                   3.38.015

Heat 4

1 Sarah Ulmer (New Zealand)                     3.27.444
2 Olga Slyusareva (Russia)                      3.36.263

Through to the finals

For the bronze

Leontien Zijlaard-Van Moorsel (Netherlands)
Katherine Bates (Australia) 

For the gold and silver

Sarah Ulmer (New Zealand) 
Katie Mactier (Australia)