Recently on Cyclingnews.com
The current time in Athens is 02:14 on January 19, 2022 - For current weather, click here
28th Olympic Games - JO
Athens, Greece, August 14-28, 2004
Results Qualification Finals Track 101
August 21: Men's Team Sprint finals
Germany take gold from surprising Japanese
France settles for bronze against the Aussies
Jens Fiedler (Germany)
Photo ©: AFP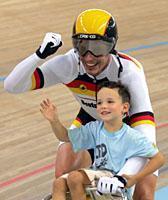 The German Team Sprint squad of Jens Fiedler, Stefan Nimke and Rene Wolff has triumphed in the gold medal final against Japan, clocking 43.980 seconds for the three laps (750m) compared to Japan's 44.246 seconds. The Germans were justifiably proud of their efforts, especially as France, Australia and Great Britain were all tipped as gold medal favourites.
"It's so emotional for me," said lead out man Jens Fiedler. "It's my fourth Olympic Games, my third gold and maybe my last race. When I won in 1992 and 1996, I was young. Now the emotion is different. I trained everyday for this race and I am glad it worked so well."
The surprise package of the day was the Japanese squad of Toshiaki Fushimi, Masaki Inoue and Tomohiro Nagatsuka, which qualified third fastest, then beat the Netherlands in round 1 to make it through to the final with the best time of all the round 1 winners of 44.081 seconds. In the final, Germany was too strong, but Japan still came away with the silver. "We are very happy with silver," said Masaki Inoue. "It's great for Japan's riders."
The team sprint podium:
Photo ©: AFP

In the ride off for bronze, fastest qualifiers France (Bourgain, Gane, Tournant) accounted for Australia (Eadie, Bayley, Kelly) in a time of 44.359 seconds compared to 44.404 seconds for the Aussies. The French were the favourites for gold after qualifying fastest in 44.179, but their round 1 ride against Greece in 44.128 was not fast enough to get them into the final. "We are disappointed," said Laurent Gane. "We were the favourites, we came here to win gold. We found two stronger teams than us."
The Australian team struggled in qualifying to finish fifth in 44.512, but bettered that in round 1 to beat Spain in 44.320. Clearly suffering from a lack of depth after Jobie Dajka's exclusion before the Games, Australia was not up to the task of gaining a medal today. In fact, Dajka's replacement Ben Kersten was not even used, and looks unlikely to race at all in Athens.
Photography
mages by www.epicimages.us
Images by AFP Photo
Results
For the bronze
 
3 France                     17.722 (1)  30.688 (1)    44.359 (60.867 km/h)
 Mickael Bourgain
 Laurent Gane
 Arnaud Tournant
4 Australia                  18.048 (2)  30.840 (2)    44.404 (60.805 km/h)
 Ryan Bayley
 Sean Eadie
 Shane Kelly
 
For the gold and silver 
 
1 Germany                    17.708 (2)  30.673 (1)    43.980 (61.391 km/h)
 Jens Fiedler
 Stefan Nimke
 Rene Wolff
2 Japan                      17.612 (1)  30.689 (2)    44.246 (61.022 km/h)
 Toshiaki Fushimi
 Masaki Inoue
 Tomohiro Nagatsuka