The current time in Athens is 14:00 on December 3, 2023 - For current weather, click here
28th Olympic Games - JO
Athens, Greece, August 14-28, 2004
Results Qualification & first round Finals Track 101
August 20: Men's 4km Individual Pursuit qualifiers & first round
Wiggins and McGee to fight it out for gold
Brad Wiggins (GBr)
Photo ©: AFP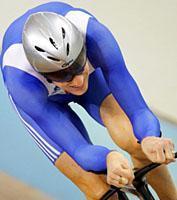 The two Bradleys of pursuiting - Wiggins and McGee - will face off in tomorrow's gold medal final of the men's individual pursuit. Both riders came out on top in their respective first round heats, and Wiggins' time of 4.17.215, while slower than his incredible qualifying run of 4.15.165, was still a notch above McGee's 4.17.978. But the race begins anew tomorrow, and the recovery of each rider will play and important role.
The bronze medal will be fought out by Wiggins' compatriot Rob Hayles and Spanish world champion Sergi Escobar, the latter who was nearly 3 seconds slower in the first round compared to his fine qualifying ride. Hayles did the third fastest first round time while Escobar was fractionally slower, and both finals tomorrow look set to be very closely fought.
Wiggins qualifies in Olympic Record time
Great Britain started its Olympic track campaign in an excellent fashion, qualifying both of its riders in the top four of the men's individual pursuit, the first event of the track program in Athens. The best qualifier was ex-World Champion Brad Wiggins, who put paid to speculation that the Athens track was slow by riding the 4000m in a new Olympic Record time of 4.15.165 (56.434 km/h), 1.7 seconds better than reigning World Champion Sergi Escobar (Spain) and 2.4 better than Australian Brad McGee. With Rob Hayles qualifying in fourth fastest, Great Britain has a great chance of winning at least one medal in this event.
The remaining four qualifiers, who will meet the top four in the first round later this evening, are Volodymyr Dyudya (Ukraine), reigning Olympic champion Robert Bartko (Germany), Luke Roberts (Australia) and Fabien Sanchez (France).
Of all the riders, Wiggins and McGee looked to be the smoothest in their qualifying runs, while Escobar struggled a little but still did an excellent time. The first round times will determine who makes the gold/silver final and the ride off for the bronze.
Photography
Images by AFP Photo
Images by www.epicimages.us
Results
Qualifying (first 8 through to first round)

1 Bradley Wiggins (Great Britain)              4.15.165 (56.434 km/h)*
2 Sergi Escobar (Spain)                        4.16.862
3 Brad McGee (Australia)                       4.17.510
4 Rob Hayles (Great Britain)                   4.17.930
5 Volodymyr Dyudya (Ukraine)                   4.18.169
6 Robert Bartko (Germany)                      4.18.991
7 Luke Roberts (Australia)                     4.19.353
8 Fabien Sanchez (France)                      4.20.606
9 Linas Balciunas (Lithuania)                  4.22.392
10 Alexei Markov (Russia)                      4.25.520
11 Christian Lademann (Germany)                4.26.760
12 Carlos Castano (Spain)                      4.27.871
13 Vasili Kiryienka (Belarus)                  4.29.005
14 Yuriy Yuda (Kazakhstan)                     4.29.676
15 Hossein Askari (Iran)                       4.39.302
DNS Levi Heimans (Netherlands)

*Olympic Record

Round 1

Heat 1

1 Rob Hayles (Great Britain)                   4.19.559 (55.478 km/h)
2 Volodymyr Dyudya (Ukraine)                   4.22.720

Heat 2

1 Brad McGee (Australia)                       4.17.978 (55.818 km/h)
2 Robert Bartko (Germany)                      4.26.184

Heat 3

1 Sergi Escobar (Spain)                        4.19.581 (55.474 km/h)
2 Luke Roberts (Australia)                     4.20.336

Heat 4

1 Bradley Wiggins (Great Britain)              4.17.215 (55.984 km/h)
2 Fabien Sanchez (France)                      4.21.235

Through to the gold/silver medal final

1 Bradley Wiggins (Great Britain)
2 Brad McGee (Australia)

Through to the bronze medal final

3 Rob Hayles (Great Britain)
4 Sergi Escobar (Spain)