Recently on Cyclingnews.com
The current time in Athens is 17:31 on December 4, 2022 - For current weather, click here
28th Olympic Games - JO
Athens, Greece, August 14-28, 2004
Track Day 3 Round Up - August 22, 2004
By Rob Jones in Athens
Records continue to fall at the Olympic velodrome, with two more being established today. Sarah Ulmer (New Zealand) won the gold medal in the women's pursuit, by knocking almost two seconds off the world record she established only yesterday. The women's pursuit was the only medal final run today, but the men's Team Pursuit saw Australia take almost a second off of their own world record in the first round of competition. One pair of records that did not fall was Canadian Curt Harnett's Flying 200 time of 9.865 seconds for the men, and Russian Olga Slyusareva's women's record of 10.831, as the sprinters started their competition.
Women's Individual Pursuit
Sarah Ulmer
Photo ©: epicimages.us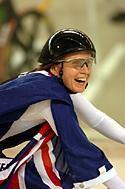 After the world record was broken multiple times yesterday, with Ulmer finally smashing it by knocking three and a half seconds of the next best time (by Katie Mactier of Australia), there was great anticipation for the medal round.
Former Olympic champion and world record holder Leontien Zijlaard-van Moorsel (Netherlands), racing what she says is her final race, easily took the bronze medal from Katherine Bates (Australia) - in the process setting a personal best time of 3:27.037, which ended up being faster than the silver medal time.
The gold medal race, between Ulmer and Mactier, started out with the Australian jumping into an early lead, almost a second up on Ulmer after the first 1000 metres. However, the New Zealander inexorably chased her down, taking the lead after 2000 metres and then powering on to lower the world record again to 3:24.537.
A huge roar went up from the large New Zealand contingent, and Ulmer circled the track, stopping to hug friends and family. Afterwards, she stated that she was confident that she was capable of breaking the world record she had set the day before.
"I knew the track was fast, and that I was capable of something; I just had to go out there and do the ride. It's great to win in any competition, but to win here, in front of the fastest women's pursuit field in history, is something special."
Ulmer was also asked what her limit is: "My limit? Each ride I do 150%, so tonight, that was my limit."
Leontien Zijlaard-Van Moorsel (Ned)
Photo ©: epicimages.us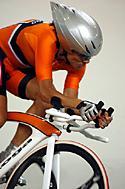 Mactier, whose own world personal best performance was overshadowed, said, "It is a tremendous honour to be sitting here with two legendary riders. For me, it is unbelievable that I was able to win a silver medal in this competition. I have had 3:27 on the wall of my bedroom since Stuttgart (world championships), so I feel very good to have come out and set a personal best here at that level. I also just wanted to point out that previously, everyone was wondering if someone could go sub 3:30, now I think it will be who goes sub 3:20 for Beijing!"
Zijlaard-van Moorsel, now at the end of a career that has seen world records, Olympic gold and world titles, was content with her bronze. "I have had disaster and triumph very close together in the last few days (she crashed out of the road race, but came back to take the gold medal in the time trial), so I am very happy with this performance. Today, I rode the fastest I have ever ridden. At this point there are three riders capable of riding very fast, and so is the track fast, therefore it was natural that a world record followed. I am very happy, and have done the last three kilometres of my cycling career."
Team Pursuit and Sprint Qualifying
The Aussies
Photo ©: epicimages.us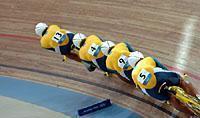 The qualifying session in the morning gave no indication of the speed that would be seen this evening. Australia set the fastest time, but did not even go sub-four minutes. Both Australia and Great Britain, the two top qualifiers, made substitutions for the evening sessions - adding the big guns. For Australia it was Brad McGee and Luke Roberts (replacing Peter Dawson and Stephen Wooldridge) joining Graeme Brown and Brett Lancaster. For Britain there was one substitution - pursuit gold medalist Bradley Wiggins replaced Bryan Steele, joining Steve Cummings, Paul Manning and Chris Newton.
Both Australia and Great Britain caught their competitors (Lithuania and France respectively), and powered on to set the fastest times of the round. Britain's time of 3:59.866 was superb, but then the Aussies came out and blew it away with a time of 3:56.610 . We can confidently predict more record setting times tomorrow in the final, when the two teams go up against each other.
There were no surprises in the sprints. All 12 women qualified, with the Flying 200 only used for seeding. Yvonne Hijgenaar (Netherlands) was the only top seeded rider not to make it through the first round, beaten by a surprisingly strong Daniela Larreal of Venezuela. The men's draw followed a similar pattern, with Ryan Bayley (Australia), Theo Bos (Netherlands) and Rene Wolff (Germany) all looking particularly strong.