The current time in Athens is 07:13 on September 25, 2023 - For current weather, click here
28th Olympic Games - JO
Athens, Greece, August 14-28, 2004
Track Day 1 Round Up - August 20, 2004
By Rob Jones in Athens
The first evening of track racing at the Olympic velodrome put paid to speculation that this track was slow - a world record and two Olympic records were set in the three events run this evening. The velodrome was almost completely full, with British fans dominating, both in numbers and volume.
Men's Individual Pursuit
Bradley Wiggins (GBr)
Photo ©: epicimages.us

The session opened with the qualifying round of the men's 4000 metre pursuit. Volodymyr Dyudya of the Ukraine was the first to break Robert Bartko's Olympic record of 4:18.515, clocking 4:18.169 in the fourth heat. Two heats later Great Britain's Bradley Wiggins sent a message to the competition when he recorded 4:15.165. Three of the remaining four riders - Sergi Escobar (Spain), Brad McGee (Australia) and Rob Hayles (Great Britain) - would also beat the old record, but Wiggins' time was over a second and a half faster than the next quickest (Escobar).
The session ended with the first round of the Pursuit, and the top four qualifiers - Wiggins, Escobar, McGee and Hayles - all disposed of their rivals without much difficulty. In the Finals tomorrow evening, Wiggins will go up against McGee for the Gold medal, while Hayles and Escobar will battle for the Bronze.
Women's 500 Metre Time Trial
Women's 500m TT gold medalist Anna Meares (Australia)
Photo ©: AFP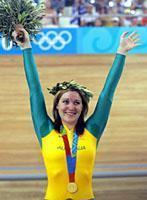 The real battle here was expected to be between world record holder Yonghua Jiang of China and world champion Anna Meares of Australia, and they did not disappoint. Two time world champion Natallia Tsylinskaya (Belarus) went third from last and finished with a time of 34.167 seconds, only 17 hundredths slower than Felicia Ballanger's (France) Olympic record. Jiang was next up, and threw down a challenge to Meares, by knocking 28 hundredths off the Olympic record with a time of 34.112 seconds - 0.112 seconds slower than her own world record. Then it was time for the Queensland rider, and she smashed the Olympic and world records, becoming the first woman to go below 34 seconds when she recorded a time of 33.952 seconds.
Afterwards, the young rider was shocked by her performance. "I'm a bit speechless. I didn't go into the race focusing on a medal, just having a good ride and looking for a personal best, and I guess I did that! I wasn't looking at a world record here, but the conditions were hot and dry, and that's when the track is always fastest."
Meares was also asked about the controversy facing the Australian track program, and the criticism that has surfaced in the media at home. "I've got nothing to say, other than the performance we leave on the track."
Jiang claimed not to be disappointed with finishing second and losing her world record. "I'm happy to take part in my first Olympics," she said.
She was also queried about her absence from the sport after the World's, and the rapid rise of the Chinese in track cycling. "My comeback is because of my love of cycling, it is because I love this sport. After the (unspecified) difficult times I have faced, it has been worth it with the medal I have won today. Our success is because of behind the scenes."
Men's 1000 Metre Time Trial
Hail Chris Hoy
Photo ©: AFP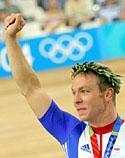 Great Britain's Chris Hoy followed in the footsteps of his mentor Jason Queally, the defending Olympic champion and record holder, by winning the men's kilo time trial.
"Jason was an inspiration to me. When I saw him win in Sydney, it opened my eyes to the fact that I could win. Jason helped immensely with my training and preparation, and I couldn't have done this without his help."
What Hoy did was lower the Olympic record to 1:00.711, after three previous riders had taken it successively below Queally's time of 1:01.609 . Shane Kelly (Australia) was the first to break the record, with 1:01.224, then immediately after him Stefan Nimke (Germany) took it to 1:01.186 . Theo Bos (Netherlands), third at the World's was next, but he lunged too early in the starting gate and almost crashed. Luckily he managed to stay upright, but the bobble undoubtedly cost him, and he could only manage 1:01.986. World record holder Arnaud Tournant was next, and he took the clock below 1:01, with a time of 1:00.896 . Hoy was not to be denied, however, and knocked a further 0.185 seconds off Tournant's time to take the gold medal.
"I was more nervous than I have ever been in my whole life." commented Hoy afterwards. "When you see so many fast times, it's hard to focus. There is a lot of pressure being the last man, but I just had to concentrate on my own ride, and not think about the other riders. It was my night tonight."
Tournant said that he was satisfied with the silver medal. "As far as I am concerned, I am happy with my race. When you see the Olympic record broken four times, then you can tell the quality of the riders. I am very happy with my silver, it is the reward for all my hard work over the past four years."
Both Hoy and Tournant commented on the conditions, and the wind that, during training raised concerns. "I think that over the past few days there was a lot of wind, but that today was good," said Tournant. "We all knew that Greece was hot, so I think everyone prepared properly, and the heat was not a problem."
Hoy added, "The wind was a concern for a while, but in the end it was very calm and warm, and the conditions became exceptionally fast."
The track events continue tomorrow with two gold medal finals - the Team Sprint and the Men's Individual Pursuit - plus the qualifying and first round of the Women's Individual Pursuit.
Games Notes
Putting out fires
Photo ©: Rob Jones

In the 1000m Time Trial press conference, Arnaud Tournant stated that he would refuse to speak unless the journalist from Le Monde left the room (he did). Tournant and many french riders are boycotting Le Monde after their accusations of doping at Cofidis and by other French riders.
USOC sponsor John Hancock (Insurance) paid handsomely for the privilege of having time trial medalists Tyler Hamilton (gold) and Bobby Julich (bronze) at a luncheon yesterday. Hamilton received $5000 and Julich $3000 for their appearances.
While up at the mountain bike venue earlier in the afternoon to do a photo shoot with Christophe Sauser, we were startled by the sudden appearance of at least six large fire trucks. The area is bone dry, and a tinderbox with pine needles all over the ground. An enormous cloud of smoke appeared over the venue, and security was evacuating all staff. There have been forest fires in the region. No word yet on how much damage was done to the venue.