The current time in Athens is 23:08 on December 9, 2022 - For current weather, click here
28th Olympic Games - JO
Athens, Greece, August 14-28, 2004
Saturday, August 21, 2004
Game plan: "Go faster"
Go faster: En route to a world record at the 2004 World Track Championships. Ulmer's time of 3 minutes 30.304 seconds surpassed Leontien Zijlaard-Van Moorsel's four year-old record from the Sydney 2000 Games.
Photo: © Shane Goss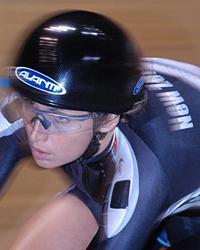 Current women's individual pursuit world champion and world record holder Sarah Ulmer is now in Athens, preparing to defend her record in what will undoubtedly be a fiercely contested event. Kristy Scrymgeour reports on a fast woman whose game plan is to simply "go faster".
Ulmer broke the world record when she came up against Leontien Zijlaard-Van Moorsel (Netherlands) in the qualifying rounds of the 2004 World Track Championships in May in Melbourne, Australia. Not only did Ulmer break the record, but also she broke it as she was riding against Van Moorsel Zijlaard, who held the record the past four years.
The record now stands at 3.30.604, a time in which a couple of individuals in particular will be hoping to break at the 2004 Games. Van Moorsel will definitely be aiming at getting her record back so that she can retire on a winning note, and Australian Katie Mactier, who took silver to Ulmer in Melbourne, is bound to want to go one better this time.
Ulmer was "still fuzzy" when Cyclingnews caught up with her immediately after the World's in Melbourne but in her very modest laid-back way said she will go into the Olympics without thinking of the pressure of being the world record holder. "I'm just going to go there and try to ride faster," she said. "I'm treating it as a totally new competition and I'm not going there to think of results. My game plan is to go faster."
Whether she had any idea that she could break the world record coming into this year, Ulmer says, "You always hope. Everyone's capable. It's just a matter of if you can produce it and if you have the support to do it."
This calm and confident attitude has been instrumental in Ulmer's results in the past, and she demonstrated this attribute in the World Championship ride against Mactier. Without panicking when Mactier was almost two seconds faster than her in the first kilometre, Ulmer stuck to her plan and was able to pull off the result.
"I knew she'd start fast, so to be honest my plan was to stick to schedule and not worry in the early stages. Katie's start is very fast. I couldn't go that fast for a kilo. You've just got to ride three kilometers fast."
After the World's, Ulmer went home to New Zealand for a week's rest before heading to France to prepare specifically for the Olympics. "I love France. It's my second favourite country," she says. (I'm presuming she means after Australia!) "I love the people, the language, the food and the culture and it's also close to Belgium, which is handy for racing. I also want to simulate the conditions to a certain extent. New Zealand is too cold at this time of year, so I need to go to Europe."
Throughout this season, Ulmer has been traveling with her boyfriend Brendan, who is a very big reason she is back on the circuit this year and heading to the Olympics with a very good chance of taking gold.
"I pretty much quit cycling six months ago," explains Ulmer. "I didn't have any confidence and I didn't want to go to the Olympics without doing it properly. I couldn't do it on my own. Brendan does 99 percent of everything for me. He took this whole year off work to help me so he's become my coach, manager, mechanic, everything," she says. "He did it without telling me because he knew I wouldn't want him to do that. We laugh about it now."
Adds Ulmer, "Brendan had way more faith than I did. He knew I could do it; he just said, 'We've just gotta get it out of you.'"
As to how it works, traveling and working so closely with Brendan throughout the year, Ulmer says it's "bloody brilliant".
"He is patient; he's been a cyclist himself and we're total opposites. He's very calm. We're both laid-back, but I'm impulsive. I'll make decisions quickly and he's more thoughtful."
Ulmer also works with Terry Gyde from New Zealand who helps out with her program, and has just started to use a power tap to monitor her training. She comments regularly on the amount of support she gets. She also says she is very lucky with her arrangements with Bike New Zealand.
"They have given us freedom. We are totally uninhibited," Ulmer says. "I don't know how riders can go from having one coach for 99 percent of the time and then go to a race with a different coach. We're so lucky we can do that. They have given me exactly what I want."
With only a few days remaining, anticipation lies in whether Ulmer can break her own record and go under the 3 minutes 30 seconds barrier. Some say that to win in Athens, a sub-3'30" will almost certainly be required.
Ulmer's attitude on this is simple: "I think you can always improve," she said. "Of course, it depends on the conditions and I haven't seen the track yet, but you have to go there thinking you can go faster."
See also: Sarah Ulmer's new track focus