Recently on Cyclingnews.com
The current time in Athens is 22:54 on December 11, 2023 - For current weather, click here
28th Olympic Games - JO
Athens, Greece, August 14-28, 2004
Friday, August 20, 2004
An interview with Anna Meares
Taking the bull by the horns
Anna Meares (Aus)
Photo ©: epicimages.us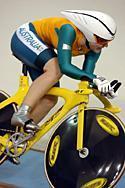 Australian Anna Meares not only took the gold medal in the women's 500m time trial in Athens today, but also set a new world record. Her time of 33.951 makes her the only woman to break the 34 second barrier in the 500m event. But the Queenslander told Cyclingnews' Kristy Scrymgeour after winning the 500m World Championships in May that she "didn't have too many expectations going into the Olympics."
"If I go there relaxed," she said. "I will perform better. It's a mental game, too."
Anna Meares started cycling at a young age with her older sister Kerrie, and the two have become the dominant force in Australian track sprinting over the past two years. Training together and traveling together to World Cups, the two have proven to be not only perfect traveling companions, but also very competitive against each other, pushing themselves to that higher level. "It's been strange not training with her," said Anna, "and also not rooming with her. We make great training companions."
This year Kerrie has been forced to take a break from the circuit due to a back injury, forfeiting her chance of making it to the Olympics for Australia, but Anna has certainly performed for the both of them and says she has gained a lot from moving her training base down to the Australian Institute facility in Adelaide this year.
That winning feeling
Photo ©: AFP

"At first I wasn't keen to move down there, because I'm a real home-body but I've been home four times," she said, "so that makes it OK. I've had the best time of my life. The atmosphere in great and I've taken on a totally different approach to training under Martin Barras. It's much more specific. I have a good pedaling technique, so we've been working on strength and my explosive ability. Now we can get the same cadence with a higher gear."
Meares, who says her "confidence has built up with the World Cup experience over the past few years," has also gained tactical experience from training with the other riders at the AIS. "It's been great the whole year. Sean [Eadie] has been helping me with tactics and the whole live in environment has been good."
Although the training has been hard this year, Meares explained that it has been worth it. "I love to race," she said. "As hard as training is, the thrill of racing makes up for it. I had to look at it from a different angle this year. I think I've taken the bull by the horns."