52nd FBD Milk Rás - 2.5
Ireland, May 23-30, 2004
Main Page Results Previous Stage Next Stage
Stage 6 - May 28: Millstreet - Seskin Hill Carrick-on Suir, 151 km
O'Loughlin takes first ever stage, just misses yellow
By Shane Stokes, Irishcycling.com
David O'Loughlin (Ireland/Thorton's Recycling)
Photo ©: INPHO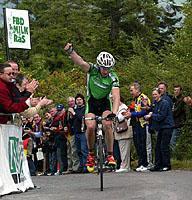 With a summit finish at the top of the legendary Seskin Hill in Carrick on Suir, today's sixth stage of the FBD Milk Rás was expected to be an epic. So it proved, the first summit finish in 21 years earning David O'Loughin his first ever stage win in the race and taking him to within three seconds of the overall lead.
O'Loughlin's ride was born of a mixture of courage, determination and persistence. The Ireland - Thornton's Recycling rider went clear with his team-mate Eugene Moriarty plus Yorkshire Murphy and Gunn's John Tanner and Mark Lovatt just twenty kilometres into the 151 kilometre stage. Moriarty lost his place up front twenty kilometres later, but the other three riders persisted to eke out a maximum four minute lead. This proved to be just enough for O'Loughlin to hold off the peloton's late charge and take what was an excellent, and well deserved, win.
Race leader Valter Bonca (Slovenia Perutnina Ptuj) and Ireland - Thornton's Recycling rider David McCann finished nineteen seconds behind O'Loughlin, taking second and third. Tanner was overhauled by this duo on the final climb and placed fourth, while Lovatt had the misfortune to puncture out of the break with eight kilometres remaining and so lost his chance. He eventually finished a disappointed 34th on the stage, dropping from eighth to tenth overall.
Bonca's Slovenian Perutnina Ptuj team rode hard all day to keep their leader in touch and, after receiving the assistance of the Kazakhstan team towards the end of the stage, he was able to limit his losses. Bonca ripped clear of the main field on the final climb, with McCann the only other rider able to stay with him, and hit the line 19 seconds behind O'Loughlin. Crucially, this was just enough for him to defend his jersey. He will go into tomorrow's tough mountain stage three seconds clear, fully aware that he cannot afford to lose any more time.
"I'm delighted to win the stage today, but disappointed not to have taken the jersey," said a remarkably fresh-looking O'Loughlin after the finish. "The gap between myself and the race leader is very small - I will just have to go out there tomorrow and try again. I'm not sure if I will have the legs to do so, but I've got to try!"
Fellow Irishman Dermot Nally (Galway) finished 31 seconds after O'Loughlin to take fifth on the stage. Kerry's Paul Griffin was seventh, sandwiched in between the Germany ComNet Senges duo Stefan Cohnen and Rene Schild. Ireland - Thornton's Recycling rider Tommy Evans was eleventh while yesterday's stage winner Malcolm Elliott (Yorkshire - Murphy and Gunn) finished twelfth and moves up to fifth overall. Ahead of him in the general classification are Bonca, O'Loughlin, McCann and Nally, with those first four riders all within one minute of each other and all likely to slug it out on tomorrow's tough mountain stage.
How it unfolded
David O'Loughlin (Ireland/Thorton's Recycling)
Photo ©: INPHO

Today's 151 kilometre stage from Millstreet to Carrick on Suir featured just two climbs, the category three ascent of The Pike coming after 119.8 kilometres and then the final category one finish up Seskin Hill. The latter climb has a legendary status in Irish cycling, being one of the climbs used by Sean Kelly when training in Ireland and also featuring in the Nissan Classic during the eighties. However the climb is only about two kilometres long, making an early attack necessary for those who were trying to take serious time out of the race leader Bonca.
This is exactly what happened. Almost immediately after the drop of the flag, Scandinavia Bianchi Nordic's Mikael Segarsall went up the road with Paul Healion (Dublin Usher IRC) and Philip Cassidy (Meath Lee Strand). These were brought back by the Slovenians, but then four more - Denis Lynch (Ireland - Thornton's Recycling), Segarsall, Mark Lovatt (Yorkshire - Murphy and Gunn) and Bonca's team-mate Branko Filip - went clear. They were hauled back after a couple of kilometres.
Next to try were Lovatt and O'Loughlin, who built a gap of seven seconds before being recaptured. The duo were soon at it again, however, bridging across to a move by O'Loughlin's teammate Eugene Moriarty and John Tanner (Yorkshire - Murphy and Gunn) 20 kilometres after the start.
The Perutnina team
Photo ©: INPHO

Moriarty was dropped 20 kilometres later but before then, his effort helped establish a one minute lead. Assisted somewhat by a slight tailwind, the three leaders continued to dig deep and draw clear, building a maximum lead of three minutes and two seconds by the 110 kilometre point.
Bonca's Slovenian team increased their pace to reduce the lead to two minutes and 15 seconds by the top of The Pike. With twenty kilometres remaining the gap had dipped to under two minutes; this lead continued to fall as the Kazakhstan national team came to the front and started to assist the Slovenians in their chase.
With ten kilometres remaining the break had only one minute and six seconds, making it conceivable that the riders could be caught before the finish. Lovatt punctured two kilometres later, further increasing the difficulty for O'Loughlin and Tanner. However, while the latter was caught and passed by Bonca and McCann - who exploded from the fragmenting main field on the climb - O'Loughlin was strong enough to stay clear to the line, stopping the clock nineteen seconds ahead of the next two riders. Tanner held on for fourth, while Nally, Cohnen, Griffin and Schild were next home.
In terms of the general classification, O'Loughlin is now three seconds adrift of Bonca with McCann 23 seconds down. Nally is 59 seconds in arrears. Each of the four will head into tomorrow's crucial mountain stage mindful that over nine categorised climbs, anything could happen. The Ireland - Thornton's Recycling team are in the strong position of having two riders so close to the lead, so if they alternate their attacks they could well put Bonca under pressure. That's the plan anyway.
And then there were three:
Photo ©: INPHO

"We'll do what we can tomorrow to take the jersey," said team manger Frank Campbell. "We were disappointed not to take it today - I think if Lovatt hadn't punctured, David could have been in yellow tonight. Lovatt was still strong and without him the break lost a little bit of its speed.
"We were also unlucky in that the Slovenian team seemed to benefit from the efforts of some of the other teams in the race. Teams were riding that had no reason to ride; I'm not sure why they were riding but it is very frustrating when we are trying to race.
"We will just have to go for it tomorrow. The stage will be a little less crucial for Bonca's team - they seem to be certainly weakening - but I don't think they will be as much use to him tomorrow anyway. With all the climbing, tomorrow is going to be about the strong riders, those who are going well. Bonca's climbing well and teamwork may be a little less crucial for him than it was today."
Campbell says that the Ireland - Thornton's Recycling team will be in the right frame of mind to do what it can. "Morale is very good on the team. A few of the guys are up there in the general classification and they have been riding very well as a unit this week. We'll just go for it tomorrow and see what happens."
Tomorrow's penultimate stage from Carrick on Suir to Tullow has nine tough climbs, including category one ascents of The Heights, Corrabutt and Mount Leinster. It will be the big showdown for the 2004 FBD Milk Rás although, at this stage, few would be surprised if things are still wide open going into the final day's action in Dublin's Phoenix Park. If that three second gap is still there tomorrow evening, Sunday's race will be an absolute humdinger.
Photography
Images by INPHO Sports Photography
Results
1 David O'Loughlin (Irl) Thorntons Recycling             3.25.47
2 Valter Bonca (Slo) Perutnina                              0.19
3 David McCann (Irl) Thorntons Recycling                        
4 John Tanner (GBr) Yorkshire Murphy & Gunn                 0.25
5 Dermot Nally (Irl) Galway                                 0.31
6 Stefan Cohnen (Ned) ComNet Senges                             
7 Paul Griffin (Irl) Kerry                                      
8 Rene Schild (Ger) ComNet Senges                           0.35
9 John Veness (GBr) Surrey Racing League                        
10 Valentin Iglinskiy (Kaz) Kazakhstan                          
11 Tommy Evans (Irl) Thorntons Recycling                    0.38
12 Malcolm Elliott (GBr) Yorkshire Murphy & Gunn                
13 Tobias Lergard (Swe) Scandinavia Bianchi Nordic              
14 Denis Lynch (Irl) Thorntons Recycling                    0.43
15 Anthony Malarczyk (GBr) Wales Stena Line                 0.46
16 Brian Keane (Irl) Dublin Wheelers All Systems            0.49
17 Lee Rosenthal (USA) CRCA/Sakonnet                        0.51
18 Jamie Norfolk (GBr) Wales Stena Line                         
19 Julian Winn (GBr) Yorkshire Murphy & Gunn                    
20 Tim Dunford (GBr) Surrey Racing League                   0.55
21 Roger Aiken (Irl) Dublin Wheelers All Systems            0.56
22 Alexandr Dyachenko (Kaz) Kazakhstan                      1.00
23 Ben Greenwood (GBr) USA/Britain                              
24 Edward Clancy (GBr) Great Britain U23                    1.06
25 Tjarco Cuppens (Ned) ComNet Senges                           
26 John Horgan (Irl) Cork Kanturk Credit Union              1.09
27 Mike Harrison (GBr) Liverpool Century                    1.10
28 Thorsten Wiedenroth (Ger) Stevens Von Hacht                  
29 George Rose (GBr) N. Wales Energy Cycles                     
30 Kevin Dawson (GBr) Yorkshire Murphy & Gunn                   
31 Roger Morgan (GBr) Surrey Racing League                      
32 Evan Oilphant (GBr) Great Britain U23                        
33 Robert Giannini (USA) CRCA/Sakonnet                          
34 Mark Lovatt (GBr) Yorkshire Murphy & Gunn                    
35 Craig Sweetman (Irl) Meath Martin Donnelly                   
36 Ritchie Cahill (Irl) Kerry                                   
37 Richard Eastham (GBr) NE England Bannatyne                   
38 John Charlesworth (GBr) NE England Bannatyne                 
39 Curtis Gunn (USA) USA/Britain                                
40 Simon Kelly (Irl) Cork Kanturk Credit Union              1.17
41 Sean Lacey (Irl) Kerry                                       
42 John Dempsey (Irl) Tipperary Dan Morrissey                   
43 Paul Slane (Irl) Meath Martin Donnelly                       
44 Daniel Lynch (Irl) Cork Kanturk Credit Union                 
45 Kimmo Kananen (Fin) Scandinavia Bianchi Nordic               
46 Greg Roche (GBr) N. Wales Energy Cycles                  1.23
47 Paul Healion (Irl) Dublin Usher IRC                      1.25
48 Emmet Hogan (Irl) Dublin Stagg Cycles Bennett                
49 John Peppard (Irl) Galway                                    
50 Michael Norton (USA) Stelvio Teamwear - Orbis                
51 Mark Cassidy (Irl) Meath Lee Strand                          
52 Padraig Marrey (Irl) Galway                                  
53 Glenn Bak (Den) Scandinavia Bianchi Nordic                   
54 Andy Guptill (USA) CRCA/Sakonnet                             
55 David Peelo (Irl) Dublin Usher IRC                           
56 Frank O'Leary (Irl) Wicklow                                  
57 Michael Schweizer (Ger) ComNet Senges                        
58 Huw Pritchard (GBr) Wales Stena Line                     1.32
59 Donal Byrne (Irl) Dublin Orwell Dundrum Shopping         1.34
60 Chris Kuhl (USA) CRCA/Sakonnet                               
61 Ivan Andreeyev (Kaz) Kazakhstan                              
62 Steven Roach (GBr) Wales Stena Line                          
63 Paidi O'Brien (Irl) Cork Kanturk Credit Union                
64 Gareth Jones (GBr) N. Wales Energy Cycles                    
65 Philip Finegan (Irl) Meath Lee Strand                    1.41
66 Johnny Rondash (USA) USA/Britain                             
67 Vincent Gleeson (Irl) Kerry                              1.44
68 Brian Stewart (Irl) Dublin Usher IRC                         
69 Graham Briggs (GBr) Great Britain U23                        
70 Michael Mulcahy (Irl) Dublin Usher IRC                       
71 Massimo Demarin (Cro) Perutnina                              
72 Sonke Thiel (Ger) Stevens Von Hacht                          
73 Gregory Swinand (USA) Dublin Usher IRC                       
74 Peter Hey (GBr) USA/Britain                                  
75 Bill Moore (Irl) Meath Martin Donnelly                   1.51
76 John O'Shea (Irl) Tipperary Dan Morrissey                    
77 Pat Keneally (Irl) Tipperary Dan Morrissey                   
78 John Ibbotson (GBr) Surrey Racing League                     
79 Daire McCaughley (Irl) Dublin Wheelers All Systems       1.59
80 Stephen O'Sullivan (Irl) Meath Lee Strand                2.01
81 Eugene Murtagh (Irl) Dublin Stagg Cycles Bennett             
82 Brian Harris (Irl) Wicklow                               2.05
83 Mikael Segarsall (Swe) Scandinavia Bianchi Nordic            
84 Paul Sheppard (GBr) Wales Stena Line                         
85 Robert Wyse (Irl) Wicklow                                    
86 Richard Jones (GBr) N. Wales Energy Cycles                   
87 Vadim Vdovinov (Kaz) Kazakhstan                              
88 Adrian Hedderman (Irl) Cork Kanturk Credit Union         2.13
89 Graham Thomas (Irl) Dublin Exel Ravens                       
90 Matej Stare (Slo) Perutnina                              2.25
91 Philip Cassidy (Irl) Meath Lee Strand                        
92 Uwe Sengewald (Ger) ComNet Senges                            
93 Fintan McCormack (Irl) Kildare Newbridge                 2.41
94 Aidan Crowley (Irl) Meath Lee Strand                         
95 Eugene Moriarty (Irl) Thorntons Recycling                2.48
96 Matthew Brammeier (GBr) Great Britain U23                3.02
97 Mark Cavindish (GBr) Great Britain U23                       
98 Colm Bracken (Irl) Galway                                    
99 Valeriy Dmitryev (Kaz) Kazakhstan                        3.37
100 Fergal Kelly (Irl) Wicklow                              3.54
101 Derek Cunningham (Irl) Wicklow                          4.35
102 Maurice Hickey (Irl) Dublin Wheelers All Systems        6.00
103 Graeme Hatcher (GBr) Liverpool Century                  6.14
104 Steven Kenny (GBr) NE England Bannatyne                 6.21
105 Steve Gibson (GBr) NE England Bannatyne                 6.29
106 Tim Barry (Irl) Tipperary Dan Morrissey                     
107 Xavier Melendez (USA) Stelvio Teamwear - Orbis              
108 Greg Abrahamson (USA) CRCA/Sakonnet                     6.43
109 Seamus Kelly (Irl) Kildare Newbridge                        
110 Kieran McMahon (Irl) Kerry                              6.52
111 Michael Fitzgerald (Irl) Galway                         6.56
112 David Early (Irl) Kildare Newbridge                     7.01
113 Noel McGlynn (Irl) Dublin Exel Ravens                   7.03
114 Alan Lane (Irl) Dublin Orwell Dundrum Shopping          7.06
115 Terry Giblin (GBr) Liverpool Century                    7.16
116 Michael Henson (USA) Stelvio Teamwear - Orbis           7.27
117 Michael Pudlinski (USA) Stelvio Teamwear - Orbis            
118 Branko Filip (Slo) Perutnina                            8.22
119 James Walsh (Irl) Dublin Stagg Cycles Bennett           9.08
120 Robert Moore (Irl) Meath Martin Donnelly               11.07
121 Kieran Keane (Irl) Dublin Exel Ravens                  11.27
122 Derek King (Irl) Dublin Exel Ravens                         
123 Ant Cassidy (GBr) Liverpool Century                    12.08
124 Steve Howells (GBr) USA/Britain                        12.25
125 Gary McNulty (Irl) Dublin Orwell Dundrum Shopping      13.07
126 Andy Bennett (GBr) Liverpool Century                   18.50
127 Simon Mulvany (Irl) Meath Martin Donnelly              26.50
DNF Petter Renang (Swe) Scandinavia Bianchi Nordic              
DNF Brian Ahern (Irl) Dublin Orwell Dundrum Shopping            
DNS Sven Eckert (Ger) Stevens Von Hacht                         
 
Mountains
 
KOM Cat 3 at The Pike
 
1 Mark Lovatt (GBr) Yorkshire Murphy & Gunn                    5 pts
2 David O'Loughlin (Irl) Thorntons Recycling                   4
3 John Tanner (GBr) Yorkshire Murphy & Gunn                    3
4 Tobias Lergard (Swe) Scandinavia Bianchi Nordic              2
 
KOM Category 1 at Seskin Hill
 
1 David O'Loughlin (Irl) Thorntons Recycling                  15 pts
2 Valter Bonca (Slo) Perutnina                                12
3 David McCann (Irl) Thorntons Recycling                      10
4 John Tanner (GBr) Yorkshire Murphy & Gunn                    8
5 Dermot Nally (Irl) Galway                                    6
6 Stefan Cohnen (Ned) ComNet Senges                            5
7 Paul Griffin (Irl) Kerry                                     3
 
County rider
 
1 Dermot Nally (Irl) Galway                              3.26.18
2 Paul Griffin (Irl) Kerry                                      
3 Brian Keane (Irl) Dublin Wheelers All Systems             0.18
4 Roger Aiken (Irl) Dublin Wheelers All Systems             0.25
5 John Horgan (Irl) Cork Kanturk Credit Union               0.38
6 Craig Sweetman (Irl) Meath Martin Donnelly                0.39
7 Ritchie Cahill (Irl) Kerry                                    
8 Simon Kelly (Irl) Cork Kanturk Credit Union               0.46
9 Sean Lacey (Irl) Kerry                                        
10 John Dempsey (Irl) Tipperary Dan Morrissey                   
11 Paul Slane (Irl) Meath Martin Donnelly                       
12 Daniel Lynch (Irl) Cork Kanturk Credit Union                 
13 Paul Healion (Irl) Dublin Usher IRC                      0.54
14 Emmet Hogan (Irl) Dublin Stagg Cycles Bennett                
15 John Peppard (Irl) Galway                                    
16 Mark Cassidy (Irl) Meath Lee Strand                          
17 Padraig Marrey (Irl) Galway                                  
18 David Peelo (Irl) Dublin Usher IRC                           
19 Frank O'Leary (Irl) Wicklow                                  
20 Donal Byrne (Irl) Dublin Orwell Dundrum Shopping         1.03
21 Paidi O'Brien (Irl) Cork Kanturk Credit Union                
22 Philip Finegan (Irl) Meath Lee Strand                    1.10
23 Vincent Gleeson (Irl) Kerry                              1.13
24 Brian Stewart (Irl) Dublin Usher IRC                         
25 Michael Mulcahy (Irl) Dublin Usher IRC                       
26 Bill Moore (Irl) Meath Martin Donnelly                   1.20
27 John O'Shea (Irl) Tipperary Dan Morrissey                    
28 Pat Keneally (Irl) Tipperary Dan Morrissey                   
29 Daire McCaughley (Irl) Dublin Wheelers All Systems       1.28
30 Stephen O'Sullivan (Irl) Meath Lee Strand                1.30
31 Eugene Murtagh (Irl) Dublin Stagg Cycles Bennett             
32 Brian Harris (Irl) Wicklow                               1.34
33 Robert Wyse (Irl) Wicklow                                    
34 Adrian Hedderman (Irl) Cork Kanturk Credit Union         1.42
35 Graham Thomas (Irl) Dublin Exel Ravens                       
36 Philip Cassidy (Irl) Meath Lee Strand                    1.54
37 Fintan McCormack (Irl) Kildare Newbridge                 2.10
38 Aidan Crowley (Irl) Meath Lee Strand                         
39 Colm Bracken (Irl) Galway                                2.31
40 Fergal Kelly (Irl) Wicklow                               3.23
41 Derek Cunningham (Irl) Wicklow                           4.04
42 Maurice Hickey (Irl) Dublin Wheelers All Systems         5.29
43 Tim Barry (Irl) Tipperary Dan Morrissey                  5.58
44 Seamus Kelly (Irl) Kildare Newbridge                     6.12
45 Kieran McMahon (Irl) Kerry                               6.21
46 Michael Fitzgerald (Irl) Galway                          6.25
47 David Early (Irl) Kildare Newbridge                      6.30
48 Noel McGlynn (Irl) Dublin Exel Ravens                    6.32
49 Alan Lane (Irl) Dublin Orwell Dundrum Shopping           6.35
50 James Walsh (Irl) Dublin Stagg Cycles Bennett            8.37
51 Robert Moore (Irl) Meath Martin Donnelly                10.36
52 Kieran Keane (Irl) Dublin Exel Ravens                   10.56
53 Derek King (Irl) Dublin Exel Ravens                          
54 Gary McNulty (Irl) Dublin Orwell Dundrum Shopping       12.36
55 Simon Mulvany (Irl) Meath Martin Donnelly               26.19
 
CI Cat. 2 rider
 
1 Donal Byrne (Irl) Dublin Orwell Dundrum Shopping       3.27.21
2 Daire McCaughley (Irl) Dublin Wheelers All Systems        0.25
3 Robert Wyse (Irl) Wicklow                                 0.31
4 Maurice Hickey (Irl) Dublin Wheelers All Systems          4.26
5 Seamus Kelly (Irl) Kildare Newbridge                      5.09
6 Noel McGlynn (Irl) Dublin Exel Ravens                     5.29
7 Alan Lane (Irl) Dublin Orwell Dundrum Shopping            5.32
8 James Walsh (Irl) Dublin Stagg Cycles Bennett             7.34
9 Derek King (Irl) Dublin Exel Ravens                       9.53
10 Gary McNulty (Irl) Dublin Orwell Dundrum Shopping       11.33
 
Teams
 
1 Ireland Thorntons Recycling                           10.18.18
2 Yorkshire Murphy & Gunn                                   0.57
3 Germany ComNet Senges                                     1.15
4 Surrey Racing League                                      1.43
5 Wales Stena Line                                          2.12
6 Kazakhstan                                                    
7 Scandinavia Bianchi Nordic                                2.23
8 USA CRCA/Sakonnet                                         2.29
9 USA/BRITAIN                                               2.54
10 Great Britain U23                                        3.03
11 N. Wales Energy Cycles                                   3.10
12 Slovenia Perutnina                                       3.31
13 NE England Bannatyne                                     7.44
14 Liverpool Century                                       13.43
15 USA Stelvio Teamwear - Orbis                            14.24
 
County teams
 
1 Kerry                                                 10.20.19
2 Galway                                                    0.23
3 Cork Kanturk Credit Union                                 0.45
4 Dublin Wheelers All Systems                               0.46
5 Meath Martin Donnelly                                     1.20
6 Dublin Usher IRC                                          1.36
7 Tipperary Dan Morrissey                                   2.01
8 Meath Lee Strand                                          2.09
9 Wicklow                                                   2.37
10 Dublin Stagg Cycles Bennett                              9.36
11 Kildare Newbridge                                       13.27
12 Dublin Exel Ravens                                      17.45
13 Dublin Orwell Dundrum Shopping                          18.49
 
General classification after stage 6
 
1 Valter Bonca (Slo) Perutnina                          22.27.49
2 David O'Loughlin (Irl) Thorntons Recycling                0.03
3 David McCann (Irl) Thorntons Recycling                    0.23
4 Dermot Nally (Irl) Galway                                 0.59
5 Malcolm Elliott (GBr) Yorkshire Murphy & Gunn             1.08
6 Denis Lynch (Irl) Thorntons Recycling                     1.10
7 Anthony Malarczyk (GBr) Wales Stena Line                  2.14
8 Stefan Cohnen (Ned) ComNet Senges                         2.18
9 Tobias Lergard (Swe) Scandinavia Bianchi Nordic           2.19
10 Mark Lovatt (GBr) Yorkshire Murphy & Gunn                2.28
11 Tommy Evans (Irl) Thorntons Recycling                    2.34
12 Sean Lacey (Irl) Kerry                                   3.09
13 John Tanner (GBr) Yorkshire Murphy & Gunn                3.21
14 Valentin Iglinskiy (Kaz) Kazakhstan                      3.31
15 Kevin Dawson (GBr) Yorkshire Murphy & Gunn                   
16 Paul Griffin (Irl) Kerry                                 3.34
17 Rene Schild (Ger) ComNet Senges                          3.38
18 Massimo Demarin (Cro) Perutnina                              
19 Jamie Norfolk (GBr) Wales Stena Line                     3.53
20 Evan Oilphant (GBr) Great Britain U23                    4.18
21 Alexandr Dyachenko (Kaz) Kazakhstan                      4.27
22 Curtis Gunn (USA) USA/Britain                            4.35
23 Paul Slane (Irl) Meath Martin Donnelly                   4.44
24 Simon Kelly (Irl) Cork Kanturk Credit Union                  
25 Matej Stare (Slo) Perutnina                              5.28
26 Thorsten Wiedenroth (Ger) Stevens Von Hacht              5.46
27 Roger Morgan (GBr) Surrey Racing League                      
28 Gareth Jones (GBr) N. Wales Energy Cycles                6.22
29 Brian Keane (Irl) Dublin Wheelers All Systems            6.51
30 Paidi O'Brien (Irl) Cork Kanturk Credit Union            7.11
31 Tim Dunford (GBr) Surrey Racing League                   7.24
32 Richard Eastham (GBr) NE England Bannatyne               7.32
33 John Veness (GBr) Surrey Racing League                       
34 Vadim Vdovinov (Kaz) Kazakhstan                          7.42
35 Tjarco Cuppens (Ned) ComNet Senges                       7.52
36 Graham Briggs (GBr) Great Britain U23                    7.59
37 Michael Norton (USA) Stelvio Teamwear - Orbis            8.11
38 Greg Roche (GBr) N. Wales Energy Cycles                  8.21
39 Brian Stewart (Irl) Dublin Usher IRC                     8.22
40 Edward Clancy (GBr) Great Britain U23                    8.24
41 Roger Aiken (Irl) Dublin Wheelers All Systems            8.25
42 Michael Mulcahy (Irl) Dublin Usher IRC                   8.42
43 Andy Guptill (USA) CRCA/Sakonnet                         8.43
44 Mike Harrison (GBr) Liverpool Century                    9.03
45 Craig Sweetman (Irl) Meath Martin Donnelly               9.09
46 Julian Winn (GBr) Yorkshire Murphy & Gunn                    
47 John Dempsey (Irl) Tipperary Dan Morrissey               9.10
48 John Charlesworth (GBr) NE England Bannatyne             9.23
49 George Rose (GBr) N. Wales Energy Cycles                 9.43
50 Michael Schweizer (Ger) ComNet Senges                    9.45
51 Sonke Thiel (Ger) Stevens Von Hacht                     10.21
52 Robert Giannini (USA) CRCA/Sakonnet                     10.29
53 Ben Greenwood (GBr) USA/Britain                         11.35
54 Donal Byrne (Irl) Dublin Orwell Dundrum Shopping        11.37
55 Mark Cassidy (Irl) Meath Lee Strand                     11.49
56 Frank O'Leary (Irl) Wicklow                             11.54
57 Bill Moore (Irl) Meath Martin Donnelly                       
58 John Ibbotson (GBr) Surrey Racing League                     
59 Daire McCaughley (Irl) Dublin Wheelers All Systems      12.02
60 John Horgan (Irl) Cork Kanturk Credit Union             12.13
61 Paul Healion (Irl) Dublin Usher IRC                     12.26
62 Glenn Bak (Den) Scandinavia Bianchi Nordic              12.40
63 John Peppard (Irl) Galway                               12.56
64 Fergal Kelly (Irl) Wicklow                              14.11
65 Huw Pritchard (GBr) Wales Stena Line                    14.16
66 Steven Roach (GBr) Wales Stena Line                     14.18
67 Ivan Andreeyev (Kaz) Kazakhstan                         14.34
68 Eugene Moriarty (Irl) Thorntons Recycling               14.40
69 Matthew Brammeier (GBr) Great Britain U23               14.56
70 Branko Filip (Slo) Perutnina                            15.17
71 Aidan Crowley (Irl) Meath Lee Strand                    15.42
72 David Peelo (Irl) Dublin Usher IRC                      16.13
73 Vincent Gleeson (Irl) Kerry                             16.52
74 Kimmo Kananen (Fin) Scandinavia Bianchi Nordic          16.57
75 Gregory Swinand (USA) Dublin Usher IRC                  18.02
76 Valeriy Dmitryev (Kaz) Kazakhstan                       18.03
77 Paul Sheppard (GBr) Wales Stena Line                    18.23
78 Philip Cassidy (Irl) Meath Lee Strand                   18.43
79 Philip Finegan (Irl) Meath Lee Strand                   19.30
80 Mark Cavindish (GBr) Great Britain U23                  20.05
81 Adrian Hedderman (Irl) Cork Kanturk Credit Union        21.01
82 Derek Cunningham (Irl) Wicklow                          21.05
83 Mikael Segarsall (Swe) Scandinavia Bianchi Nordic       21.24
84 Stephen O'Sullivan (Irl) Meath Lee Strand               21.56
85 Tim Barry (Irl) Tipperary Dan Morrissey                 22.23
86 Padraig Marrey (Irl) Galway                             23.11
87 Richard Jones (GBr) N. Wales Energy Cycles              24.34
88 Brian Harris (Irl) Wicklow                              24.39
89 Eugene Murtagh (Irl) Dublin Stagg Cycles Bennett        27.35
90 Michael Pudlinski (USA) Stelvio Teamwear - Orbis        27.52
91 Kieran McMahon (Irl) Kerry                              28.07
92 Colm Bracken (Irl) Galway                               28.12
93 Emmet Hogan (Irl) Dublin Stagg Cycles Bennett           29.46
94 Daniel Lynch (Irl) Cork Kanturk Credit Union            30.03
95 John O'Shea (Irl) Tipperary Dan Morrissey               30.23
96 Xavier Melendez (USA) Stelvio Teamwear - Orbis          31.27
97 Noel McGlynn (Irl) Dublin Exel Ravens                   32.54
98 Lee Rosenthal (USA) CRCA/Sakonnet                       34.08
99 Ritchie Cahill (Irl) Kerry                              34.18
100 Chris Kuhl (USA) CRCA/Sakonnet                         34.20
101 Steven Kenny (GBr) NE England Bannatyne                35.01
102 Graham Thomas (Irl) Dublin Exel Ravens                 43.56
103 Michael Henson (USA) Stelvio Teamwear - Orbis          50.55
104 Graeme Hatcher (GBr) Liverpool Century                 53.20
105 Peter Hey (GBr) USA/Britain                            56.16
106 Pat Keneally (Irl) Tipperary Dan Morrissey             58.28
107 Simon Mulvany (Irl) Meath Martin Donnelly              58.37
108 Michael Fitzgerald (Irl) Galway                      1.02.13
109 David Early (Irl) Kildare Newbridge                  1.03.36
110 Greg Abrahamson (USA) CRCA/Sakonnet                  1.04.26
111 Robert Wyse (Irl) Wicklow                            1.07.04
112 Seamus Kelly (Irl) Kildare Newbridge                 1.11.44
113 Kieran Keane (Irl) Dublin Exel Ravens                1.13.38
114 Fintan McCormack (Irl) Kildare Newbridge             1.18.21
115 James Walsh (Irl) Dublin Stagg Cycles Bennett        1.19.45
116 Uwe Sengewald (Ger) ComNet Senges                    1.22.28
117 Johnny Rondash (USA) USA/Britain                     1.32.14
118 Alan Lane (Irl) Dublin Orwell Dundrum Shopping       1.33.05
119 Steve Gibson (GBr) NE England Bannatyne              1.41.18
120 Robert Moore (Irl) Meath Martin Donnelly             1.51.03
121 Maurice Hickey (Irl) Dublin Wheelers All Systems     2.00.41
122 Derek King (Irl) Dublin Exel Ravens                  2.26.13
123 Steve Howells (GBr) USA/Britain                      2.27.09
124 Ant Cassidy (GBr) Liverpool Century                  2.40.40
125 Terry Giblin (GBr) Liverpool Century                 2.50.56
126 Gary McNulty (Irl) Dublin Orwell Dundrum Shopping    2.52.44
127 Andy Bennett (GBr) Liverpool Century                 3.58.04
 
Points classification
 
1 David McCann (Irl) Thorntons Recycling                      57 pts
2 Malcolm Elliott (GBr) Yorkshire Murphy & Gunn               56
3 Dermot Nally (Irl) Galway                                   51
4 Paul Griffin (Irl) Kerry                                    40
5 Valter Bonca (Slo) Perutnina                                39
6 David O'Loughlin (Irl) Thorntons Recycling                  39
7 Stefan Cohnen (Ned) ComNet Senges                           29
8 Valeriy Dmitryev (Kaz) Kazakhstan                           24
9 Sean Lacey (Irl) Kerry                                      21
10 Graham Briggs (GBr) Great Britain U23                      21
11 Denis Lynch (Irl) Thorntons Recycling                      20
12 Evan Oilphant (GBr) Great Britain U23                      20
13 Valentin Iglinskiy (Kaz) Kazakhstan                        19
14 John Tanner (GBr) Yorkshire Murphy & Gunn                  18
15 Tommy Evans (Irl) Thorntons Recycling                      17
16 Paidi O'Brien (Irl) Cork Kanturk Credit Union              15
17 Kimmo Kananen (Fin) Scandinavia Bianchi Nordic             14
18 Mark Lovatt (GBr) Yorkshire Murphy & Gunn                  13
19 Anthony Malarczyk (GBr) Wales Stena Line                   12
20 Curtis Gunn (USA) USA/Britain                              12
21 Thorsten Wiedenroth (Ger) Stevens Von Hacht                12
22 Tjarco Cuppens (Ned) ComNet Senges                         12
23 Rene Schild (Ger) ComNet Senges                            11
24 Tobias Lergard (Swe) Scandinavia Bianchi Nordic            10
25 Michael Schweizer (Ger) ComNet Senges                      10
26 Matej Stare (Slo) Perutnina                                 9
27 Jamie Norfolk (GBr) Wales Stena Line                        8
28 Michael Fitzgerald (Irl) Galway                             8
29 Kevin Dawson (GBr) Yorkshire Murphy & Gunn                  7
30 John Veness (GBr) Surrey Racing League                      7
31 Vadim Vdovinov (Kaz) Kazakhstan                             7
32 Adrian Hedderman (Irl) Cork Kanturk Credit Union            7
33 Ritchie Cahill (Irl) Kerry                                  7
34 Paul Healion (Irl) Dublin Usher IRC                         6
35 Aidan Crowley (Irl) Meath Lee Strand                        6
36 Paul Slane (Irl) Meath Martin Donnelly                      5
37 Massimo Demarin (Cro) Perutnina                             4
38 Simon Kelly (Irl) Cork Kanturk Credit Union                 4
39 Richard Eastham (GBr) NE England Bannatyne                  3
40 Colm Bracken (Irl) Galway                                   2
41 Roger Aiken (Irl) Dublin Wheelers All Systems               1
42 Vincent Gleeson (Irl) Kerry                                 1
43 Philip Cassidy (Irl) Meath Lee Strand                       1
 
Mountains classification
 
1 Tobias Lergard (Swe) Scandinavia Bianchi Nordic             65 pts
2 David O'Loughlin (Irl) Thorntons Recycling                  43
3 Branko Filip (Slo) Perutnina                                43
4 Valter Bonca (Slo) Perutnina                                31
5 Julian Winn (GBr) Yorkshire Murphy & Gunn                   29
6 Massimo Demarin (Cro) Perutnina                             25
7 Glenn Bak (Den) Scandinavia Bianchi Nordic                  24
8 Mikael Segarsall (Swe) Scandinavia Bianchi Nordic           22
9 Daniel Lynch (Irl) Cork Kanturk Credit Union                20
10 David McCann (Irl) Thorntons Recycling                     20
11 Dermot Nally (Irl) Galway                                  18
12 Huw Pritchard (GBr) Wales Stena Line                       16
13 Stefan Cohnen (Ned) ComNet Senges                          15
14 John Tanner (GBr) Yorkshire Murphy & Gunn                  14
15 Kimmo Kananen (Fin) Scandinavia Bianchi Nordic             10
16 Anthony Malarczyk (GBr) Wales Stena Line                    8
17 Eugene Moriarty (Irl) Thorntons Recycling                   8
18 Malcolm Elliott (GBr) Yorkshire Murphy & Gunn               7
19 Kevin Dawson (GBr) Yorkshire Murphy & Gunn                  6
20 Mark Lovatt (GBr) Yorkshire Murphy & Gunn                   5
21 Tommy Evans (Irl) Thorntons Recycling                       4
22 Jamie Norfolk (GBr) Wales Stena Line                        4
23 Valeriy Dmitryev (Kaz) Kazakhstan                           4
24 Denis Lynch (Irl) Thorntons Recycling                       3
25 Paul Griffin (Irl) Kerry                                    3
 
U23 classification
 
1 Stefan Cohnen (Ned) ComNet Senges                     22.30.07
2 Sean Lacey (Irl) Kerry                                    0.51
3 Valentin Iglinskiy (Kaz) Kazakhstan                       1.13
4 Rene Schild (Ger) ComNet Senges                           1.20
5 Evan Oilphant (GBr) Great Britain U23                     2.00
6 Alexandr Dyachenko (Kaz) Kazakhstan                       2.09
7 Paidi O'Brien (Irl) Cork Kanturk Credit Union             4.53
8 Vadim Vdovinov (Kaz) Kazakhstan                           5.24
9 Graham Briggs (GBr) Great Britain U23                     5.41
10 Edward Clancy (GBr) Great Britain U23                    6.06
11 Andy Guptill (USA) CRCA/Sakonnet                         6.25
12 Michael Schweizer (Ger) ComNet Senges                    7.27
13 Robert Giannini (USA) CRCA/Sakonnet                      8.11
14 Ben Greenwood (GBr) USA/Britain                          9.17
15 Mark Cassidy (Irl) Meath Lee Strand                      9.31
16 Steven Roach (GBr) Wales Stena Line                     12.00
17 Ivan Andreeyev (Kaz) Kazakhstan                         12.16
18 Matthew Brammeier (GBr) Great Britain U23               12.38
19 Valeriy Dmitryev (Kaz) Kazakhstan                       15.45
20 Mark Cavindish (GBr) Great Britain U23                  17.47
21 Mikael Segarsall (Swe) Scandinavia Bianchi Nordic       19.06
22 John O'Shea (Irl) Tipperary Dan Morrissey               28.05
23 Lee Rosenthal (USA) CRCA/Sakonnet                       31.50
24 Chris Kuhl (USA) CRCA/Sakonnet                          32.02
 
County rider classification
 
1 Dermot Nally (Irl) Galway                             22.28.48
2 Sean Lacey (Irl) Kerry                                    2.10
3 Paul Griffin (Irl) Kerry                                  2.35
4 Paul Slane (Irl) Meath Martin Donnelly                    3.45
5 Simon Kelly (Irl) Cork Kanturk Credit Union                   
6 Brian Keane (Irl) Dublin Wheelers All Systems             5.52
7 Paidi O'Brien (Irl) Cork Kanturk Credit Union             6.12
8 Brian Stewart (Irl) Dublin Usher IRC                      7.23
9 Roger Aiken (Irl) Dublin Wheelers All Systems             7.26
10 Michael Mulcahy (Irl) Dublin Usher IRC                   7.43
11 Craig Sweetman (Irl) Meath Martin Donnelly               8.10
12 John Dempsey (Irl) Tipperary Dan Morrissey               8.11
13 Donal Byrne (Irl) Dublin Orwell Dundrum Shopping        10.38
14 Mark Cassidy (Irl) Meath Lee Strand                     10.50
15 Frank O'Leary (Irl) Wicklow                             10.55
16 Bill Moore (Irl) Meath Martin Donnelly                       
17 Daire McCaughley (Irl) Dublin Wheelers All Systems      11.03
18 John Horgan (Irl) Cork Kanturk Credit Union             11.14
19 Paul Healion (Irl) Dublin Usher IRC                     11.27
20 John Peppard (Irl) Galway                               11.57
21 Fergal Kelly (Irl) Wicklow                              13.12
22 Aidan Crowley (Irl) Meath Lee Strand                    14.43
23 David Peelo (Irl) Dublin Usher IRC                      15.14
24 Vincent Gleeson (Irl) Kerry                             15.53
25 Philip Cassidy (Irl) Meath Lee Strand                   17.44
26 Philip Finegan (Irl) Meath Lee Strand                   18.31
27 Adrian Hedderman (Irl) Cork Kanturk Credit Union        20.02
28 Derek Cunningham (Irl) Wicklow                          20.06
29 Stephen O'Sullivan (Irl) Meath Lee Strand               20.57
30 Tim Barry (Irl) Tipperary Dan Morrissey                 21.24
31 Padraig Marrey (Irl) Galway                             22.12
32 Brian Harris (Irl) Wicklow                              23.40
33 Eugene Murtagh (Irl) Dublin Stagg Cycles Bennett        26.36
34 Kieran McMahon (Irl) Kerry                              27.08
35 Colm Bracken (Irl) Galway                               27.13
36 Emmet Hogan (Irl) Dublin Stagg Cycles Bennett           28.47
37 Daniel Lynch (Irl) Cork Kanturk Credit Union            29.04
38 John O'Shea (Irl) Tipperary Dan Morrissey               29.24
39 Noel McGlynn (Irl) Dublin Exel Ravens                   31.55
40 Ritchie Cahill (Irl) Kerry                              33.19
41 Graham Thomas (Irl) Dublin Exel Ravens                  42.57
42 Pat Keneally (Irl) Tipperary Dan Morrissey              57.29
43 Simon Mulvany (Irl) Meath Martin Donnelly               57.38
44 Michael Fitzgerald (Irl) Galway                       1.01.14
45 David Early (Irl) Kildare Newbridge                   1.02.37
46 Robert Wyse (Irl) Wicklow                             1.06.05
47 Seamus Kelly (Irl) Kildare Newbridge                  1.10.45
48 Kieran Keane (Irl) Dublin Exel Ravens                 1.12.39
49 Fintan McCormack (Irl) Kildare Newbridge              1.17.22
50 James Walsh (Irl) Dublin Stagg Cycles Bennett         1.18.46
51 Alan Lane (Irl) Dublin Orwell Dundrum Shopping        1.32.06
52 Robert Moore (Irl) Meath Martin Donnelly              1.50.04
53 Maurice Hickey (Irl) Dublin Wheelers All Systems      1.59.42
54 Derek King (Irl) Dublin Exel Ravens                   2.25.14
55 Gary McNulty (Irl) Dublin Orwell Dundrum Shopping     2.51.45
 
CI Cat. 2 rider classification
 
1 Donal Byrne (Irl) Dublin Orwell Dundrum Shopping      22.39.26
2 Daire McCaughley (Irl) Dublin Wheelers All Systems        0.25
3 Noel McGlynn (Irl) Dublin Exel Ravens                    21.17
4 Robert Wyse (Irl) Wicklow                                55.27
5 Seamus Kelly (Irl) Kildare Newbridge                   1.00.07
6 James Walsh (Irl) Dublin Stagg Cycles Bennett          1.08.08
7 Alan Lane (Irl) Dublin Orwell Dundrum Shopping         1.21.28
8 Maurice Hickey (Irl) Dublin Wheelers All Systems       1.49.04
9 Derek King (Irl) Dublin Exel Ravens                    2.14.36
10 Gary McNulty (Irl) Dublin Orwell Dundrum Shopping     2.41.07
 
Teams classification
 
1 Ireland Thorntons Recycling                           67.23.54
2 Yorkshire Murphy & Gunn                                   3.53
3 Scandinavia Bianchi Nordic                                8.26
4 Slovenia Perutnina                                        8.49
5 Kazakhstan                                               11.15
6 Germany ComNet Senges                                    13.21
7 Great Britain U23                                        17.32
8 Surrey Racing League                                     17.45
9 Wales Stena Line                                         19.56
10 N. Wales Energy Cycles                                  23.59
11 NE England Bannatyne                                    43.04
12 USA CRCA/Sakonnet                                       46.42
13 USA Stelvio Teamwear - Orbis                          1.01.37
14 USA/BRITAIN                                           1.02.49
15 Liverpool Century                                     3.37.44
 
County Teams classification
 
1 Kerry                                                 67.37.16
2 Cork Kanturk Credit Union                                10.02
3 Dublin Wheelers All Systems                              10.12
4 Meath Martin Donnelly                                    10.28
5 Dublin Usher IRC                                         12.43
6 Meath Lee Strand                                         15.26
7 Galway                                                   18.01
8 Wicklow                                                  22.21
9 Tipperary Dan Morrissey                                  26.35
10 Dublin Stagg Cycles Bennett                           1.24.48
11 Dublin Orwell Dundrum Shopping                        1.51.18
12 Dublin Exel Ravens                                    2.16.39
13 Kildare Newbridge                                     3.19.52