BMC Software Australian Open Road Championships
Ballarat, Victoria, Australia, January 15-18, 2004
Home Start list Results Previous Race Next Race
Day 3 - January 17: Elite Women's road race, 100 km
It's one-one for Oenone
By Gabriella Ekström in Buninyong
Still all together on lap 2
Photo ©: Mark Gunter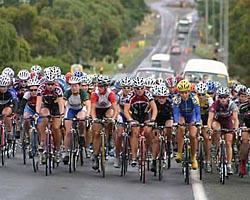 Oenone Wood stood up to the harsh weather conditions in Buninyong on Saturday and outsprinted her breakaway companions in the seven-woman group to become the first ever rider to win both the time trial and the road race in the Australian Open in its current format.
The weather at the start was chilly, and the clouds held a promise of some rain to come and delivered just that after only five kilometres of racing. The riders started out slowly, and tackled the long climb up Midland Highway and Mount Buninyong road at a slow pace. South Australian rider Amy Safe was the first one to disturb the peace, attacking after only two laps, later admitting that she thought someone would come with her. When no-one showed any interest to do so, she stuck with her one-woman mission and built up a lead of three minutes.
Meanwhile, a chase group was being formed behind her, but it looked like the rest of the field might have waited too long before finally getting itself organised. Last year's winner Olivia Gollan took the final initiative and formed a group with Katie Mactier, Hayley Rutherford, Margaret Hemsley, Sara Carrigan, Oenone Wood and Lorian Graham. A group of a dozen riders lured some 40 seconds behind the first chase group, but with only two laps of ten kilometres left to race it was clear that the winner would be picked out of the first eight.
Amy Safe breaks away
Photo ©: Mark Gunter

The massive lead that had looked so impressive started to shrink as Safe struggled to stay ahead over the hilly course, and when the bell rang with just ten kilometres to go, the gap was down to a minute. Race winner Oenone Wood later said that she didn't expect Safe to be within reach at that point, but as they faced the false flats of the Midland Highway for the last time, Safe was within sight.
The front regrouped with just five kilometres to go, and it was now Gollan's turn to go through a difficult time when she struggled to follow the group that had earlier dropped Lorian Graham. Amy Safe was not just able to go with the group that just caught her, but also went to the front of it. But when facing the descent to the finishing line, the seven of them were back together, and Amy, looking fresh as ever, was the first one to jump. Margaret Hemsley got on her wheel, and they all hit the finishing straight close to the left hand side barriers. As they threw their bikes over the line, Oenone Wood stood out as the winner, half a wheel's length ahead of Mactier and a disappointed Sara Carrigan finishing third.
Amy Safe rolled over the line five seconds behind the group, and despite being disappointed with the outcome of the race, she later told the press that she was happy with the effort she had made, and for that effort she was also rewarded the Australian Open sprint champion's jersey, having taken most of the points at the race's intermediate sprints.
Last years winner
Photo ©: Mark Gunter

Second placed Katie Mactier seemed pleased with her performance after the race, and praised the effort of the chasing group. "I am happy that we were able to work so well together in order to bring her back, but after all, it was a very good group of riders with a lot of experience from racing overseas, and that probably made the difference in the end. I have a lot of respect for Oenone, and I think she's a really hard rider. I wanted to be on her wheel when the sprint started, so I got there and just put my head down when she went, but I couldn't follow. I was cramping up badly in the sprint, and it was a mixed feeling of relief and disappointment as we passed the line."
Sara Carrigan, sad to have seen yet another green and gold jersey gone missing, admitted that she had been out to make amends for the title she lost on Thursday, but that she had felt affected by the injuries sustained in the car crash last week. "My leg really started to ache after the time trial, but today it felt fine at first. It was only in the last couple of laps that it started to hurt, but unfortunately that was when it mattered most. I had picked a point beforehand where I would start to sprint, and I stuck with it but I couldn't come across Oenone."
Oenone Wood gives the mandatory salute
Photo ©: Mark Gunter

"It looked pretty tough with just one lap to go, and Amy still having a minutes lead," an overwhelmed Oenone Wood declared after the race. "I'm quite amazed, and I don't think I've really registered the fact that I've won it yet, but I am really proud to be wearing this jersey now. Last year, I was very proud just riding at Olivia Gollan's side when she wore the jersey, and now I'll get to wear it."
ACT academy of sports head coach Warren McDonald spoke proudly about Oenone's capacity after her win in the time trial two days ago, and by her win today, she is now one step closer to the bright future that he thinks awaits her. "I think she'll certainly grow into a really good rider for the bigger tours. She is a good time trial rider, a good climber, and she has a strong machine. What she needs is more time to learn about the tactics and everything that goes on in a road race, but that will certainly come with age."
Photos
Images by Mark Gunter/www.pbase.com/gunterphotograph
Results
1 Oenone Wood (ACT)                      3.01.30
2 Katie Mactier (Vic)                           
3 Sara Carrigan (Qld) Bik-Powerplate            
4 Olivia Gollan (NSW)                           
5 Hayley Rutherford (WA)                        
6 Margaret Hemsley (ACT) Nurnberger             
7 Amy Safe (SA)                             0.04
8 Kathryn Watt (Vic)                        2.35
9 Alison Wright (ACT)                       4.40
10 Jessica Ridder (NSW) Nobili Guerciotti       
11 Sara Symington (GBr) Team S.A.T.S.           
12 Emma James (NSW) Team S.A.T.S.               
13 Miyoka Karami (Jpn)                      4.48
14 Lorian Graham (Qld)                      6.40
15 Rebecca Locke (NSW)                      7.25
16 Kelly McCombie (WA)                          
17 Christine Riakos (NSW)                       
18 Naomi Williams (Tas)                         
19 Kym Shirley (Qld)                            
20 Katherine Bates (NSW) Bik-Powerplate     7.28
21 Caitlin Fraser (Vic)                     8.32
22 Rochelle Gilmore (NSW) Team S.A.T.S.    10.49
23 Alexis Rhodes (SA)                           
24 Emma Rickards (Vic)                          
25 Louise Yaxley (Tas)                          
26 Kate Nichols (NSW)                           
27 Natalie Bates (NSW)                     10.53
28 Leeanne Manderson (WA)                  10.58
29 Kirsty Bortolin (Vic)                   11.00
30 Natasha Harrigan (NSW)                  11.02
31 Laura Bortolozzi (NSW)                  11.44
32 Jennifer Finlay (Qld)                   15.07
33 Liz Young (Qld)                         16.47
34 Cristine Foster (Vic)                   17.39
35 Nathalie Laurendau (WA)                 20.58
36 Bridget Evans (Qld)                     21.01
37 Linda Cappello (ACT)                    21.32