BMC Software Australian Open Road Championships
Ballarat, Victoria, Australia, January 15-18, 2004
Home Start list Results Previous Race Next Race
Day 2 - January 16: Elite Men's time trial, 39 km
Strong comeback for O'Neill
By Gabriella Ekström in Buninyong
Nathan O'Neill won by nearly two minutes
Photo ©: Mark Gunter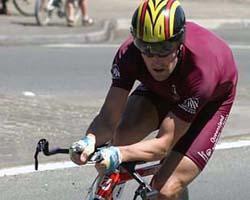 Queensland's Nathan O'Neill made an amazing comeback to top level racing when he secured his fifth Australian national jersey by winning the 39 kilometre time trial by almost two minutes over Peter Milostic and Luke Roberts. O'Neill broke his neck during a race at the end of July has only been training since November, and said after the race that just the fact that he was still standing upright, able to breath and talk was a miracle, and that the man above must have had something to do with his return to life and cycling.
The 39 kilometre course was a particular tough one, with a two kilometre climb facing the riders as soon as they turned left onto Midland Highway right after the start. Having tackled that, half a dozen smaller climbs where still awaiting the riders. The temperature reached 28 degrees, and the dust along Lal Lal road seemed to be a bigger concern than the actual wind.
Victorian rider Bradley Norton was the first to clock a time, setting 55'28 as the time to beat. English visitor Stuart Dangerfield from Birmingham then bettered the time with by minutes when he fought his way into the top ten at the halfway mark of the race. But only minutes after, Nathan O'Neill stormed past the line, despite having started among the last ten seeded riders. Having passed five other riders on his way to the finish, O'Neill clocked amazing 51.08, and his time would last for the rest of the race.
Mark Jamieson won the u/23 title
Photo ©: Mark Gunter

The second best performance of the day came from NSW rider Peter Milostic, who claimed to be "absolutely rapt" with his placing on the podium. "I would have been perfectly fine with a fourth placing, but to finish second is wonderful, and more than I would have expected," Milostic said after the race. "It's also a special feeling for me, because on Monday I'll be back at work, while the rest of these guys will head to Europe for the season."
Best under 23 rider, and also fourth in total was Mark Jamieson, who had his eyes set on that jersey before going into the race. "A place on the podium wasn't my main goal, but I knew I would have to do a ride pretty close to that of those on the podium in order to get the U23 title," he told Cyclingnews after the race. "I'm very happy to take out this event, and pleased with the way I rode here today. I've been losing a lot of weight compared to last year, and I'm now 66 kilos, instead of the 72 I used to be."
The happiest man of the day was undoubtedly Nathan O'Neill, and at one point he even excused himself to the press for talking away. "I can't even tell you how good it feels. Everyone who knows what happened to me, and what I have had to go through during the last six months knows that this is a true miracle. I actually broke my neck in the very same way as Christopher Reeves did, but I was lucky enough not to injure my spinal cord. At first, after the crash, I was actually paralysed. It took some five minutes at the scene of the accident before I could move a little."
"I know that not everyone will believe me now, but I'm actually a bit surprised with the way I rode here today," Nathan told Cyclingnews while in the shade of a tree after the race. "It has been a difficult process, basically having to learn how to walk again, rebuilding my strength. Just to be able to race again is fantastic, but to win in the style I just did, it overwhelms me. I do believe that everyone here who just saw me has witnessed a miracle.
Peter Milostic seemed happy with second
Photo ©: Mark Gunter

"I've been going through a lot of frustration and pain and surgery in the last months. It's been awful, picture this for an example. You are riding the subway in New York, trying to get to your doctor, titanium bolts sticking out from your neck and people staring at you as if you were some kind of monster. When you've broken your neck as I did, it's not just the question if you are going to end up in a wheelchair or not, I could just as well have ended up in a big, black box. When I came to the emergency, they told me that most cases like me would go straight to the morgue."
"I knew I wanted to come back though, and I set my mind to it. I've always had a strong belief in myself, and I know very well what I can do and what I cannot do. It was a big setback when Saturn announced that they wouldn't renew their sponsorship, but I was able to sign a new contract with Colavita Bolla, without them even knowing if I would be able to come back to racing level again. They did it purely because they had faith in me, and therefore I'm really happy that I can repay them a little by winning here."
Nathan commented on the course by saying that the first climb was a tough one that had to be tackled in the right way. "You have to know how hard you can hit a climb like that. You wouldn't want go to slow, but you don't want to overcook it either. I think it comes down to experience in a situation like this, knowing your limits, and calculating how hard you can go."
Battered and broken
Photo ©: Karen Ewing

When asked if he is still undergoing treatment for his injuries, Nathan giggled a little. "I don't have any upcoming surgery right now, but I have a funny story about it though. I was just flying here, doing the normal metal detector thing, and of course it went on as I passed. We did the normal routine where I emptied my pockets, then I took off my shoes, my watch and then they asked for my belt. The alarm would still go off, so finally they asked if I have had any surgery lately. 'Ah, actually I have', I told them. I have eight screws in my collarbone and a two inch titanium peg in my C2 vertebrae. 'Well, why didn't you tell us,' they wondered, a bit annoyed with me. 'Well, you didn't ask', was my reply. They didn't think it was very funny, but the people waiting in line thought so."
"To go back to the question about my treatment, I have and am still undergoing rigorous physiotherapy to remobilize my neck, and other problems I have. Some problems last from years ago when I broke my pelvis. I am seeing some great improvement now, so it seems they are putting me back together better than I was before."
Photos
Images by Mark Gunter/www.pbase.com/gunterphotograph
Results
1 Nathan O'Neill (Qld) Colavita-Bolla            51.08.45
2 Peter Milostic (NSW)                            1.50.74
3 Luke Roberts (SA) ComNet                        1.53.27
4 Mark Jamieson (Tas) U23                         2.01.14
5 Ben Day (Qld) Palmans-Collstrop                 2.16.54
6 Stuart Dangerfield (Gbr)                        2.18.73
7 Richard Moffatt (NSW) U23                       3.06.18
8 Glenn Stojanow (NSW)                            3.13.63
9 Tony Mann (NSW)                                 3.13.74
10 William Walker (Vic) U23                       3.13.87
11 Troy Glennan (NSW)                             3.38.05
12 Peter Dawson (WA) U23                          3.49.30
13 Russell Van Hout (SA) Colombia-Selle Italia    4.01.05
14 Robert Lyte (NSW)                              4.06.51
15 Phillip Thuaux (NSW)                           4.08.74
16 Andrew Naylor (Vic)                            4.20.63
17 James Meadley (ACT) U23                        4.36.19
18 Christopher Bradford (Vic)                     4.55.00
19 George Bunt (ACT) U23                          5.10.74
20 Kharne Hammersley (Tas) U23                    5.26.10
21 Bradley Norton (Vic) U23                       5.50.01
22 Mathew Rex (SA) U23                            6.17.69
23 Daniel Brickell (NSW)                          6.25.09
24 Keith Evans (WA) U23                           7.09.31
25 Peter Ladd (Vic) U23                           7.51.45
26 Nicholas Shipp (Vic)                           7.54.79
27 Anthony Di Battista (Vic)                      8.13.54
28 Damien Turner (Vic)                            8.47.19
29 David Pell (Vic)                               9.16.63
30 Robert Regesterward (Vic)                      9.26.95
31 Matthias Schnapka (Ger)                        9.58.11
32 Reece Van Beek (Vic) U23                      10.38.98
33 Matthew Collins (Vic) U23                     13.56.77
34 James Steinhauser (Vic) U23                   14.11.56
35 Stuart Sanders (Vic)                          15.02.12
36 Martin Tobin (Vic)                            17.27.05