May 18, 2004
Could be worse
G'day,
Rest day for Willo
Photo ©: Trent Wilson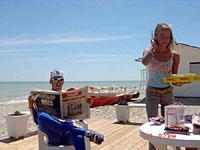 When I last wrote I was recovering from a bad start to the tour with one very bad day. I overcame that and was feeling better every day. I was hoping to write that all's well and things are looking good, but just as that was starting to happen I've come down with a bad head cold on the rest day. Timing? Yes, could be worse, but lets hope it goes before tomorrow.
Stage 6 - May 14: Spoleto - Valmontone (Polo Turistico), 164 Km
It was an up and down day from the start and I was still a bit worried on how I was going to go. It was straight up hill from the start and it didn't take long for someone to attack. Luckily and actually pretty funny too, Cipo himself chased the two riders down, gave them a warning and told them to get back to the safety of the bunch. Thanks to Cipo (now everybody's mate) it was an easy 30km to the first KOM. From there, the race started and after the descent it actually split in the crosswind (very unusual in Italy). After the Intergiro it all came back together and Saeco and Fassa rode tempo till the finish. The last 15km was all downhill and it decided to bucket down with rain. It split on the descent and I found a group to ride in with. Petacchi won AGAIN!
Stage 7 - May 15: Frosinone - Montevergine Di Mercogliano, 214 Km
The Aussies in the Giro
Photo ©: Trent Wilson

We headed further south towards Napoli. The weather was great and I was finally getting a tan. Heading south was another reason for the lack of communication on my part, good hotels but they still live in the 1970's here with real old school phones. It was the longest stage of the tour thus far and was fairly flat with two climbs coming in the last 40km, including a hilltop finish. For the first time in the tour an attack went from km 0. It was on from there on till a break went and Saeco was content to control. From the 40km mark, Saeco settled into a rhythm and that's the way it stayed for the next 100km. It was like a Saturday morning bunch ride at times, everyone riding two abreast behind the Saeco express with a nice tail wind. I got a chance to hear more stories from all the boys and tell a few myself. Gatez especially has helped me get through the last couple of days keeping the morale high with his Taree humour.
We hit the first of the two climbs and I got on the front with a few others to put Freddy Gonzalez in good position. The GC riders lit it up at the front and grupetto formed. I just cruised to the finish. Brad Macca pulled out a good ride to again finish second behind Cunego, who now has the Maglia Rosa. It now looks good for Macca to take back the Maglia Rosa in a week's time when we get to the 52km time trial.
Stage 8 - May 16: Giffoni Valle Piana - Policoro, 214 km
Scotty Davis
Photo ©: Trent Wilson

Another long one, but a lot tougher. Virtually all up hill from the start, with one KOM but a few more climbs that probably should have been categorised. The only good thing about that was, the last 100km was downhill to the finish. The start was fast again and we hit the first uncategorised climb of the day and it was lined out single file. A break went while Fassa sat on 42km/h uphill. Couldn't believe the speed we went over that climb. So obviously to get in the break you had to be goin' well. Marlon Perez made the break and got second in the Intergiro sprint, moving himself up to second overall in that competition.
Fassa had someone in the break and Saeco didn't show much interest so we saw a few different teams go to the front to chase and bring the break back. I was sitting in the wheels and there was nothing under 70 km/h in the last hour and a half. One again, the speed was unbelievable. The break got caught over the last hill just before the finish and it came down to a bunch kick again. Yes, Petacchi won again. I felt good and finished in the safety of the peloton.
Stage 9 - May 17: Policoro - Carovigno, 142 Km
Willo and Russ
Photo ©: Trent Wilson
Short, flat stage the day before the rest day, they're always the dangerous ones. Italy presented us with some wind today, like I've never seen before in Italy. We headed out into the block headwind and the bunch was in no hurry. It wasn't until the 60km mark when we had to go for the Intergiro that the action hotted up. We got Marlon into good position for the uphill Intergiro and he got a bit feisty and hit out early. They nearly didn't bring back the strong bastard. He eventually got caught and finished sixth.
The bunch cruised again before a two man break went with my team mate Illiano in it. I looked down after 70km and we had been riding for two and a half hours. They were dragging this stage out.
They eventually wound it up and we were back to stock standard 60km/h+. Right near the 25km to go banner there was a huge pile up of riders, just like I've seen many times in the 'Tour'. I was towards the back and thought I had it under control just as Russ slid up alongside me under brakes. I thought we both had it, until someone creamed us from behind and we both went flying. I corked my left leg when I landed on someone's bike and my new bike that was only three days old cracked around the bidon cage bolt. Freddy Gonzalez came down hard and cut all his face open, and is now out of the tour. Rodriguez won the stage, and all GC riders made it back to the safety of the bunch. I finished in a group a few minutes back.
Rest day - May 18
Ahhh, no race today. Although, as I said before, I'm a bit crook. Hopefully pull up ok tomorrow. I headed out for a short ride along the beach front. It was a great sunny day, and we sat back at a beach front coffee shop for an hour with a few of the Chocolade Jacques riders. I am starting to feel a bit better now after a two hour kip this afternoon and about 20 strepsils.
Cheers,
Willo