USPRO Criterium Championship - 1.3
Chicago, USA, August 22, 2004
Results Warm-up races USPRO Men Elite women Elite men
Elite men's US criterium championship
Local hero finally wins in Downers Grove
Endeavour's Pipp holds off field for Stars and Stripes
By Mark Zalewski in Downers Grove, Ill
Frank Pipp just beats John Wersing
Photo ©: Jon Devich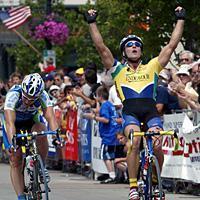 Frank Pipp (Endeavour Cycling), a native of Wisconsin, has raced in Downers Grove for many years. After years of developing as a young cyclist, Pipp finally realized his dream of winning the USCF National Elite Criterium Championship today by holding on to thinnest of leads to sprint to the win. And when asked what he was feeling after the hard fought victory was one, Pipp responded, "I'm just happy, so happy!"
Pipp and the rest of the Elite Men's field put on quite a show for the crowds today, with a four-man break leading for more than twenty of the final laps of the race. Launching the break were two riders from Team Snow Valley, John Wirsing and Ian Dille, with an obvious advantage over Pipp. "Ian and I just looked at each other half a lap before we went and Peter Baker our teammate was up there driving it hard so it was a perfect time to go," explained Wirsing. When Frank came with us, I knew he was riding really strong, so I was confident." And as the race progressed towards the finish, the break seemed doomed, dropping to under ten seconds with three laps to go.
But miraculously, the break held its tiny lead into the final turn, and Pipp, the stronger sprinter, was able to come around Jon Wirsing (Snow Valley) for the biggest win of his career. "I wasn't trying to put too much pressure on myself going into the race because it is always such a crap shoot," Pipp explained. "In the end, I was planning on letting my team do all the work, and they were going a great job, but I just went with a break. I got together with a couple of guys from Snow Valley that I knew were strong and said, 'Why not give it a go?' and didn't even question myself until it was under ten to go!"
Before the final break was formed, even more drama occurred, when Curtis Gunn (Veloworx) attacked his four-rider break and hung it out solo for four laps to take the mid-race $500 prime, something he had planned from the start. But Gunn had also planned to make it into the winning break too. "I'm not going to win a race in a field sprint, so my only chance is in a break. Then after (the mid-race prime), when I sat back in, the next five laps the break went that stayed out for the rest of the race. And I was worried, because they kept gaining, and I didn't have any teammates out there, so I could only wait and pray that it would come back."
When the break was within sight, and with only three laps to go, the strong solo rider took another chance. "When we got it back to ten seconds, with three to go, it was my chance. I attacked up the home straight here and bridged across. But after the bridge I didn't have enough left to make it in the sprint."
At this point, the two-man advantage for Snow Valley had been neutralized with Dille going down and unable to rejoin Wirsing in the break. "Ian ended up going down with six laps to go, and that really messed up the strategy, because I knew Frank was faster than me in the finish. That made the difference for us, between a second and a possible first. But Frank rode a strong race."
Into the final lap the break was just off the front, but a tired field couldn't close the door. "The (field) was kinda taxed at the top of the hill the last time, then my teammate Gus Carillo just drove it from the top of the hill until two turns to go, and my game plan was to go from there," said third place Chris Frederick.
Frank Pipp had to gamble that the break would last, and his gamble paid off. "The last couple of laps, people were missing pulls and it was getting pretty close," Pipp said. "I had to go pretty early, and John came around me before the last turn and I had to come around him again for the finish. I felt like I was doing a lot of work, but I felt good." Up hill to the line, Pipp easily out sprinted Wirsing for the win, and threw his arms up in victory.
"This is great for the team, the team has been working so hard and it's been a great first season," Pipp said. "We had a lot of young guys on the team, and I am just happy."
Photography
Images by Jon Devich/www.epicimages.us
Images by Mark Zalewski/www.showchoir.net/
Images by Matthew E. Moses
Results
1 Frank Pipp (Endeavour Cycling Team)
2 Jon Wirsing (Team Snow Valley)
3 Chris Frederick (Aerospace Engineering)
4 Curtis Gunn (Veloworx Racing)
5 Steve Tilford (HRRC/Bikesource/Shimano)
6 Peter Hanna (Bianchi/Grand Performance)
7 Russ Langley (Team Snow Valley)
8 Jason Snow (Team Fuji)
9 Mat Stephens (Mercy Cycling Team)
10 John Puffer (Abd Cycling Team)
11 Dean Laberge (G.S. Lombardi Sports)
12 Brian Adams (Ford/Giant)
13 Marco Aledia (Team Torelli/Ma Records)
14 Michael Zingaro (Cycle Science)
15 John Green (Kalahari Tea)
16 Michael Cody (NCC/Bikereg.Com)
17 Joshua Carter (Long John Silver's Cycling)
18 Rob Daksiewicz (Ford/Giant)
19 Phil Southerland (Locos/GA Cyclesport)
20 Bill Short (Team Land Rover)
21 Tony Scott (Tortillas La Guadalupana)
22 Randy Dreyer (Critracing.Com)
23 Mark Hekman (Wolverine Sports Club)
24 Stephen Spencer (Krystal)
25 David Stedje (BBC)
26 Reed Tanger (Evolution Cycling)
27 Gustavo Carrillo (Aerospace Engineering)
28 Stefan Kadar (PVR Bike Club)
29 Matt Bromen (Lagrange)
30 Aron Huerta (Village Peddler)
31 Boyd Johnson (ESSM/GPOA)
32 Lucas Euser (Red Edge Cycling Team)
33 Eric Knight (Revolution)
34 John Seehafer (Pro Peloton Racing)
35 Christopher Doig (Flanders/Mbrc)
36 Luca Fagundes (Long John Silver's Cycling)
37 Andy Brown (Viejas)
38 Chris Strout (Team Mack Racing)
39 Cameron Holland (Team Snow Valley)
40 Dale Sedgwick (Bianchi/Grand Performance)
41 Ryan McKinney (Team Snow Valley)
42 Chad Cagle (Mercy Cycling Team)
43 Michael Busa (Long John Silver's Cycling Team)
44 Eric Murphy (Aerospace Engineering)
45 Shane Peltonen 
46 Ryan Rish (Savage Hill)
47 Peter Baker (Team Snow Valley)
48 Josh Johnson (Big Shark Racing)
49 Brad Viera (Team Snow)
50 Nick Reistad (Endeavour Cycling Team)
51 Keith Miller (Dare)
52 Tracy Smith (Big Shark Racing)
53 David Gustafson (Viejas)
54 Kevin Attkisson (Texas Roadhouse)
55 Zachary Martin (Mercy Cycling Team)
56 Franklin Dierking (ABD Cycling Team)
57 Paul Swinand (Vox Vodka/Higher Gear)
58 Bennet Vander Genugten (Team Bacardi)
59 Todd Miller (Endeavour Cycling Team)
60 Doug Greek (Mercy Cycling Team)
61 Patrick Briggs (White Jersey Sports)
62 Marc Collard (Red Edge Cycling)
63 Nicholas Onate (San Diego Bicycle Club)
64 Jeremy Grimm (Savage Hill Cycling Team)
65 Daniel Holt (Locos-GA Cyclesport)
66 Billy Masterson (Excel Sports)
67 Peter Femal (Iscorp)
68 Zach Browne (NCUC/Edge Technologies)
69 Dylan Lewis (Long John Silver's Cycling)
70 Aaron Inch (Big Shark Racing)
71 Todd Hancock (Endeavour Cycling Team)
72 Brian Dziewa (Long John Silver's Cycling)
73 Andrew Minier (Nature Valley/FCCC)