USPRO Criterium Championship - 1.3
Chicago, USA, August 21-22, 2004
Results Warm-up races USPRO Men Elite women Elite men
Warm-up races, August 21
Pic and Haedo take Downers warm-up
By Mark Zalewski in Downers Grove, Ill.
Juan Jose Haedo
Photo ©: Jon Devich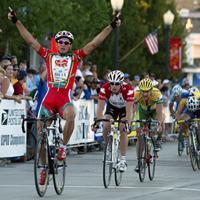 Tina Pic (Genesis Scuba)
Photo ©: Matthew E. Moses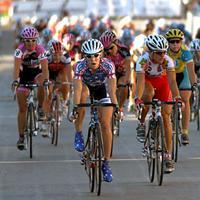 Tina Mayolo-Pic (Genesis-Scuba) and Juan Jose Haedo (Colavita) both cruised to victory in Downers Grove today on the eve before the big national championship races Sunday. Pic made easy work of the lighter-than-usual women's field, keeping defending champion Nicole Freedman (Basis) in her sights for the entire race. Pic, the current U.S. Criterium Champion, showed off her stars and stripes of the final time in this year, complete with stars and stripes shoe covers.
A large field took part in the men's pro-am race, with large contingents from Health Net, Navigators, Colavita/Bolla and Jelly Belly, among others. Making a rare appearance on this side of the Atlantic was U.S. Postal tour rider Floyd Landis. Floyd is on his way back over to Europe to race in the Vuelta a Espana, and stopped in Chicago to help out his fellow California teammate Tony Cruz, along with Damon Kluck and Robbie Ventura.
A few early jitters caused pile-ups in the corners, but the field eventually settled in for some normal racing. Gord Fraser spent some time off the front, shaking the branches, with Floyd Landis driving the pace to keep the Canadian champion in sight.
For much of the final ten laps, it was Health Net putting every single rider on the front, led by Brice Jones with Fraser on the back. This continued for multiple laps, though not at an extremely quick pace. Some may argue it was just Health Net giving the rest of the field a taste of what is to come tomorrow, since they pulled the train over in the final two laps.
Then it was Navigators taking over the lead, with team director Ed Beamon directing from the bike instead of the sidelines as usual. But similar to last year, the team could not close the deal and it was Juan Jose Haedo from Colavita/Bolla stealing the victory.
Tomorrow's racing features the men's elite national championship, the elite/pro women's championship and the USPRO championship. Then you will find Aussie Henk Vogels and Milwaukee boy Jonas Carney at the nearest pub, as this will be their last Downers Grove race, with Vogels signed with Lotto-Domo and Carney retiring.
Photography
Images by Jon Devich/www.epicimages.us
Images by Mark Zalewski/www.showchoir.net/
Images by Matthew E. Moses
Results
Ice Mountain USCF International Women's Open

1 Tina Mayolo-Pic (Genesis-Scuba)

American Airlines Pro-Am Challenge PRO Cat. 1 & 2

1 Juan Jose Haedo (Colavita)
2 Gord Fraser (Health Net)
3 Dave McCook (McGuire)