Recently on Cyclingnews.com
Who is Isidro Nozal?
Talented, humble, determined...and Vuelta leader
They call Isidro Nozal "Guri" because his home town is Guriezo in the northern Spanish region of Cantabria. He also happens to be the unexpected leader of the Vuelta with six stages to go, and he doesn't intend to let that go without a hell of a fight. Hernán Alvarez Macías found out a bit more about this talented young Spaniard who rides for ONCE-Eroski.
Isidro Nozal
Born: October 18, 1977
Place of birth: Barakaldo (Vizcaya)
Lives: Rioseco de Guriezo (Cantabria)
Place of birth
Height 1.81 m
Weight: 70 kg
Turned professional: 1999
Teams: ONCE (1999-2003)
Career highlights
2003 - ONCE-Eroski
1st, Stage 6 in Vuelta España
1st, Stage 13 in Vuelta España
2nd, Stage 4, Tour de France (TTT)
3rd, Stage 11, Tour de France
72nd, Tour de France
6th, Deutschland Tour
2002 - ONCE-Eroski
1st, Stage 4, Tour de France (TTT)
1st, Stage 3 Clasica De Alcobendas (ITT)
3rd, Stage 2b in Setmana Catalana
4th, Vuelta a Castilla y Leon
5th Best Young Rider in Tour de France
38th, Tour de France
2001 - ONCE-Eroski
2nd, G.P. CTT Correios
3rd, Stage 1 in GP CTT Correios
3rd, Stage 10 in Giro d'Italia
68th, Giro d'Italia
Isidro Nozal: I'm happy to receive the leader's jersey, but now I want Marcos (Serrano) to have it.
Journalist: But you have a good advantage now over the rest of the riders and it's rather difficult that he takes it next.
Isidro Nozal: Ah...well, ok.
That is what Isidro Nozal told a television journalist a few minutes after his teammate Joaquín Rodríguez "transferred" the golden leader's jersey to him in Burgos after the fourth stage of the Vuelta. Nozal was the best placed of the 190 riders in the peloton, but he wanted his companion Serrano to have it, as ONCE-Eroski were sharing the golden maillot during the first few days of the Vuelta. This anecdote perfectly describes what kind of person Nozal is.
Extremely modest, Nozal denied his team leader's status until ONCE director Manolo Sáiz finally said so in public. Nozal wanted to help his friend Igor González de Galdeano as the team's formal number 1, but now has no choice but to defend his four minute plus lead over his nearest rival Roberto Heras (USPS).
Manolo Sáiz told Cyclingnews that Nozal's virtue lay in "his willingness to help his companions...He has always been a great team companion, a great worker, a very disciplined rider when he has to work, a strong rider and he hasn't changed in that sense."
Nozal wasn't at the ideal weight for a professional rider when he started racing for his current squad. He reportedly lost 10 kg to reach his current weight of 70 kg. Sáiz excuses him though. "That's normal," says the ONCE director. "That happens to almost every young rider until they face that situation. They notice that is true that they have to lose some weight, but that happens in most of the cases."
Outstanding against the clock, good enough in the mountains
Outstanding against the clock
Photo: © Unipublic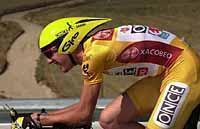 Nozal's cycling strength is his time trialling. He has already won two stages against the clock in this Vuelta, but also has two time trial victories to his credit prior to this. He was part of ONCE's winning team in the team time trial of the 2002 Tour de France, and also won the third stage TT of the 2002 Clásica de Alcobendas, beating the likes of David Millar and Santiago Botero. A time trial specialist who can't survive the mountain stages is not able to succeed in big races. This doesn't seem to be case with Isidro. Up until now, he has been able to follow the climbers' wheels in all the mountain stages, save for La Pandera. Nozal didn't lose much time that day, as just over a minute is not much considering the opportunities for the climbers are limited with six stages to go until the end.
In the second stage of the Vuelta, Nozal already showed himself in a breakaway that was caught at the end - that was only the warning. Nozal's first big hit in the Vuelta was his triumph in Saragossa. Igor had the ONCE team support and Nozal wasn't the favourite considering the likes of González de Galdeano, Aitor González and David Millar. Guri didn't hesitate and rode a fantastic tempo to destroy the others' times.
Nozal is not the youngest in the peloton and neither is he the oldest. Born on October 18th, 1977, he will be 26 next month. Sáiz told us about his current status as a rider: "He is 25, he is not an expert". This Vuelta España is his fourth Grand Tour as he has done two Tours de France and one Giro d'Italia, and finished them all. His best placing up until now is 38th in the 2002 Tour de France.
Sáiz and "Guri" gave each other a big hug after the powerful demonstration Nozal gave in the Albacete time trial. The team director said, "We lived that moment with the modesty that we need because we know the Vuelta is not over. We have got to know that there are a lot of stages to ride, that our rivals want to improve. There are some rivals that are hurt because they went out of the Vuelta España very early and had no option. All these riders became our enemies because they have nothing to lose at the moment".
An excellent future prospect
Leading the charge
Photo: © Unipublic

We may be watching the rise of a new star who is capable of winning more big races, taking into account that the time trial specialists are prevailing over the climbers in the last few Grand Tours and major tours. Sáiz gives his opinion: "Now he has a new mission that is difficult and important, and that is not just to win in the Vuelta. Now we've got to succeed outside Spain and that's what he must try in the next year. He must do things well to see if he is capable of winning on the international scene. After that, we will see."
From now on, he will be observed. His rivals will take precautions when they have to face such a rider like Nozal. He will improve as a rider if everything goes as well as now. But he will probably remain the same person with the same humility and simplicity he shows now.
Footnote: Nozal's lowest gearing for the La Pandera stage was 39/25.