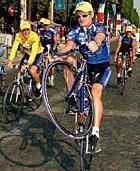 Floyd in action
Photo: © AFP
Hangin' In There: The Floyd Landis Journal
During last year's Tour de France, Cyclingnews welcomed Floyd Landis as a diarist. The talented, gutsy, 26 year old former mountain biker had ridden his way to a start in the Tour as a key part of Lance Armstrong's USPS squad, and went on to distinguish himself as an important member of the 'Blue Train' at the Tour. Floyd also endeared himself to Cyclingnews readers for his unique take on an American rookie's life in the Tour de France peloton.
For the 2003 58th Vuelta a España, Cyclingnews is pleased to welcome Floyd back with his exclusive journal.
Stage 1 - Opening the account
It has been a long time since my last diary entry - probably as long as it has been since my last race win! No, it has not been a great season me here, my first at Telekom. Two inconveniently timed broken collarbones. The second occasion required surgery and all of the complications (i.e. complete loss of fitness) that that involves. One more crash in Tour of Holland two weeks ago, just to upset my fine tuning for the end of the season. Previous to this year, fortunately in some ways, I was inexperienced at coming back from injury. Well, lets just say I learned a lot about rehabilitation and recovery now.
So from starting 2003 out as a focused Tour guy with Telekom this year, I'm now looking at the Vuelta as an opportunity to get some serious form for the World's and Giro de Lombardia. Results in the Vuelta will be a little hard for me to plan at this stage - with so many interruptions to my preparation this year, my consistency will be unpredictable.
We're now at the Vuelta, relaxing in our hotel after the opening team trial. My roommate Steffen 'Wesse' Wesemann is watching one of his many DVD's he bought with him, something in German so it's not much interest to me. Our team time trial today was not exactly great, err...1'26 down on winners ONCE is a little less than I hoped for, but it is a long way to Madrid.
Looking at the profile, its scary, even for a climber. Five hilltop finishes, an uphill time trial on the second last day and two long flattish time trials, its going to be an interesting battle between the climbers and chrono men. And at this time of the year, a little freshness after a season's racing can go a long way. I hope so!
Its going to be an interesting end of season battle here in Spain, I'll keep you informed!