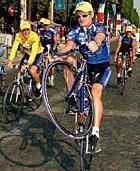 Floyd in action
Photo: © AFP
Hangin' In There: The Floyd Landis Journal
During last year's Tour de France, Cyclingnews welcomed Floyd Landis as a diarist. The talented, gutsy, 26 year old former mountain biker had ridden his way to a start in the Tour as a key part of Lance Armstrong's USPS squad, and went on to distinguish himself as an important member of the 'Blue Train' at the Tour. Floyd also endeared himself to Cyclingnews readers for his unique take on an American rookie's life in the Tour de France peloton.
For the 2003 58th Vuelta a España, Cyclingnews is pleased to welcome Floyd back with his exclusive journal.
Stage 16- 17 - High speed train, direction Madrid
September 24, Evening
Protecting the leader
Photo: © Unipublic
I am in the A.V.E (the Spanish high speed train)...direction Madrid. We are going to Madrid right now!!! But the excitement is mixed as after today's stage, 190 km, you come to Madrid, arrive at 9.30 pm without massage, with what we have done, and then tomorrow we put in another stage, that without being long is quite hard. Or more than hard, it is what cyclists call a pest, a nuisance.
Maybe these days the organisers don't think much about the cyclists. So much for our health and later they make us do these things. And on top of that we are like all the other cyclists that need so much to do well so they can look for a team. They go to the limit, wanting for them to see us always doing the best we can do. That is why now many riders go in such a frenetic manner.
Up until this point everything has gone well. Yesterday on the Sierra Nevada we only lost around another minute. It's true that with the time that Nozal has, we can go calmly, always trying to keep our strength controlled. We only have to pass through the stage of Sierra de Madrid and the time trial. Heras isn't making war, but I hope that we don't lose our strength and we maintain the lead until the final.
My second position...well it always will be fought for, but only if it doesn't prejudice my companero Nozal. I won't give it up.
September 22: Another rest day
La Pandera
Photo: © AFP

Another day of rest and already it's the last one. We are now facing the final part of the Vuelta and you could say that we are still looking good for achieving the overall victory. There still remain stages for people to continue attacking...but yesterday clearly was the most difficult day for us... and in the end, I think we came out of it well.
However, I am sure that our rivals will not cease their determination. Therefore, we still will have to be cautious but we are conscious that each time the victory is a step closer. Nevertheless, we also know they will not let us do it easily.
Tomorrow, Sierra Nevada. Maybe a climb on which we need to go better, but it is sure, that is if something does go wrong we could be looking at losing a lot of time. Thus we need to eat well during the stage so that we do not go flat - it would be a shocking blow for something like that to happen on a day like tomorrow.
In conclusion, the team is totally behind Nozal, I am however conscious that my job may mean that I could lose my second position... but it is more important that we can win the Vuelta. It is not just a Vuelta victory for Nozal, but one for all of the team.
Stages 12-13: Onwards and upwards
11.15 am...20 September
Keeping an eye on the opposition
Photo: © AFP

I am calmly waiting like everyday for the meeting to plan today's stage. In principle it is a transition stage, but taking into account that we are in the land of the echelons, well things change. We will have to be very attentive.
Up until now things have been unsurpassable for us. Four stages...everyday we are the leaders... and on top with a considerable gap so that we still have room to move. The race is not yet won. There remains terrain on which to attack...to look for allies...for everything.
But also it is certain that Nozal is immense and that if no catastrophes occur, he will continue that way. I am not bad, but I admit the strength of my companero, and he has me at his disposal. I would like to maintain my second place, but whenever Nozal needs my help he will have it. The objective is to win the Vuelta - and that he can go on to do. Let the media forget about the polemics and any talk of rivalry because there isn't any and there has never been any.
For sure...Heras improves. I feel that he is our strongest rival. Beware. He is a great rider.
Stage 11 - The balance is good
And what, there is no transition stage!?! It looks like it, unless there is a day where the break comes off...the peloton was calm...and it remained so nearly right up until the finish. But to cap it all off, at a speed of around 50 km/h, we are faced with a final climb, that...madre mia...it has pavé and everything.
We have been working pretty hard, with breaks now of more than 20 riders going we have to react as we can't leave so many people out. Some of the breaks are uncontrollable and they have the potential to enable someone to put us in a predicament.
Overall the day has been good for us. Beltran, who is third on the general, has lost time, and that, well it's good for us. We are good and we are waiting for the day at Albacete, on our own ground where we want to take out more time out of the climbers.
There is only one problem...that Aitor, much like Frigo, defend themselves well in the time trial and at the moment they look good. In principle, they are going to be our hardest rivals. Above all Frigo.
Stages 9-10 - Just Down from the Mountains
In the mountains
Photo: © Unipublic

I have to ask you to forgive me ... but I just can't write every day. I am committed to it, but later on I will give you an account of the fact that there are days where the fatigue, well, it leaves you without the will to do anything at all. The transfers are the same, you arrive late to a hotel, for a massage, etc ...and there is no time left for you to do anything. Because of this I hope that you will understand why I am not writing to you everyday.
Well, the race, on balance for us, it's positive. We still have time on the climbers and they have not been capable of taking much time out of us. We have them behind us and this give us some peace of mind.
About my companero. I would like to say that each day he goes on to demonstrate what a firm aspirant he is to win the Vuelta. We are surprising everyone and it is a gratifying surprise. He is a real nice guy. Special. To take him the wrong way is impossible, its true ... here we work for Once-Eroski to win and for this it is necessary that there isn't any egotism. And if anyone is devoting himself to showing this, it is Nozal. In my team we work with this objective and that is why we feel sure.
I don't think it is that difficult to understand it. Now with the rest day we can recover some strength, that we have lost. We are looking forward to Albacete, as the chrono is our terrain and it is where we have to show our teeth. But, until then there are some nervous windy stages that we will have to get through.
Stages 6-8 - No rest
Saturday morning (pre stage)
Keeping focused
Photo: © AFP

Lo Vuelta no tiene respiros estos días - These days the Vuelta does not have time to let you take a breather.
Yesterday, the day after the chrono in which my companero Nozal came out, we had the first mountain stage. The climbers take them seriously and they attacked us from the Aubisque. As a result of the attacks we went through a little stress, but thankfully it worked out alright - the differences we had over them and the great riding by the team meant that in the end everything worked out without any great problems.
Heras seemed to be the man most serious in aspiring to win the Vuelta, but he is hung together with Beltran, who also is climbing into it. Today another day in the Pyrenees. We will defend and they will attack. Could the roles change at any moment? Now we will see. Don't miss it!
For certain, the revelation of this Vuelta has to be my companero Nozal. A great rider and a better person.
Saturday evening (post stage)
Working with Nozal
Photo: © Unipublic
There is no rest...but there are rewards...we won and it is great news after the year we have had.
Now three are going...but calmly now...as here we have riders that have much to say. I looked at Aitor González, Frigo, the Osas etc., they are some that go on with it more...work to try and make us fall and for that reason I enjoy the moment and just carry on working. At the moment we maintain the differences that we had taken out of the climbers.
Tomorrow [Stage 9] is a tough day. It could be that it is the most difficult. Now we have taken two mountain stages and the fatigue is accumulating. Tomorrow, the passes are hard and long and all stuck together so for sure it will be a beautiful stage.
We will defend ourselves...for us to make time on the climbers it's not necessary that we go on the attack, and in principle, we don't have to.
Stages 4-5 - Petacchi the idol
Points leader for a day
Photo: © Unipublic

I don't have the words to describe it. Petacchi has begun to be my idol. I am serious man! A good cyclist with very good form, the cyclist is so much like the person.
The stage, it was a fast stage, its been two years since we could average more than 55 kph, and it was nervous. At the end the solution came in the sprint. The wind was strong but mainly it only was there to help. If we had have been coming to the coast this would have been a very tough stage, still much of the route was favourable to breaking up into echelons.
We say that we've passed a part of the Vuelta where you don't lose much by trying to win. Tomorrow starts the beginning of the true Vuelta for the people who want to win it. Its a strong chrono, apt for the specialists, for the riders like myself we must try and take as much time as possible out of the climbers.
Favourites...Frigo, Casero, Millar...and I will try to beat them
And of course, congratulations yesterday to Euskaltel who are surely having a great season
Stage 3 - Hard to control
Luckily the race is continuing without any great misfortunes, for me at least ... But today I saw a bruised Sevilla with a large haematoma high on his hip. He says it's okay, but I can't help thinking that he hasn't had a good day. For me those types of days are not that rare and I don't miss them.
Concerning the rest of the race, yesterday I spoke a bit about sharing the lead amongst our team. Yes, the leader's jersey was meant to be passed to Nozal... this is how it was meant to be, but the truth was that it was very hard to control the situation, it was so hard with that rain. In the end we all just looked towards finishing without losing time and in that event we just didn't have a chance to see who was in front and who was behind. You just can't take these things out of the contest.
Of course I give my congratulations to Petacchi for achieving his record. It is possible now that people could go and forget the good sprinters that win in between Petacchi... but I don't want to be unsociable.
In tomorrow's stage we are confronted with a route that if it is not windy will be insignificant, but if the forecast is for a windy day it will be predictably a stage that will contain some movement.
After that the chrono - and the beginning of the strong race.
Hasta luego, Igor.
Stages 1-2 - An excellent start
It was a decisive stage to start the Vuelta. On Saturday I had the luck to take the leader's jersey thanks to the great work of my team. After the stage I reflected that it is the jersey of us all and because of this it is important that we all enjoy it. Today it was taken over by Joaquim, and I am waiting until we can ensure that it is taken over by another one of us - for this is our reward.
Maybe as I said from the start, I feel these early stages are decisive. Important people have lost too much time, and although I didn't think it would be this decisive, it is too much for some of them to try and regain.
But there are riders like Heras, Sevilla and Frigo etc. who still have much to say, and the people who can time trial, like myself, we could still create some damage in the mountains which will no doubt be hard and decisive. But we will sit in during these transition stages, well, as much the wind permits and we will let the others play out the sprints.
Later on we will come to Zaragoza, and this will be the first great appointment, where we will find the real game of the mountain specialists coming into play. Here the important players will seek to decide the future of the race, but for sure it will not be it the end of it all.
hasta proxima,
Igor