Tour de France News for July 6, 2003
Edited by Gerard Knapp
McGee - now to work for Cooke
Only hours away from the start of stage one of the Centenary Tour de France, Brad McGee, the maillot jaune after yesterday's dramatic prologue, is focussed and calm after the excitement of yesterday.
The 27 year old FDJeux.com rider from Sydney said, "I didn't sleep in the jersey but all the team staff had a go at trying it on". He said the win had not yet sunk in. "One hour away from stage one kick off and it's sunk in now.
Will "give it a nudge" in the mountains
Photo: © Jeff Tse & Monique du Bois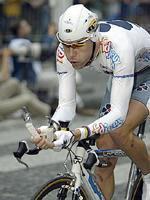 "It's been pretty cool and not too frantic although last night I didn't get to bed until after midnight but this morning everything is rolling as normal except there's been a few extra autographs to sign and TV cameras all over me. I think people are aware that you have a job to do and they don't want to get in your way too much.
"We just had the team meeting and spoke about today and the plan," he said. "We know how we're going to attack the race and we expect the others to be fairly attacking as well as they form up for the sprints (intermediate).
"There's no way US Postal, for example, will be able to block stuff because no team can do that today."
"We'll still be trying to lead Baden (Cooke – team mate and fellow Australian who is currently 45th at 20sec) out if it's a bunch sprint finish so he gets the jersey," said McGee. "We want it to stay in the team."
The 168km stage from Montegeron to Meaux (see profile) includes two intermediate sprints with time bonuses on offer (6sec 1st, 4sec 2nd, 2sec 3rd) and a 20 second time bonus for the stage winner. Also see Brad's diary and post-prologue interview.
(All rights reserved/Copyright Knapp Communications Pty Limited 2003)