Post-prologue interview with Bradley McGee
Calm after the storm
By Gabriella Ekström
A family man in an extraordinary race
Photo: © Sirotti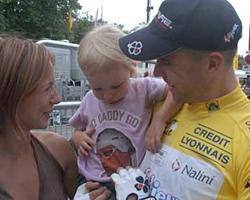 At the end of June, when most eyes were set on the Casagrande vs. Vinokourov match for the Tour de Suisse yellow jersey, one rider was looking for confirmation of his form after an inconsistent performance at Dauphiné Libéré. A prologue and time triallist extraordinaire, Bradley McGee was looking for that special something he needed just before the start of Tour de France.
After becoming the first ever Australian to win the prologue of the Tour de France today, McGee described the course as perfect - exactly how he talked about his time trial win in the Tour de Suisse two weeks ago on course five times as long:
"I've just been a good prologue rider during my whole career, and when I heard this stage would be really short and pretty flat, I just knew it would suit me well," says McGee. "The thought of winning this stage has been on my mind, as well as on Marc Madiot's mind for a while now. You know, it is not only about what you have in your legs, but also a lot about what's in your head."
La Francaise des Jeux came to the Tour with not only the ambition, but also the capacity of attaining good results. They have one of the world's best sprinters in Baden Cooke, an ambitious and aggressive Sandy Casar, and McGee - who poses a threat to anyone in a time trial, isn't afraid to go ahead in a long break away, and climbs with the best when the day is right. Now they have the first yellow jersey, fresh out of the box, and everyone wonders how far they will go to defend it.
"Well," says Brad, "We haven't really had an opportunity to discuss it yet, but being a French team in a great French race, I suppose well just go for it."
Will "give it a nudge" in the mountains
Photo: © Jeff Tse & Monique du Bois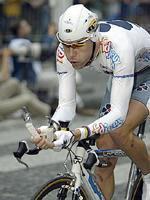 Don't expect this win to lower his ambitions for further high placings either: "I reckon I'll give it a nudge in the mountains; I'm climbing better and better, and in Tour de Suisse, I was climbing with the best and I just love it. That is really what the grand tours are all about."
It could very well be that McGee in a few years time will grow to be a really serious contender for the overall classification, something that will earn him even more attention, not just in Europe, but also back home in Australia.
"There's seven Australian riders in the Tour, and I'm currently wearing the yellow jersey, and that makes an impact in Australia, of course," McGee says. "Even though there's not a huge amount of people who are crazy about cycling, I will still get recognised if I sit down at a coffee shop, and there's always someone who would like to talk about racing.
"I think all the Australians in this year's Tour are good enough to figure in the press at some point, and right now it seems to be a great time to be Australian. However, I would like to stress that we are all very respectful to our European teams who has got us where we are, and to our supporting fans in Europe."
After his ride, Brad waited behind the line at the south side of Parc du Champs de Mars, surrounded by journalists and cameras. He was clearly happy with his ride which had put him just centimeters ahead of David Millar, who, despite a great ride, suffered mechanical problems throughout.
The winner-to-be though could not relax before the last rider of the day had passed the line, and being at Tour de France, that rider just happened to be Lance Armstrong. Armstrong however, did not have the best of days in the saddle, but at the very moment it was clear that Armstrong had finished seventh, Brad, who had just got up from the ground after his exhausting race, almost fell back down again. While overwhelmed with his win, it was clear that McGee also felt very sorry for Scotsman David Millar.
"Right now my heart goes out to David who had problems just before the finish. He's just a great guy, and I don't wish that kind of thing to happen to anyone. I think I'll have to buy him a beer," says McGee in his inimitable Aussie style.