90th Tour de France - July 5-27, 2003
Caldirola - Neon & Fortune?
Cyclingnews reporter Gabriella Ekström rediscovers stage 11 from the front seat of the Vini Caldirola team car.
Just a few spares
Photo: © Jon Devich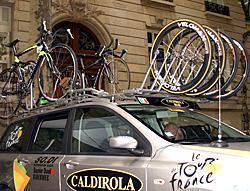 One of the riders leans forward and looks into the car. "Ciao amore," he smiles while loading up with water and coke. Team director Vittorio Algeri muses in the driver's seat, "I brought her for good luck!"
I've just been welcomed on board one of Vini Caldirola's team cars on the 11th stage, and we are leaving the suburbs of Narbonne behind us. The stage is short, but the wind is already playing a major role, and the attacks started when the flag fell. We cruise along behind the peloton at around fifty kilometres an hour, both front windows open to let in the air and some additional dust blown up by the six helicopters above us.
"Ah, Sweden!" he says, and I know just what will follow. The lakes, the midnight sun and a poetic description of Swedish summer.
"How can you sleep when the sun's up all night though?" he wonders and flicks the radio in the car so that a miniature TV comes out. Vittorio explains that he likes to use it in the races to see when a break will go or to judge other riders' strength. We certainly get a better view of the race through the cameras on the helicopters ahead of us than what we would have otherwise. Having been a professional rider for 20 years, and a directeur sportif for another 16 years, he has a fairly good idea of how the racing will develop even without such modern technology, but it helps him keeping a eye on the guys and it helps non-French-speaking moi to get an idea about who is doing what ahead of us.
Wheely important
Photo: © Jon Devich
Although it's still early on the stage, the riders are spread all over the road in the strong head wind, trying to get an attack going. Vittorio gives the little group a skeptical glance, and measures the distance of the gap with his thumb and index finger before closing his hand. "Caught!" he says and certainly they are.
Richard Virenque appears on our little screen, accompanied by the hysterical screams I am getting used to hearing. "I used to work with Richard in '98 and '99, when he rode for Polti," Vittorio explains. "He is a good guy, and very important for French cycling. When he retires, who will be there to take his place?"
A sudden call on the race radio turns our attentions to the race again. The car is needed at the back of the peloton, and judging by the slightly hysterical voice on the radio, it's an urgent affair. In fact it is just a puncture, but by the time we have navigated our way to the front between motorcycles, team cars, dropped riders and kids trying to get run over in their search for souvenirs, Paolo Bossoni has been riding with a flat tire for quite a while. The otherwise silent mechanic in the back seat quickly comes alive and has left the car before it has even stopped.
"Paolo has been sick with a high temperature. Yesterday he rode with over 38 degrees, and he has had a few tough days in the sun," says Vittorio. He drives closer to Paolo who makes a quick pit stop and loads his back pockets with cold water bottles before making his way back to the peloton. One last bottle of coke is handed out the window after a second' hesitation from Vittorio's side, and then Bossoni is sent off in the care of the other sport directors who nurse him back up to the peloton.
A break finally goes, and we head back to "virtual Svezia" again. "Bernt Johansson is a friend of mine," Vittorio recalls. "Good guy. I was riding with him when he won the Olympics. I was eighth in that race myself."
I admit to not remembering much of it, since I wasn't born then, and Vittorio laughs. "Yea, I figured that!"
Once again we are demanded back to the peloton, this time for a brief chat. Steve Zampieri slips a bit down the caravan and they speak through the car window. Vittorio wants to place at least two riders up front, and Steve nods. "Anch'io?" he asks next, to learn if he should head up there as well. "Sure, go ahead if you want to," is the reply.
When we are getting closer to the outskirts of Toulouse, the break that Caldirola earlier tried to help chase down looks more certain to stay away, and when Flecha launches his decisive attack close to the airport in Toulouse, it is clear that Caldirola's days of fame in the Tour de France still lie ahead and that my presence didn't quite bring that extra success they had been hoping for.
Cyclingnews' live coverage of the 90th Tour de France is powered by