86th Ronde van Vlaanderen (Tour of Flanders) - CDM
Belgium, April 7, 2002
Overall Map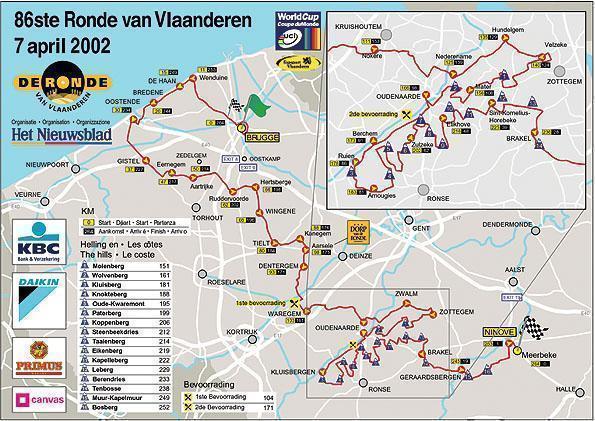 © Ronde van Vlaanderen
Profile


© Ronde van Vlaanderen


© Ronde van Vlaanderen
Course description
264 kilometres over the full gamut of Flemish roads generally ensures that the winner of the Ronde Van Vlaanderen has thoroughly deserved it. This year the riders will not have to contend with any bad conditions, with the trend of the last two weeks expected to continue: sunny days, light westerly winds, and temperatures around 14-15 degrees.
As it has done for the past four years, the Ronde starts again in Brugge's Grote Markt. A massive crowd will be on hand in the historic cobbled square to cheer the riders on their long journey. The first 150 kilometres or so are quite flat as the race heads towards the coast, passing through Oostende before making its journey inland via Tielt, Dentergem, Waregem and Oudenaarde (km 120) where the race really starts to heat up.
The first climb is the cobbled Molenberg (km 151), followed by the Wolvenberg (km 161) and Kluisberg (km 181). At this point the climbs start to come at closer intervals, and the battle for position becomes intense in between each one. For example on the Paterberg (km 199) there is a relatively smooth gutter which provides relief from the cobbles. However, there is only room for one rider at a time up it, and the nearby riders have to force their way up on the cobbles. Therefore, everyone wants to reach the foot of the climb in the top 5...
The Oude Kwaremont (km 195), Paterberg (km 199), Koppenberg (206), Taaienberg (km 214) and Eikenberg (km 219) are all cobbled and should produce a selection. There are still five climbs to go however, with key points being the Berendries (km 233), Muur (km 249) and Bosberg (km 252). Whoever is the strongest on the Muur and Bosberg should stay away over the final 12 kilometres of downhill into Ninove to win.
Also see: The re-introduction of the Koppenberg
Route summary
Distance: 264 km
Date: Sunday, April 7
Neutral Start: Grote Markt (Brugge) at 9:45
Official Start: Oostendsesteenweg (Sint-Pieters) at 10:00
Finish: Halsesteenweg in Meerbeke at 16:26 (41 km/h)
The climbs
Climb 1: Molenberg (km 151) - Cobbled
Climb 2: Wolvenberg (km 161)
Climb 3: Kluisberg (km 181)
Climb 4: Knokteberg (km 188)
Climb 5: Oude Kwaremont (km 195) - Cobbled
Climb 6: Paterberg (km 199) - Cobbled
Climb 7: Koppenberg (km 206) - Cobbled
Climb 8: Steenbeekdries (km 212) - Cobbled
Climb 9: Taaienberg (km 214) - Cobbled
Climb 10: Eikenberg (km 219) - Cobbled
Climb 11: Kapelleberg (km 222)
Climb 12: Leberg (km 229)
Climb 13: Berendries (km 233)
Climb 14: Tenbosse (km 238)
Climb 15: Muur (km 249) - Cobbled
Climb 16: Bosberg (km 252) - Cobbled


No. Name     Height diff (m) Total length  Average %  Max. %
1 Molenberg       32 m           325 m       9.8%     11.0%
2 Wolvenberg      50 m           800 m       6.3%     19.0%
3 Kluisberg       66 m           1100 m      6.0%     15.0%
4 Knokteberg      88 m           1100 m      8.0%     13.0%
5 Oude-Kwaremont  93 m           2200 m      4.3%     11.0%
6 Paterberg       48 m           350 m       12.5%    20.0%
7 Koppenberg      64 m           550 m       11.6%    22.0%
8 Steenbriekdries 37 m           700 m       5.3%     6.7%
9 Taaienberg      45 m           475 m       9.5%     18.0%
10 Eikenberg      65 m           1175 m      5.5%     11.0%
11 Kapelleberg    50 m           700 m       6.4%     9.3%
12 Leberg         39 m           850 m       4.6%     16.0%
13 Berendries     65 m           900 m       4.7%     14.0%
14 Tenbosse       27.5 m         250 m       11%      14.0%
15 Muur-Kapelmuur 77 m           825 m       9.3%     20.0%
16 Bosberg        40 m           475 m       8.4%     11.0%

Time Table
                          +     -      39      41      43
                         km    km     km/h    km/h    km/h
West-Vlaanderen
Brugge
Sint-Pieters              0    264   10.00   10.00   10.00
Zuienkerke
Meetkerke                 2    262   10.03   10.03   10.03
Nieuwmunster              8    256   10.12   10.12   10.11
De Haan
Wenduine                 11    253   10.17   10.16   10.15
De Haan                  15    249   10.23   10.22   10.21
Bredene                  20    244   10.31   10.29   10.28
Oostende                 24    240   10.37   10.35   10.33
Stene                    31    233   10.48   10.45   10.43
Middelkerke
Lenge                    33    231   10.51   10.48   10.46
Gistel
Snaaskerke               35    229   10.54   10.51   10.49
Gistel                   37    227   10.57   10.54   10.52
Ichtegem
Eernegem                 43    221   11.06   11.03   11.00
Zedelgem
Aartrijke                50    214   11.17   11.13   11.10
Zedelgem                 56    208   11.26   11.22   11.18
Oostkamp
Ruddervoorde             58    206   11.29   11.25   11.21
Hertsberge               66    198   11.42   11.37   11.32
Wingene                  68    196   11.45   11.39   11.35
Pittem
Egem                     75    189   11.55   11.50   11.45
Pittem                   77    187   11.58   11.53   11.47
Tielt                    80    184   12.03   11.57   11.52
Kanegem                  87    177   12.14   12.07   12.01
Aarsele                  89    175   12.17   12.10   12.04
Dentergem                93    171   12.23   12.16   12.10
Markegem                 97    167   12.29   12.22   12.15
Wakken                   98    166   12.31   12.23   12.17
Wielsbeke
Sint-Baafs-Vijver        99    165   12.32   12.25   12.18
Waregem
Sint-Eloois-Vijver      102    162   12.37   12.29   12.22
Waregem                 103    161   12.38   12.31   12.24
Oost-Vlaanderen
Kruishoutem
Nokere                  111    153   12.51   12.42   12.35
Wannegem                117    147   13.00   12.51   12.43
Lede                    119    145   13.03   12.54   12.46
Zingem
Huise                   120    144   13.05   12.56   12.47
Oudenaarde
Eine                    121    143   13.06   12.57   12.49
Nederename              125    139   13.12   13.03   12.54
Welden                  128    136   13.17   13.07   12.59
Zwalm
Nederzwalm              131    133   13.22   13.12   13.03
Sint-Maria-Latem        132    132   13.23   13.13   13.04
Munkzw alm              134    130   13.26   13.16   13.07
Hundelgem               135    129   13.28   13.18   13.08
Zottegem
Velzeke-Rudderhove      136    128   13.29   13.19   13.10
Zwalm
Roborst                 144    120   13.42   13.31   13.21
Sint-Blasius-Boekel     147    117   13.46   13.35   13.25
Horebeke
Sint-Maria-Horebeke     149    115   13.49   13.38   13.28
Zwalm
Sint-Denijs-Boekel      151    113   13.52   13.41   13.31
Climb 1: Molenberg      151    113   13.52   13.41   13.31
Oudenaarde
Mater                   153    111   13.55   13.44   13.33
Volkegem                159    105   14.05   13.53   13.42
Climb 2: Wolvenberg     161    103   14.08   13.56   13.45
Ename                   162    102   14.09   13.57   13.46
Edelare                 164    100   14.12   14.00   13.49
Leupegem                165    99    14.14   14.01   13.50
Oudenaarde              166    98    14.15   14.03   13.52
Melden                  169    95    14.20   14.07   13.56
Kluisbergen
Berchem                 173    91    14.26   14.13   14.01
Ruien                   178    86    14.34   14.20   14.08
Henegouwen
Mont de l'Enclus
Climb 3: Kluisberg      181    83    14.38   14.25   14.13
Orroir                  181    83    14.38   14.25   14.13
Amougies                183    81    14.42   14.28   14.15
Russeignies             185    79    14.45   14.31   14.18
Oost-Vlaanderen
Kluisbergen
Kwaremont               188    76    14.49   14.35   14.22
Climb 4: Knokteberg     188    76    14.49   14.35   14.22
Berchem                 190    74    14.52   14.38   14.25
Kwaremont               192    72    14.55   14.41   14.28
Climb 5: Oude Kwaremont 195    69    15.00   14.45   14.32
Climb 6: Paterberg      199    65    15.06   14.51   14.38
Zulzeke                 202    62    15.11   14.56   14.42
Oudenaarde
Melden                  203    61    15.12   14.57   14.43
Climb 7: Koppenberg     206    58    15.17   15.01   14.47
Maarkedal
Etikhove                210    54    15.23   15.07   14.53
Climb 8: Steenbeekdries 212    52    15.26   15.10   14.56
Nukerke                 212    52    15.26   15.10   14.56
Climb 9: Taaienberg     214    50    15.29   15.13   14.59
Etikhove                216    48    15.32   15.16   15.01
Maarke-Kerkem           218    46    15.35   15.19   15.04
Climb 10: Eikenberg     219    45    15.37   15.20   15.06
Climb 11: Kapelleberg   222    42    15.42   15.25   15.10
Oudenaarde
Volkegem                222    42    15.42   15.25   15.10
Horebeke
Sint-Maria-Horebeke     224    40    15.45   15.28   15.13
Sint-Kornelius-Horebeke 225    39    15.46   15.29   15.14
Brakel
Zegelsem                228    36    15.51   15.34   15.18
Climb 12: Leberg        229    35    15.52   15.35   15.20
Elst                    230    34    15.54   15.37   15.21
Michelbeke              231    33    15.55   15.38   15.22
Sint-Maria-Oudenhove    232    32    15.57   15.39   15.24
Climb 13: Berendries    233    31    15.58   15.41   15.25
Nederbrakel             234    30    16.00   15.42   15.26
Brakel                  236    28    16.03   15.45   15.29
Climb 14: Tenbosse      238    26    16.06   15.48   15.32
Parike                  239    25    16.08   15.50   15.33
Geraardsbergen
Zarlardinge             242    22    16.12   15.54   15.38
Goeferdinge             244    20    16.15   15.57   15.40
Geraardsbergen          245    19    16.17   15.59   15.42
Climb 15: Muur          249    15    16.23   16.04   15.47
Moerbeke                251    13    16.26   16.07   15.50
Vlaams-Brabant
Galmaarden
Climb 16: Bosberg       252    12    16.28   16.09   15.52
Oost-Vlaanderen
Geraardsbergen
Waarbeke                254    10    16.31   16.12   15.54
Nieuwenhove             255    9     16.32   16.13   15.56
Ninove
Denderwindeke           257    7     16.35   16.16   15.59
Meerbeke                261    3     16.42   16.22   16.04
Ninove                  263    1     16.45   16.25   16.07
Meerbeke - Finish       264    0     16.46   16.26   16.08