Results and Reports from Australia
Promoters wishing to submit results should send them to Cyclingnews
Lamborghini Criterium
Melbourne, Australia, Saturday, October 14, 2006
Total Rush rider Will Tehan
Photo ©: Australian Criterium Event Management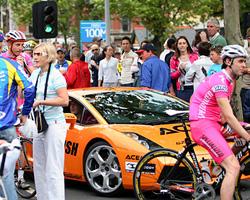 The Drapac Porsche Cycling Team claimed the teams title at the inaugural Lamborghini Super Crit, contested last Saturday morning at Lygon St, the curtain raiser to the seventh stage of the 2006 Herald Sun Tour. The Drapac Porsche team (170 points) just edged out Cycle City Ballarat on 155, and Total Rush 1 on 140.
Dylan Newell of the Total Rush 1 team won the individual honours in an impressive solo move, with Danny Kah (Carnegie Caulfield CC) and Andrew Ward (Cycle City Ballarat) also holding off the main field. Joel Pearson (Total Rush 2) won the field sprint with Kyle Marwood (Decked Out Coaching) rounding out the top five. Newell also won the most aggressive rider of the day and picked up a signed Robbie McEwen jersey for his efforts, presented by a very happy Simon Coffin - Simon owns Total Rush, Dylan's team sponsor.
18 teams contested the event promoted by Australian Criterium Event Managesment , which boasted $3500 prize money. 12 Sponsored teams (Inexa Sport, Cycle City Ballarat, Drapac-Porsche, Bike Now, Total Rush, Decked Out Coaching, Croydon Cycleworks, Prime Real Estate Buyers and O'Mara Cycles Racing), five clubs (Brunswick, Carnegie, Footscray, Geelong and St Kilda) and Team Malaysia.
Event Promoter Ray Forbes of ACEM was ecstatic with the success of the first-off event. "The entries and the great support by the riders, bike shops, CycleSport Victoria, plus the huge crowd on the day, proves there is a permanent place in Victoria for the teams racing concept," he said.
It looks likely that there will be more of these events with the announcement of the continuing support from Lamborghini. "We [ACEM] can announce that Lamborghini have just signed on for a two-year deal to promote and support teams racing in Australia, and we hope that ACEM can host more events like this crit in the very near future," Ray added.

For a thumbnail gallery of these images, click here
Images by Australian Criterium Event Management/www.cyclingnews.com
Local results 2006