Results and Reports from Australia
Promoters wishing to submit results should send them to Cyclingnews
Carnegie Caulfield Cycling Club
Glenvale Crescent Criteriums, Sunday, October 8, 2006
B Grade winner James Shepherdson
Photo ©: Mal Sawford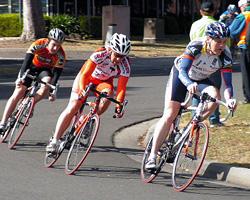 Despite a few early showers, the first of CCCC's summer races saw 150 riders take to the start line across the five grades on offer. Their optimism was rewarded, and no rain fell during racing, with the circuit bone dry for the two later races. While the rain was a non-issue, the wind was another thing altogether, with a strong and gusty wind buffeting riders as they entered and left the finishing straight.
In the windy conditions, breakaways were the order of the day in the A Grade race, and the attacking riding paid off for Damon De Angelis (Promains), Peter Barnett (SHM) and Luke Pledger (O'Mara Cycles), who escaped the bunch for good, midway through the hour. As the trio disappeared out of sight, Paralympic world champion Michael Gallagher (VIS) also escaped the tiring bunch, and combined well with Doug Garley (Terry Hammond Cycles) and Cam Carlyle (BikeNOW) to join the leaders in the final minutes. De Angelis was a convincing winner in the dash to the line, with Barnett overhauled metres from the line to lose second to a late challenge from Gallagher.

After a long early break by Peter Walker and Shannon Hall (BikeNOW), the B Grade bunch reformed briefly before Alister Stuart (Croydon Cycleworks) slipped away solo, and built a handy lead with most of the bunch blissfully unaware of his escape. A chase group containing James Shepherdson (Burnley Finance), Ian Johnson, Mark Kelly (BikeNOW) and Adam Mulford eventually caught the tiring Stuart on the penultimate lap, and were able to stay clear to the finish, with Shepherdson taking a clear win from Kelly and Mulford. Back in the bunch, Nicole Whitburn (Quick Cycle Coaching) led Lisa Friend (Bianchi) home for the women's win.

Both C and D Grades were decided with bunch sprints, with Martin Bole making his comeback ride a sucessful one, taking the win ahead of Ben Williams and Gavin Sittampalan (Quick Cycle Coaching). Debutant Geoff Parker took a first-up win in D Grade, proving too strong for promising junior Scott Berry (Terry Hammond Cycles), visiting Queenslander Trent Hudson and Dale Reith, while Meg Russell impressed with her win in the women's section ahead of Melissa Nicholls.

Carnegie Caulfield Criteriums continue every Sunday at Glenvale Crescent (Melways map 80B2). B, D and E Grades start at 9am, while A and C Grade ride at 10am. All holders of current Cycling Australia licenses are welcome (don't forget to bring your license or receipt!), and non-members can have a go by taking out a day license for $20. 2007 licenses are now available at all CCCC events.

For first time competitors and the younger juniors, Tokyo Olympian Mick Hollingsworth conducts novice racing clinics within the E Grade race at Glenvale Crescent. For further details, go to www.carnegiecycling.com.au.
For a thumbnail gallery of these images, click here
Images by Mal Sawford/www.cyclingnews.com
Results
A Grade	
1. Damon De Angelis (Carnegie Caulfield)
2. Michael Gallagher (Carnegie Caulfield)
3. Peter Barnett (Carnegie Caulfield)
4. Cameron Carlyle (Carnegie Caulfield)
5. Doug Garley (Carnegie Caulfield)
6. Luke Pledger (Carnegie Caulfield)


B Grade	1 hour + 3 laps 41 Starters 
1. James Shepherdson (Carnegie Caulfield)
2. Mark Kelly (Carnegie Caulfield)
3. Adam Mulford (Carnegie Caulfield)
4. Alister Stuart (Carnegie Caulfield)
5. Ian Johnson (Carnegie Caulfield)


Women	
1. Nicole Whitburn (Warragul)

C Grade	50 minutes + 3 laps 21 Starters 
1. Martin Bole (Carnegie Caulfield)
2. Ben Williams (Carnegie Caulfield)
3. Gavin Sittampalan (Blackburn)
4. Fabio Angelini (Carnegie Caulfield)


D Grade	45 minutes + 3 laps 38 Starters 
1. Geoff Parker (Carnegie Caulfield)
2. Scott Berry (Carnegie Caulfield)
3. Trent Hudson (Queensland)
4. Dale Reith (Blackburn)


Women  
1. Meg Russell (Carnegie Caulfield)
2. Melissa Nicholls (Carnegie Caulfield)


E Grade	45 minutes + 3 laps 13 starters 
1. Daniel Petrovic (Carnegie Caulfield)
2. Will Thomas (Blackburn)
3. Rick Sanders (Carnegie Caulfield)
4. George Pezaros (Carnegie Caulfield)

Local results 2006