Results and Reports from Australia
Promoters wishing to submit results should send them to Cyclingnews
Riverland Cycling Club
Victoria, Sunday November 5, 2006
Hamish MacKirdy - all smiles
Photo ©: Janelle Stevens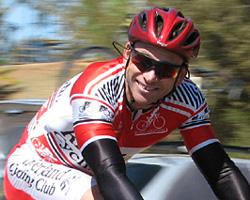 By Janelle Stevens
Hamish MacKirdy has claimed the 2006 Club Championship title with wins in two out of the three races. MacKirdy took out first place in the 9.6 kilometer Individual Time Trial held at Winkie on Sunday morning whilst Lee Stevens claimed victory for the 60 minute Criterium staged at Monash shortly after.
This year saw a number of club members eager to contest the Club Championship; whether it is for overall, graded or first female glory, the riders where all in with a chance. Fellow grade members were pitted against each other to take out the three Graded Champion awards. Lara MacKirdy, Peter Evans, Marcus Whitting, Peter Weston and Chris Stevens contested B Grade while C Grade saw Angelo Ylia, Ruth Strout, Amanda Steele and John Eshman battle for their place as the 2006 Graded Champion. D Grade's Megan Taylor may have had the title all sewn up but that didn't stop her from contesting each race with pride, guts and sheer determination.
Peter Weston, Ruth Strout, Peter Evans & Angelo Ylia
Photo ©: Janelle Stevens

The handicapped Individual Time Trial saw extremely tight results but an impressive ride by Megan Taylor; reducing her last recorded result by a fraction less than 2 minutes, had her claiming victory over the rest of the field. Peter Evans finished second ahead of Ruth Strout followed closely behind by Craig Ward. Fifth place went to Track Consistency Award winner, John Eshman whilst Lara MacKirdy took out sixth and First female for the Championship awards.
At the club dinner on Sunday night the Champion and Graded Champion awards for 2006 went to Hamish MacKirdy; Club Champion, Chris Stevens; B Grade Champion, Amanda Steele; C Grade Champion and Megan Taylor; D Grade Champion. The minor Club Champion awards went to Lee Stevens in second place followed by Craig Ward, Chris Stevens claimed fourth while the First Female and fifth place award for the 2006 Club Championship went to Lara MacKirdy. Peter Weston was second overall for the Road Race consistency tally followed by our own 'Masters Games Champion', Mick Gray. Third place for the Criterium Consistency went to Mark Kershaw with Lee Stevens finishing second behind club Veteran Bob Pankhurst. Most consistent track rider and winner of the Bob Fischer Memorial Trophy went to John Eshman.
Photography
For a thumbnail gallery of these images, click here
Images by Janelle Stevens
Results
A Grade

1 Pete Johnstone (Chelsea & Peninsula)
2 Mohd Salleh (Malaysia)
3 Mohd Ruslan (Malaysia)
4 Sean Finning (Castlemaine)
5 Steve Martin (Blackburn)
6 Warren Knevitt (Carnegie Caulfield)
   
B Grade

1 James Shepherdson (Carnegie Caulfield)
2 Aaron Mathews (Carnegie Caulfield)
3 Daniel Oldfield (Blackburn)
4 Dennis Toce (Carnegie Caulfield)
5 Clint McDonnell (Carnegie Caulfield)

Women 

1 Peta Mullens (Carnegie Caulfield)
2 Lisa Friend (Carnegie Caulfield)
3 Nicky Matthews (Carnegie Caulfield)
   
C Grade 

1 Ben MacNee (Brunswick)
2 Fabio Angelini (Carnegie Caulfield)
3 Matthew Ditchfield (Blackburn)
4 Sebastian Hales (Carnegie Caulfield)

Women 

1 Noor Azian Alias (Malaysia)
2 Melissa Kah (Carnegie Caulfield)
   
D Grade

1 Paul McMullan (St Kilda)
2 Matt Reynolds (Blackburn)
3 Phillip Stanton (Carnegie Caulfield)
4 Jeff Wilson (Carnegie Caulfield)

Women 

1 Radelle Berriman (Carnegie Caulfield)
2 Nicole Holt (Carnegie Caulfield)
3 Denise Bennett (Carnegie Caulfield)
   
E Grade
 
1 Simon Bobik (Carnegie Caulfield)
2 Will Thomas (Blackburn)
3 Rick Sanders (Carnegie Caulfield)
4 Julie Warren (Blackburn)

Local results 2006