Results and Reports from Australia
Promoters wishing to submit results should send them to Cyclingnews
Eastern Suburbs Cycling Club
Heffron Park, Sydney, January 31, 2006
A grade rule as Dangerfield rides away for the win
By John Sunde
Rule Britannia
Photo ©: Stuart Baker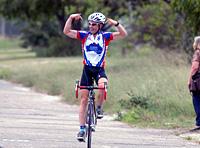 English Olympian Stuart Dangerfield demonstrated his impressive time trial skills when he rode away from a quality field to win round 4 of the Trek Bikes Summer Series at Heffron Park last night. It was the first time A grade were up for the overall win after the 16 strong A grade field clocked a super fast sub 40 minutes for the 15 lap, 30km race, however C grade King Aaron Richardson still holds a 10 point lead for the Series prize of a Trek Madone 5.9SL frame.
Hot, humid and fast conditions greeted the massive field of 97 riders with C grade once again boasting the largest starting group of 55 riders. Adding to the C grade numbers in his opening race for the 2006 season was none other that Frank Conceicao. Maybe it was a strategy to provide extra protection to Easts team leader Aaron Richardson, who was frequently asked through the race "Are you OK Aaron?, Do you need a drink Aaron?, Don't get too close to the front Aaron, Let me do a turn for you Aaron?
It didn't matter what the moves where to protect the C grade and Easts stranglehold over the series lead, because B grade laid it down from the gun when Dave Evans (Clarence St) and John Sunde (St George) went out of the blocks. The plan worked, as not only did B grade ride to their true potential with John Ciofani (St George), Chris Reynolds (Randwick Botany), Scott Callum (Easts) and Gerard Donaldson (Lidcombe) all chipping with some powerhouse turns to keep the pace honest, C grade were lined up for the 'kill' with a handy 9 laps to go, or was that really 8 laps to go?
Dave Evans
Photo ©: Stuart Baker

In the Sprint King Comp, Dave Evans and Matt Lucas (Randwick Botany) went head to head each claiming a prime, which was enough for Evans to maintain his 5 point lead over Lucas. A grade were onto B grade just after 5 laps to go and it was evident there were some monster turns being pulled by Dangerfield, Cofidis pro CJ Sutton, the Fleming bro's, Tim Willing (Midland, WA), Antman Challinor (Clarence St) and Robbie Cater (FRF Couriers).
Next it was time to catch C grade, no easy task with over 50 riders to pass, especially when some of them fancied themselves in amongst the action at the pointy end of the race. Scotty Callum then found himself off the front, on what he thought was the bell lap, but turned out to be an agonising 2 laps to go. On the next lap, which was 15th lap, but which turned out to be the bell lap, Chris Sutton had the entire field strung out coming into the straight.
This was the perfect platform for Dangerman to launch a blistering attack down the straight which no one could respond to. One lap later he soloed in for an impressive win and left the other big hitters to mop up the crumbs. In the gallop, Chris Sutton edged out Jose Rodriguez (Clarence St) who still managed to collect a valuable 3 points in the series. Tim Willing capped off another strong ride at his new local stomping ground to just edge out last years series winner Anthony Spurgeon (Caravello) who also got himself a hard earned point in the series.
The huge C grade bunch
Photo ©: Stuart Baker

In the battle for B grade, Stan Genakis (Sydney) rode a clever race in the closing laps to stay close enough to the front, but never on the front when he finished just behind the top five to beat the other B grade big hitters who appeared to leave their A game on earlier laps of the race.
Aaron Richardson was still in the points when he won C grade, increasing his lead in this comp and judging by the favours extended to him by the host Club appears to be in no danger of being elevated to B grade any time soon.
The Trek Bikes Summer Series 2006 continues every Tuesday night through to 28 March 2006. Racing starts promptly at 6pm. You'll need a current Cycling Australia licence and an Australian Standards approved helmet.
Photography
For a thumbnail gallery of these images, click here
Images by Stuart Baker
Results
1 Stuart Dangerfield (UK/Easts)
2 Chris Sutton (Cofidis)
3 Jose Rodriguez (Clarence St)
4 Tim Willing (WA)
5 Anthony Spurgeon (FRF-Caravello)

B  Grade

1 Stan Genakis (Sydney)

C Grade

1 Aaron Richardson (Easts)

Sprint Primes  

7 laps to go  

1 Matthew Lucas  
2 David Evans  
3 Stan Genakis  

5 laps to go  

1 David Evans  
2 Matthew Lucas  
3 Michael O'Brien  

3 laps to go  

1 Josh Flemming  
2 Chris Reynolds  
3 Scott Callum  

Final  

1 Stuart Dangerfield  
2 Chris Sutton  
3 Jose Rodriguez  

Trek Bikes Pointscore

1 Aaron Richardson        17 pts
2 Paul Watzlaff           7
2 Stuart Dangerfield      7
4 Jose Rodriguez          5
5 Marko Turner            4
5 Anthony O'Brien         4
5 Karl Bellamy            4
5 Andy Portess            4
5 Chris Sutton            4
10 Simon Parker           3
11 Frank Fortuna          2
11 Andrew Duggan          2
11 Tim Willing            2
14 Shane Howley           1
14 Brad McGarry           1
14 Anthony Spurgeon       1

A/B Grade Sprint King  

1 Dave Evans              29 pts
2 Matthew Lucas           24
3 John Kenny              11
3 Jose Rodriguez          11
5 Scott Callum            7
6 Chris Reynolds          6
6 Brad Mills              6
8 Richard Vial            5
8 Sean Vale               5
8 Liam Kelly              5
8 John Peppard            5
8 Stan Genakis            5
8 Josh Flemming           5
8 Stuart Dangerfield      5
15 Jonothan Cridland      3
15 Alan Bozunovic         3
15 Chris Reynolds         3
15 Chris Sutton           3
19 Steve Wooldridge       1
19 Tim Willing            1
19 Michael O'Brien        1

C Grade Pointscore  

1 Aaron Richardson        16 pts
2 Paul Watzlaff           5
3 Andy Portess            4
4 Marko Turner            3
4 Anthony O'Brien         3
4 Chris Taylor            3
7 Karl Bellamy            1
7 Simon Parker            1



                         
Local results 2004