Results and Reports from Australia
Promoters wishing to submit results should send them to Cyclingnews
Eastern Suburbs Cycling Club
Heffron Park, Sydney, January 24, 2006
C grade machine gets Aaron Richardson up for another win
By John Sunde
Win No. 2
Photo ©: Stuart Baker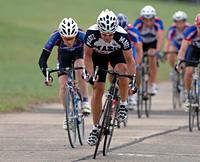 Trek Bikes Series leader Aaron Richardson (Easts) collected another seven point win when he convincingly outsprinted the C grade field and narrowly held off a very fast finishing A and B grade field. The win puts Aaron seven points clear in the race for the Trek Madone 5.9SL frame, but a lot can happen in the remaining nine weeks of racing.
First class racing on a third class night when dark rain clouds threatened all night with a big southerly pushing riders along at 60kph around the back of the course.
Didn't stop the newly decaled Voyager Cycling Tours team car parked prominently in the drive way.
Good to see a strong contingent of women racing last night, with a few familiar male faces missing because of the dodgy weather. Well done Laura, Jenny, Nicky, Emma and Rachel.
C grade once again had the numbers to stay in front of the chasing A and B grade field with the A grade riders of Spurge, Campbell, Dangerfield, Whyman, Kelly, Dr Jones, Fleming's - John and Matt, Rodriguez and Perth rider Tim Willing all putting in huge rides.
Anthony Spurgeon (centre)
Photo ©: Stuart Baker

After three weeks of A grade missing out on the points, one starts to wonder about the handicap time limit. It's interesting that the Portuguese word for handicap is 'desvantagem'. Sounds a lot like disadvantage. Certainly no disadvantage to C grade who continue to boast some strong riders.
Does Aaron step up to B grade now that he has won two C grade races? Round 1 winner Paul Watzlaff stepped up to B grade after his win and last night fronted the start line with 150km in his legs from his morning ride. School of St George hardmen for you!
B grade seemed more interested in the sprint competition where Dave Evans picked up another six points to stay clear of Matt Lucas. Congratulations to Matt who is the proud owner of a signed Australian national jersey by Robbie McEwen with the very generous donation going to the Make a Wish Foundation.
A move by Dangerfield, Rodriguez and Willing almost worked with 2 laps to go but the counter attack on the bell from Computer turned out to be the money move when Rodriguez and Willing responded along with Easts B grade motors, John Kenny and Scott Callum.
The winning A and B grade break
Photo ©: Stuart Baker
In the finale, Jose Rodriguez won A grade and just narrowly missed out on catching the C grade winners demonstrating his form is coming along nicely for the Australia Day Joseph Sunde Memorial on Thursday. Scotty Callum notched up his much anticipated first B grade win for the series and went home with a huge grin and the much deserved envelope.
Andy Portess had a strong race in C grade and walked away with second overall, while Simon Parker also got in amongst the points with third. Easts riders Andrew Duggan and Karl Bellamy completed the top five.
Don't forget the Joseph Sunde Memorial on Thursday at Heffron starting with the Masters event at 8am. 30km handicap at 9am and the Elite race at 10am. Always a great days racing with money raised donated to the Children's Cancer Institute of Australia.
The Trek Bikes Summer Series 2006 continues every Tuesday night through to 28 March 2006. Racing starts promptly at 6pm. You'll need a current Cycling Australia licence and an Australian Standards approved helmet.
Photography
For a thumbnail gallery of these images, click here
Images by Stuart Baker
Results
1 Aaron Richardson (Easts)
2 Andy Portess (Randwick Botany)
3 Simon Parker (Manly)
4 Andrew Duggan (Easts)
5 Karl Bellamy (Easts)

1st A Grade

1 Jose Rodriguez (Clarence St)

1st B Grade

1 Scott Callum (Easts)

Sprint Primes  

7 laps to go  

1 Matthew Lucas  
2 John Kenny  
3 David Evans  

5 laps to go  

1 John Peppard  
2 Stan Genakis  
3 Matthew Lucas   

3 laps to go  

1 Dave Evans  
2 Alan Bozunovic   
3 Stan Genakis  

Final  

1 Jose Rodriguez  
2 Scott Callum  
3 Tim Willing  

Trek Bikes Pointscore  

1 Aaron Richardson               17 pts
2 Paul Watzlaff                  7
3 Marko Turner                   4
3 Anthony O'Brien                4
3 Karl Bellamy                   4
3 Andy Portess                   4
7 Simon Parker                   3
8 Jose Rodriguez                 2
8 Frank Fortuna                  2
8 Andrew Duggan                  2
11 Shane Howley                  1
11 Brad McGarry                  1

A/B Grade Sprint King  

1 Dave Evans                     21 pts
2 Matthew Lucas                  16
3 John Kenny                     11
4 Jose Rodriguez                 10
5 Chris Reynolds                 6
5 Brad Mills                     6
5 Scott Callum                   6
8 Richard Vial                   5
8 Sean Vale                      5
8 Liam Kelly                     5
8 John Peppard                   5
12 Stan Genakis                  4
13 Jonothan Cridland             3
13 Alan Bozunovic                3
15 Steve Wooldridge              1
15 Tim Willing                   1

C Grade Pointscore  

1 Aaron Richardson               11 pts
2 Paul Watzlaff                  5
3 Marko Turner                   3
3 Anthony O'Brien                3
3 Andy Portess                   3
6 Karl Bellamy                   1
6 Simon Parker                   1
                         
Local results 2004