Results and Reports from Australia
Promoters wishing to submit results should send them to Cyclingnews
Eastern Suburbs Cycling Club
Heffron Park, Sydney, January 17, 2006
Aaron Richardson wins as Jono Cridland scores one for the Juniors
By John Sunde
Aaron Richardson
Photo ©: Stuart Baker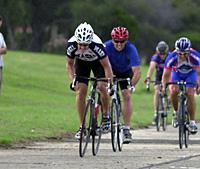 Fireman and multisport athlete Aaron Richardson (Easts) convincingly won round 2 of the Trek Bikes Summer Series when he outsprinted the C grade field after the mighty Easts C grade machine kept the race under the control and managed to deliver him to the finishing straight with a perfect lead out. It's the second consecutive week C grade have claimed overall honours and Aaron's win together with his third place last week now puts him three points clear in the race for the Trek Madone 5.9SL frame .
After Sydney was drenched with heavy summer storms for two days the clouds seem to miraculously part late afternoon to enable racing to take place in hot, humid conditions.
Graeme Moffett
Photo ©: Stuart Baker
As a result of the threatening weather, numbers were down with only 55 starters across the three grades with C grade holding the upper hand with 26 riders in their bunch. With relatively light winds for Heffron Park, the bunch speeds were quite fast and C grade made the most of their superior numbers and weren't sighted by the chasing A and B grade bunches all night.
There was still plenty to race for on the back mark with B grade enjoying maximum points on the 7, 5 and 3 laps to go sprint primes. In the first prime John Kenny (Easts) showed he had managed to shake off the effects of his recent chest infection to easily win then back it up with a second in the next prime. Despite a good move from wily Sean Vale (Manly) to win the 3 laps to go prime, which he duly celebrated with a well earned beer after the race, Dave Evans did enough to collect two second places and hold on to his early lead in the Sprint King comp.
With three laps remaining the small A grade bunch, minus Anthony Spurgeon (Caravello), Graeme Moffett (Clarence St) and Luke Cridland (Southern Cross), but this week still with Alan 'I'm back' Bozunovic finally made contact with B grade field, but by then it was obvious that C grade were well clear and were going to mop up all the series points on offer for another week. Aaron Richardson executed the perfect sprint when he outgunned Anthony O'Brien (Waratahs) and Karl Bellamy (Easts) who is always a contender in C grade. A broken chain for one of the Randwick Botany riders ruined their challenge and Mr FRF Couriers, Frank Fortuna and club mate Brad McGarry completed the top five.
It's all eyes down
Photo ©: Stuart Baker

In the contest for honour and glory for A and B grade, once again Jose Rodriguez (Clarence St) made a bold move with one and half laps to go, this time taking Scott Callum (Easts) with him. It almost worked until consecutive attacks from Stewart Campbell (Easts) and Steve Wooldridge (Sth Australia.com - AIS) enabled the rest of the bunch to catch them just before the straight. Liam Kelly (Sydney), after an armchair ride to the finish, then easily won the sprint for the A grade envelope, but the sweetest victory of the night undoubtedly belonged to Jono Cridland who won his first B grade race after picking up a C grade victory prior to Xmas. Juniors Rule!
The Trek Bikes Summer Series 2006 continues every Tuesday night through to 28 March 2006. Racing starts promptly at 6pm. You'll need a current Cycling Australia licence and an Australian Standards approved helmet.
Two exciting events are planned for Heffron Park over the coming weeks. On Monday 23 January Tour de France Sprint King Robbie McEwen will be visiting Heffron Park at 4.30pm to pass on some of his tips to Junior riders - more details at Randwick Botany's website and on Australia Day, Thursday 26 January the 13th Annual Joseph Sunde Memorial Criteriums will be held - race entry details on Cycling NSW's website.
Photography
For a thumbnail gallery of these images, click here
Images by Stuart Baker
Results
1 Aaron Richardson (Easts)
2 Anthony O'Brien (Waratah)
3 Karl Bellamy (Easts)
4 Frank Fortuna (Randwick Botany)
5 Brad McGarry (Randwick Botany)
 
1st A Grade
 
1 Liam Kelly (Sydney)
 
1st B Grade
 
1 Jonothan Cridland (Southern Cross)
 
Sprint Primes  
 
7 laps to go  
 
1 John Kenny   
2 David Evans  
3 Matthew Lucas  
 
5 laps to go  
 
1 Richard Vial  
2 John Kenny   
3 Scott Callum  
 
3 laps to go  
 
1 Sean Vale  
2 David Evans  
3 Matthew Lucas  
 
Final  
 
1 Liam Kelly  
2 Jonothan Cridland  
3 Scott Callum  
 
Trek Bikes Pointscore  
 
1 Aaron Richardson         10 pts
2 Paul Watzlaff            7
3 Marko Turner             4
3 Anthony O'Brien          4
5 Karl Bellamy             3
5 Jose Rodriguez           2
7 Frank Fortuna            2
8 Shane Howley             1
8 Brad McGarry             1
 
A/B Grade Sprint King  
 
1 Dave Evans               15 pts
2 Matthew Lucas            10
3 John Kenny               8
4 Chris Reynolds           6
4 Brad Mills               6
6 Jose Rodriguez           5
6 Richard Vial             5
6 Sean Vale                5
6 Liam Kelly               5
10 Scott Callum            3
10 Jonothan Cridland       3
12 Steve Wooldridge        1
 
C Grade Pointscore  
 
1 Aaron Richardson         6 pts
2 Paul Watzlaff            5
3 Marko Turner             3
3 Anthony O'Brien          3
5 Karl Bellamy             1


                         
Local results 2004