Recently on Cyclingnews.com
Results and Reports from Australia
Promoters wishing to submit results should send them to Cyclingnews
Randwick Botany CC
Heffron Park, Maroubra, NSW, January 17, 2004
Westmoreland lands on the podium in his first race - ever!
By Tony Horneman
A-Grade on the fly
Photo ©: Tony Horneman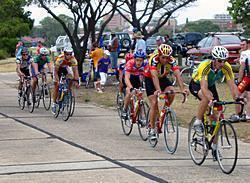 Demonstrating his return to form, the King-of-Heffron-Park, Anthony Spurgeon (Caravello) stormed home to win the 36km A-Grade race at Heffron Park on Saturday 17 January 2004, in a cracking average speed of over 41km/h. Simon Price (Eastern Suburbs) finished a bike length behind in second place and John Kenny (Eastern Suburbs) third.
A messy B-Grade bunch split up into smaller groups early in their 32km race, with several dropping out, probably due to the brisk average speed of 39.5kmh. Christopher Guillan (Southern Cross) finished first, followed by David Evans (Eastern Suburbs), Andrew Riordan (Gunnedah) and Clive Hammerson (Randwick Botany). Unfortunately Club President John Buckton retired midway through the race.
Club Vice President Tony Horneman punctured at the back of the circuit during the first lap of the 28km C-Grade race, and had to endure the long walk back to the start-finish line. This left Randwick Botany riders Sean O'Neill and Wayne Gould to do most of the work. Final placings were Nicholas Rathbone (Eastern Suburbs), Luke Davison (Randwick Botany) and Richard Westmoreland (Randwick Botany) in his first even cycle race, after only two training rides with the club last week.
Disabled rider Will Elrick, who rides with one leg, had a strong race in C-Grade, finishing with the bunch. Elrick specialty is the 1000m sprint at the velodrome track, and is aiming for selection in the Australian 2004 Athens Paralympic team.
Club Treasurers Richard Jenkins stayed with the D-Grade bunch for the duration of the 20km event, with Gus Silva (Lidcombe Auburn) finishing first followed by Carlo Ghisolfi (St George), who represented Italy in the 1956 Olympics and Alex Lazich (Waratah Veterans).
A good E-Grade sprint saw David Birss (Randwick Botany) just beat Sandie Jeffery (Randwick Botany), John Siounis (Waratah Veterans) and Ross Fullerton (Randwick Botany).
Junior racing will commence at 1pm on Saturday 7 February 2004, with an exciting new junior race programme developed by the Junior Development Committee. More information can be obtained from the Junior Support Coordinator Janette Murdoch.
Photography
Images by Tony Horneman
A-Grade on the fly - (L to R) Sydney 2000 MTB Olympian Paul Rowney, Anthony Spurgeon, Peter McDonald, Robert Cater, Jeff Jones and Chris Jenkins.
The B-Grade podium - Andrew Riordan, Christopher Guillan and David Evans.
Will Elrick shows gritty determination in the C-Grade bunch.
Results

A Grade, 36 km
 
1 Anthony Spurgeon (Caravello)           52.50 (41 km/h)
2 Simon Price (Eastern Suburbs)
3 John Kenny (Eastern Suburbs)
 
B Grade, 32 km
 
1 Christopher Guillan (Southern Cross)   49.05 (39.5 km/h)
2 David Evans (Eastern Suburbs)
3 Andrew Riordan (Gunnedah)
4 Clive Hammerson (Randwick Botany)
 
C Grade, 28 km
 
1 Nicholas Rathbone (Eastern Suburbs)    46.02 (37 km/h)
2 Luke Davison (Randwick Botany)
3 Richard Westmoreland (Randwick Botany)
 
D Grade, 20 km
 
1 Gus Silva (Lidcombe Auburn)            34.30 (35 km/h)
2 Carlo Ghisolfi (St George)
3 Alex Lazich (Waratah Veterans)
 
E Grade 14 km
 
1 David Birss (Randwick Botany)          32.36 (26 km/h)
2 Sandie Jeffery (Randwick Botany)
3 John Siounis (Waratah Veterans)
3 Ross Fullerton (Randwick Botany)

Local results 2004