Results and Reports from Australia
Promoters wishing to submit results should send them to Cyclingnews
Randwick Botany CC
Heffron Park, Maroubra, NSW, Saturday January 10, 2004
By Tony Horneman
Robert Cater leads the A-Grade bunch.
Photo ©: Tony Horneman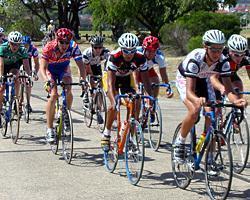 Randwick Botany Cycling Club member Michael Cowan made the A-Grade podium for the first time in his cycling career at the criterium cycle races at Heffron Park on Saturday 10 January 2004. The King of Heffron Park, Anthony Spurgeon, finished first with Jersy Sowa second, and Cowan third. Cyclingnews.com editor Jeff Jones attacked on several occasions but Robert Cater kept bridging the gap. The 20-rider A-Grade bunch set a high average speed of 40.5km/h, with most of the 2km laps completed in less than three minutes.
Rocky Fortuna and Craig Klement did a lot of work in B-Grade, but Club President John Buckton was seen in several breakaways. Fresh from the Eastern Suburbs Cycling Club training camp at Jindabyne, David Jackson (Randwick Botany) scored a powerful win - lunging for the line to beat Christopher Guillan (Southern Cross), Craig Klement (Randwick Botany) and Dan O'Callaghan (Sydney).
Scott Rice (Randwick Botany) returned to Heffron Park with a win in C-Grade, with Tony Caruana (Randwick Botany) second and Jonathon Hogard (Randwick Botany) third. Placings in D-Grade were Gus Silva (Lidcombe Auburn), David Macefield (Macarthur) and Grant Chellew (Sydney).
Sandie Jeffery had a fall in E-Grade but remounted and continued racing. Jeffery was forced to retire early however, due to a bent brake handle. E-Grade placings were Joe Gatt (Randwick Botany), John Siounis (Waratah Veterans) Ross Fullerton (Randwick Botany) and Kevin Blanchfield (Randwick Botany).
Just under 100 riders registered for racing in the 5 grades.
Junior racing will commence at 1pm on Saturday 7 February 2004, with an exciting new junior race programme developed by the Junior Development Committee. More information can be obtained from the Junior Support Co-ordinator Janette Murdoch.
Photography
Images by Tony Horneman
Robert Cater leads the A-Grade bunch.
So close! Dave Jackson lunges for the line in B-Grade to take the win.
Results

A Grade, 36 km
 
1 Anthony Spurgeon (Caravello)         53.57 (40.5 km/h)
2 Jersy Sowa (Randwick Botany)
3 Michael Cowan (Randwick Botany)
4 Chris Jenkins (Randwick Botany)
5 Stewart Campbell (Eastern Suburbs)
 
B Grade, 32 km
 
1 David Jackson (Randwick Botany)      52.05 (37 km/h)
2 Christopher Guillan (Southern Cross)
3 Craig Klement (Randwick Botany)
4 Dan O'Callaghan (Sydney)
 
C Grade, 28 km
 
1 Scott Rice (Randwick Botany)         47.33 (36 km/h)
2 Tony Caruana (Randwick Botany)
3 Jonathon Hogard (Randwick Botany)
 
D Grade, 20 km
 
1 Gus Silva (Lidcombe Auburn)          35.49 (34 km/h)
2 David Macefield (Macarthur)
3 Grant Chellew (Sydney)
 
E Grade 14 km
 
1 Joe Gatt (Randwick Botany)           32.33 (26 km/h)
2 John Siounis (Waratah Veterans)
3 Ross Fullerton (Randwick Botany)
4 Kevin Blanchfield (Randwick Botany)

Local results 2004